Beef Market Update, April 16th, 2020
Amy Barkley, Livestock Specialist
Southwest New York Dairy, Livestock and Field Crops Program
April 23, 2020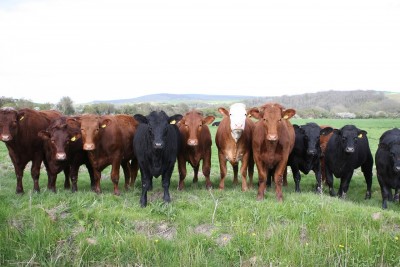 On April 16, 2016, Dr. Mike Baker, Bill Bullock, and Betsy Hodge shared a marketing update for the beef industry.
All sectors of the beef industry are operating with revenue losses at this time, and the situation remains fluid. In the United States, this looks like $3.7 billion for cow-calf operations ($111.91/mature breeding animal), $2.5 billion in stocker backgrounder ($159.98/head), and $3.0 billion to the feeding sector ($205.96/head). Local market reports reflect the national numbers, with sharp declines in prices vs last year. There is currently no market for finished beef in the state. That said, specialty cattle, such as grass fed, may still have markets.
At this point, producers may be wondering if they should keep finished cattle until demand and prices increase, or sell them now. Keeping them presents a challenge in that a portion of cattle ready now will not tolerate extended feeding well and may end up as yield grade 4s, too fat, and/or have low feed efficiency from now until the time they're processed. Dr. Mike Baker recommends that finished cattle ready now should be sold rather than maintained, since by decreasing the plane of nutrition, the quality of the carcass will go down. On the other hand, some producers who normally sell calves at this time may find that with corn futures down, it may be economically viable to finish those animals instead.
By the end of March, NYS cull cow prices had dropped from a high of $0.55/cwt to a low of $0.45/cwt. Last week showed a slight bit of recovery, around $0.42/cwt. Processors are overwhelmed by the number of requests to process cull cattle, and are responding by lowering the price paid to help reduce the number of cows coming through the system. Producers who have extra, cheap feed or pasture have the option of holding on to cull cows, especially the thinner ones, to gain body condition. The increase in price received for better body condition may outweigh the costs of keeping those cows for an extra few months. Cull beef cows are usually in better condition than dairy cows, but holding them may make sense if there is pasture available. That said, there is a risk here in that if Cargill shuts down, then any prediction for prices won't hold.
Looking at the larger plants servicing the region, JBS reopened on Monday, April 20th, and is currently taking in contract cattle. It is uncertain if they will be purchasing cattle outside contract in the immediate future. Cargill continues to harvest cull cows, though capacity has been decreased from 1,800 head/day to 1,500 head/day. This drop in capacity is a result of required employee health screenings, making 1,500 head/day the maximum capacity for the foreseeable future. With less versatility in regards to further processing, Nicholas Meats is buying only what they need, which has reduced their demand for cull cows.
As of this writing, custom butchers are full, with long wait times to get animals processed.
All this said, the number of beef purchases and beef consumption remain high. However, there is concern that as time progresses and things even themselves out, the nation will see a drop off in beef consumption as people stop buying to eat through their stores. The silver lining to this is that the trend of people cooking at home may continue after the stay-at-home orders are lifted, which may result in a stable, increased trend in beef consumption moving forward.
For the latest NYS beef cattle market information, visit the Cornell Beef Management Website: https://blogs.cornell.edu/beefcattle/market-information/.
For more information, feel free to reach out to our Livestock Specialist, Amy Barkley, at amb544@cornell.edu or (716) 640-0844.
Upcoming Events
Is Grazing Sheep Beneath Solar Arrays and Opportunity for Your Future?
September 25, 2023
Mt. Morris, NY
Grazing sheep beneath utility-scale solar arrays can build wealth of present and future sheep farmers as vegetation management service providers and access to additional pasture. The Cornell Cooperative Enterprise Program (CEP) conducted a survey earlier this year completed by over 600 farmers. Farmers identified barriers to grazing sheep under solar arrays and weighed in on need for a producer-led organization to negotiate contracts on their behalf, coordinate logistics of multiple flocks, provide transport of sheep to and from the site, care for sheep while on-site, and provide supplemental mowing. Additional questions focused on processing and marketing needs.
Technology for Grazing Dairies Webinar
September 27, 2023
Join us for this free webinar! Brought to you by the dairy specialists of CCE NWNY and SWNY Dairy, Livestock and Field Crops Programs.
Protecting Against Murphy's Law: A FREE Live Seminar for Veterans.
October 4, 2023
What Can Go Wrong, Will Go Wrong!
Good ole' Murphy's Law is probably the best description of what it's like to be a farmer that there is! Join Cornell Cooperative Extension Farm Business Management Specialist, Katelyn Walley-Stoll, to learn more about the 5 areas of risk on farms and how to develop strategies to manage those risks. Participants will have the opportunity to identify areas of risk on their own farms and brainstorm ways to (try to) prevent the inevitable!
Registration is REQUIRED by visiting https://tinyurl.com/CCERisk or call Kelly at 585-268-7644.
Announcements
No announcements at this time.