Field Crops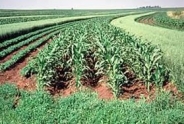 Field crop production addresses several crops such as corn, soybeans, and small grains throughout the Southwest NY region. We offer programming around pest and disease management, nutrient management, grain production, variety selection, and soil analyses.
Relevant Events
Organic Farmer-to-Farmer Meetings
April 4, 2023
: NYCO Field Crop Meeting


Geneva, NY
2023 SHOP TALKS: Incorporating Small Grains Into Your Forage System
April 13, 2023
North Collins, NY
Consideration for Alfalfa-Grass Mixtures
Katelyn Miller, Field Crops and Forage Specialist
Southwest New York Dairy, Livestock and Field Crops Program
Last Modified: March 20, 2023

85% of the alfalfa acreage in the Northeast is planted as a mix with grass. Learn some considerations of utilizing these mixes on your farm and grass species selection.
Opportunity for Silage Corn Growers: On-Farm Biodiversity Experiment
Last Modified: February 20, 2023
Cornell graduate student researcher is seeking New York partner farms to test how planting native flowers near silage corn fields affects biodiversity on the farm. We are also interested in how flower planting date affects biodiversity. This single-year experiment will run from May to September 2023. Participating farms will each receive $500.
Winter forage management means business strategy
Last Modified: February 13, 2023

While we all get anxious during the winter months and feel as if there must be something we can do out in our fields, preparing a good strategy for the upcoming growing season may just be the most proactive thing to do.
Free Guide Available for Planter Prep Tips
Last Modified: February 6, 2023

Starting a new crop is the beginning of a new year for most farms, but it's also a time when taking care of a key piece of equipment can make a big difference in spring success. The planter is a complex tool that must be precise when the weather is right to hit the field. A new free guide from Farm Progress offers information to get that planter in tip-top shape.
Best Management Practices for Field Biosecurity
Last Modified: January 30, 2023

To reduce the likelihood of introducing new pests to the farm, producers should develop a biosecurity plan for their operation. Read on to learn things to consider when developing a plan for your farm.
Ways to Reduce Spray Drift and Other Considerations
Last Modified: January 30, 2023

The importance of keeping crop protectant applications on target continues to be at the forefront of growers' minds as well as people neighboring the farms. Making sure the product stays on the intended target is critical for the health of the plant as well as those surrounding the area. As you plan for the 2023 crop season, also plan for how you're going to reduce spray drift this coming season.
New York On-Farm Research Partnership Value of Manure Project
Last Modified: January 23, 2023

Manure has all seventeen essential plant nutrients and can increase yield beyond what can be obtained with fertilizer only. In this project with the Nutrient Management Spear Program, the nitrogen fertilizer replacement value (how much N can we credit to manure?) is evaluated and yield differences as a result of manure application. Read on to learn the requirements for participation and trial setup.
Winter Manure Spreading Restrictions
Last Modified: January 23, 2023

Winter manure spreading can be a tricky issue depending on where you farm. In the Northeast, some states ban winter manure spreading, while others allow it but have specific rules to follow. Regulations surrounding winter manure spreading vary greatly by state, so make sure you're up to date on what you're allowed to do in New York.
Win a Grain Rescue Tube and Training for Your Local Fire Department!
Last Modified: January 17, 2023

When someone becomes helplessly engulfed in grain, rural firefighters are often the first and only line of defense. Unfortunately, many departments lack the specialized techniques and equipment necessary for a successful grain bin rescue. Nationwide Insurance once again is teaming up with the National Education Center for Agricultural Safety (NECAS), Peosta, Iowa, to award emergency first responders with grain rescue tubes and hands-on rescue training to help save lives.
The contest begins on January 1, 2023 at 8:00 a.m. CT and extends through April 30, 2023 at 11:59 p.m. CT. Only entries submitted during this time will be considered for the contest. To enter, describe how your local fire department or emergency rescue team and community would benefit from grain entrapment training and a rescue tube, as well as how the tube and training could be shared with nearby departments. For more information click here or contact jim.carrabba@bassett.org or call (800)343-7527 ext. 2216.
December 2022 Storm Damage Survey
Last Modified: January 3, 2023

CCE is working with officials to understand the extent of the December 2022 Blizzard. We are collecting information on damage to agricultural infrastructure, equipment, livestock, stored crops, and/or winter produce. You can either fill out the reporting survey, found at https://cornell.ca1.qualtrics.com/.../SV_9AytO5D9oYvRCXc or report the damage to one of our team's regional specialists. If you had damage from the November 2022 storm and haven't yet reported it, you can do that at this time.
Grain Drill Calibration
Last Modified: November 28, 2022

The seed delivery system in drills is not as precise as that used in planters because they use flutes or sponges to meter seed instead of seed singulation. However, drills are cost effective for establishment of close-spaced crops and can place seed at a uniform depth, provided depth-control or furrow-closing wheels when they are properly adjusted and maintained. Click here to review the process of how to calibrate a grain drill.
Plan now for better 2023 weed control
Last Modified: November 28, 2022
Did you achieve the level of weed control you wanted in corn in 2022? Did you prevent weeds from growing with corn early in the season? By evaluating this year's challenges and successes now, you can lay out an even better weed control strategy for 2023.


Upcoming Events
Organic Farmer-to-Farmer Meetings
April 4, 2023
: NYCO Field Crop Meeting


Geneva, NY
How to Value Your Business, Planning for the Future
April 4, 2023
April 11, 2023
April 18, 2023

Business Planning for Beginning Farmers
April 10, 2023
Jamestown, NY