Field Crops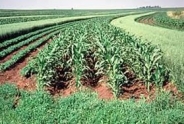 Field crop production addresses several crops such as corn, soybeans, and small grains throughout the Southwest NY region. We offer programming around pest and disease management, nutrient management, grain production, variety selection, and soil analyses.
Grain Drill Calibration
Last Modified: November 28, 2022

The seed delivery system in drills is not as precise as that used in planters because they use flutes or sponges to meter seed instead of seed singulation. However, drills are cost effective for establishment of close-spaced crops and can place seed at a uniform depth, provided depth-control or furrow-closing wheels when they are properly adjusted and maintained. Click here to review the process of how to calibrate a grain drill.
Plan now for better 2023 weed control
Last Modified: November 28, 2022
Did you achieve the level of weed control you wanted in corn in 2022? Did you prevent weeds from growing with corn early in the season? By evaluating this year's challenges and successes now, you can lay out an even better weed control strategy for 2023.
Reflecting on Tar Spot in 2022
Last Modified: November 28, 2022

While tar spot was first found in Pennsylvania in late 2020, its spread was limited in the commonwealth until recently. This year (2022), tar spot was found across the majority of southern PA and in western PA into the Lake Erie region. We want to emphasize that there were no reports of yield loss due to tar spot in the areas affected. Read on to learn how the pathogen survives and spreads along with possible management strategies if the disease has been identified in your area.
Weed resistance a growing problem in N.Y.
Last Modified: November 28, 2022

Weed control is a major concern for growers, especially considering the growing trend of herbicide resistance. Read labels carefully, be open to other techniques that can help preserve the herbicide arsenal, learn about how herbicide resistant weeds are spreading throughout NYS and how to reduce incidence of spread.
Don't Become a Statistic: Grain Bin Safety Tips
Last Modified: November 21, 2022

Many of the ways to increase safety when working and living around grain storage involve basic safety practices, but more education and enforcement is needed on the farm. Over two-thirds of US grain is stored on the farm without OSHA standards for safety protocols. It is up to you to keep yourself, your employees, your spouse, kids, and grandkids safe from grain bin hazards.
No Relief in Sight for High Fertilizer Prices
Last Modified: November 7, 2022

If you haven't purchased fertilizer yet for 2023, don't expect much price relief between now and next spring unless commodity prices and natural gas prices come down dramatically. And that's not likely, at least at this point, according to Jason Troendle of The Fertilizer Institute.
What are mycotoxins?
Last Modified: November 7, 2022

Mycotoxins are toxic substances produced by fungi (mycotoxigenic fungi) on the different substrates where they grow. Mycotoxins can be toxic when inhaled, absorbed through the skin, or consumed at very low concentration levels, which means that even a few milligrams in food or feed may pose a risk for human and animal health. Read on to learn more about which crops are affected, their impact on human health, and when outbreaks occur.
How Late Can I Control Weeds in the Fall
Last Modified: October 31, 2022
How late can an herbicide application be made in the fall and still be effective? Here are some comments about controlling perennials and winter annual weeds.
Late Fall is Time to Winterize Your Sprayers
Last Modified: October 31, 2022

Now that most of the field spraying is over for the season and the weather is turning colder it's time to winterize your pesticide sprayer before it gets too cold and causes damage to sprayer components. The following are tips to guide you.
Herbicide Supplies and Storage during the Winter
Last Modified: October 24, 2022

With volatile supply chain issues, it may make sense to purchase bulk inventory of herbicides and/or other pesticides. However, you must keep in mind appropriate storage parameters, namely issues regarding freezing of pesticide products. Read on to learn how to store these products safely for the upcoming winter season.
Spotted Lanternfly PSA Video Released by CCE
Last Modified: October 24, 2022

Are you looking to understand and/or share more about the invasive Spotted Lanternfly in NYS? Check out this sharable video, which outlines what it looks like, how it affects us, and how to report sightings to NYS Ag and Markets. An infestation has recently been confirmed in Buffalo.
A Representative Soil Sample Makes All The Difference
Last Modified: October 17, 2022

"An acre of soil to a 6-inch depth weighs about 1,000 tons, yet less than 1 ounce of soil is used for each test in the laboratory." That number is quite staggering. Therefore, pulling a high-quality soil sample is important every time we hit the field. Here are a few tips for accomplishing just that to round out a successful crop season.


Upcoming Events
Economic Feasibility Case Study of Co-Digestion of Manure and Food Waste on a Northern New York Dairy Farm
December 1, 2022
Are you interested in exploring whether a manure and food waste co-digestion enterprise might be feasible at your dairy? This webinar will present the economic feasibility of two scenarios of anaerobic co-digestion on a case dairy farm located in Northern New York.