Newsletters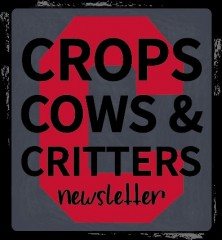 Please contact one of our specialists to receive a copy of our newsletter, or click on the links below.
Crops, Cows, and Critters
Our periodic newsletter with valuable information, resources, field notes, and upcoming events.
Dairy Market Watch
Dairy Market Watch is an educational newsletter to keep producers informed of changing market factors affecting the dairy industry. Dairy Market Watch is published on the last Tuesday of every month, funded in part by Cornell Pro-Dairy, and is compiled by Katelyn Walley-Stoll, Business Management Specialist with the Southwest New York Dairy, Livestock & Field Crops Program.
Weekly Updates
A copy of the weekly email sent to our region's agricultural producers that contain timely bites of information and additional hyperlinked resources. Sign up for this free resource here to receive it directly to your inbox!
Sign Up to Receive Our Notifications
Crops, Cows, and Critters
2023 Crops, Cows, and Critters
2022 Crops, Cows, and Critters
2021 Crops, Cows, and Critters
2020 Crops, Cows, and Critters
2019 Crops, Cows, and Critters
Dairy Market Watch
2023 Dairy Market Watch
2022 Dairy Market Watch
2021 Dairy Market Watch
2020 Dairy Market Watch
Field Crop Chronicle
2022 Field Crop Chronicle
2021 Field Crop Chronicle
2020 Field Crop Chronicle
Weekly Update
2023 Weekly Update
2022 Weekly Update
2021 Weekly Update
2020 Weekly Update


Upcoming Events
Organic Farmer-to-Farmer Meetings
April 4, 2023
: NYCO Field Crop Meeting


Geneva, NY

NYCO's field crops meeting has been rescheduled to April 4th, 2023 from 9 am - 1 pm. This meeting is free for all farmers to attend and participants are encouraged to bring a dish to pass for lunch.
How to Value Your Business, Planning for the Future
April 4, 2023
April 11, 2023
April 18, 2023

This three-week workshop series for livestock-based businesses will be held online. It is specifically targeted at existing meat, fiber, small ruminant dairy, or other livestock value-added processing businesses. A team of Cornell Cooperative Extension Educators will provide tools to assess your existing business and to assist in understanding options for business expansion or transfer. The workshop series will also be of benefit to livestock value-added business startups and is of relevance to both owners and employees in management positions.
Business Planning for Beginning Farmers
April 10, 2023
Jamestown, NY
Business plans for farms are often viewed as yet another chore to do and usually result in dusty binders taking up space on the office shelf. This discussion based workshop will walk you through the mental exercise of planning your future agricultural adventures. Participants will leave with a better understanding of the use of a business plan, the essential components, and a "to-do" list of things to think about to inform future planning efforts. Additional opportunities for one-on-one follow up will also be offered. FSA Borrower credits may be made available for your attendance. This workshop will be taught by Katelyn Walley-Stoll, Team Leader and Farm Business Management Specialist from the Southwest New York Dairy, Livestock, and Field Crops Program with Cornell Cooperative Extension. She is a graduate of Cornell University with a degree in Animal Science and Ag Business Management, and owns and operates a diversified livestock farm.
$5 per person REGISTER