Newsletters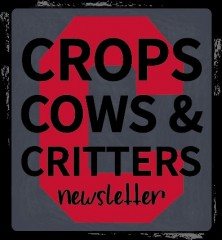 Please contact one of our specialists to receive a copy of our newsletter, or click on the links below.
Crops, Cows, and Critters
Our periodic newsletter with valuable information, resources, field notes, and upcoming events.
Dairy Market Watch
Dairy Market Watch is an educational newsletter to keep producers informed of changing market factors affecting the dairy industry. Dairy Market Watch is published on the last Tuesday of every month, funded in part by Cornell Pro-Dairy, and is compiled by Katelyn Walley-Stoll, Business Management Specialist with the Southwest New York Dairy, Livestock & Field Crops Program.
Weekly Updates
A copy of the weekly email sent to our region's agricultural producers that contain timely bites of information and additional hyperlinked resources. Sign up for this free resource here to receive it directly to your inbox!
Sign Up to Receive Our Notifications
Crops, Cows, and Critters
2022 Crops, Cows, and Critters
2021 Crops, Cows, and Critters
2020 Crops, Cows, and Critters
2019 Crops, Cows, and Critters
Dairy Market Watch
2022 Dairy Market Watch
2021 Dairy Market Watch
2020 Dairy Market Watch
Field Crop Chronicle
2022 Field Crop Chronicle
2021 Field Crop Chronicle
2020 Field Crop Chronicle
Weekly Update
2022 Weekly Update
2021 Weekly Update
2020 Weekly Update


Upcoming Events
Economic Feasibility Case Study of Co-Digestion of Manure and Food Waste on a Northern New York Dairy Farm
December 1, 2022
Are you interested in exploring whether a manure and food waste co-digestion enterprise might be feasible at your dairy? This webinar will present the economic feasibility of two scenarios of anaerobic co-digestion on a case dairy farm located in Northern New York.