About Program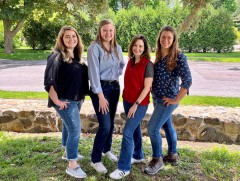 The Southwest New York Dairy, Livestock and Field Crops Program with Cornell Cooperative Extension offers educational programming and research based information to agricultural producers, growers, and agribusinesses in the five county region of Southwestern New York.
Our specialists work with Cornell Faculty and Extension Educators statewide to address the issues that impact the agricultural industry and provide services to farms of all sizes and production techniques. The educational programming and support that we offer ranges from workshops to on-farm events, and includes one-on-one consultations. Our program is designed to meet the rapidly changing needs of our region's diverse agricultural community.
For more information, contact any of our
specialists
or your local Cooperative Extension office.


The Southwest New York Dairy, Livestock & Field Crops Program is supported, in part, by
county Cornell Cooperative Extensions including: Allegany, Cattaraugus, Chautauqua, Erie
and Steuben Counties.

To visit one of these Cornell Cooperative Extension's web sites,
simply click on a county within the map.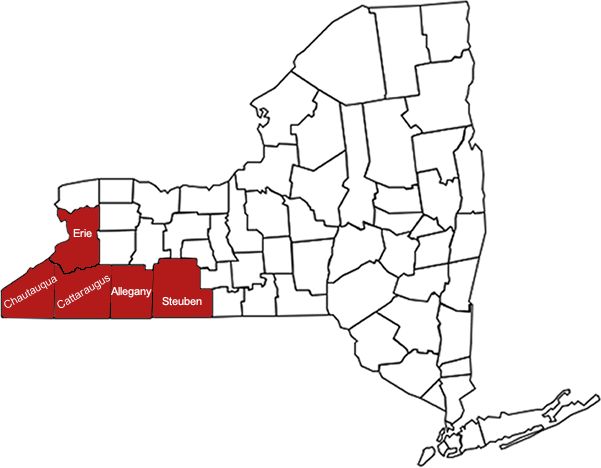 Upcoming Events
USDA Series - Cattle and Carcass Training
November 17 - December 15, 2020
Nov. 17, Dec. 1, Dec. 8, Dec. 15; 7:00pm - 9:30pm
The U.S. Department of Agriculture (USDA) will host a series of four webinars with guest speakers from three regional USDA Cattle and Carcass Training Centers (CCTCs), the CME Group, and USDA's Agricultural Marketing Service (AMS). These free webinars begin Tuesday, Nov. 17, 2020, and are targeted to cattle producers, feeders, and others in the U.S. fed beef supply chain who want to better understand the reporting, delivery, and grading of feeder cattle, live cattle, and carcasses, particularly relating to CME live cattle futures.
2020 Northeast Region Agribusiness & CCE Conference
December 1 - December 3, 2020

Certified Crop Adviser Credits, DEC Applicator Credits, technology, Land Grant University and Industry expertise, agribusiness, field crops, nutrient management, soil and water management, pest management?will collide on the internet December 1 - 3, 2020.
Conference Schedule
Register
Market Programs that Build Your Customer Base and Add Sales
December 3, 2020
Noon - 1:30pm
Market programs can be effective ways to build a customer base. But they do create extra work. This session will help us to identify programs that will help build your market and enhance your market mission. We'll learn how to plan and prepare for market programming, as well as evaluating its effectiveness.
Announcements
Certified Crop Adviser Exam Registration Now Open!
Interested in becoming a CCA? Exam registration is open through December 11, 2020. Digital exams are being offered for February 2021. If you are thinking of becoming certified as a CCA or if you are interested in one of the specialty certifications. Registration, Performance Objectives, and other study material can be found on the Exam section of the
CCA website
. PLEASE NOTE: The Sustainability Exam will not be offered for February 2021--it will be offered again in August 2021.
From our Team to Yours: COVID-19 Resources for Dairy Farmers
The
South Central NY Dairy and Field Crops Team
has compiled a
list of articles
on
their blog
that we think may be useful to dairy producers and their service providers as we all navigate the COVID-19 situation. Please stay safe and reach out to
our team
if you have questions or need help finding information. We are here to help with tools and resources to support all of the normal day-to-day dairy, livestock, and field crop management considerations, in addition to emerging topics related to COVID-19.
EPA Announces 2020 Dicamba Registration Decision
October 27, 2020 - On Tuesday, U.S. Environmental Protection Agency (EPA) Administrator Andrew Wheeler announced that EPA is approving new five-year registrations for two dicamba products and extending the registration of an additional dicamba product. All three registrations include new control measures to ensure these products can be used effectively while protecting the environment, including non-target plants, animals, and other crops not tolerant to dicamba. "With today's decision, farmers now have the certainty they need to make plans for their 2021 growing season," said EPA Administrator Andrew Wheeler. "After reviewing substantial amounts of new information, conducting scientific assessments based on the best available science, and carefully considering input from stakeholders we have reached a resolution that is good for our farmers and our environment." Through today's action, EPA approved new registrations for two "over-the-top" (OTT) dicamba products: XtendiMax with VaporGrip Technology and Engenia Herbicide and extended the registration for an additional OTT dicamba product, Tavium Plus VaporGrip Technology. These registrations are only for use on dicamba-tolerant (DT) cotton and soybeans and will expire in 2025, providing certainty to American agriculture for the upcoming growing season and beyond. New control measures have been put into place to help prevent off-site movement of dicamba and can be found in this
full article
.
Important Notice for Licensed Pesticide Applicators
Important Notice for Licensed Pesticide Applicators!
Because of COVID-19, the NYS DEC did not require growers whose licenses expired in November of 2019 or later to renew their applicator's license in order to buy & spray restricted-use materials during the 2020 growing season. That discretionary policy is no longer in effect. If your license expired between November 2019 and Nov. 23, 2020, you must obtain the full number of recertification credits and renew your license. Starting Nov. 24, 2020, you cannot buy or apply pesticides until your license has been renewed. The DEC is giving growers a 90-day grace period before adding penalty credits to overdue renewal applications. Growers should complete COVID-delayed license renewals by February 23, 2021. If your license expires after Nov. 23, 2020, you will follow the typical DEC renewal process.
Follow us on Facebook!
Stay up-to-date with our program by
liking our page.