Resources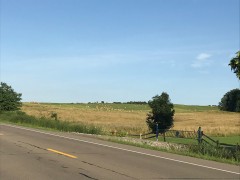 We have compiled a list of useful resources for farmers, consultants and agri-business professionals, organized by category. We hope that these websites can provide you with additional information and guidance.
GENERAL
Cornell Cooperative Extension (CCE)
The Cornell Cooperative Extension website provides an overview of CCE programs across New York State.
NYS IPM Program
Developing sustainable ways to manage pests and help people to use methods that minimize environmental, health, and economic risks.
http://www.nysipm.cornell.edu/
The Cornell Nutrient Analysis Laboratory
Provide accurate and cost effective analysis of soil (Cornell Soil Health Test, Illinois Soil Nutrient Test, other specialized soil tests), plant and water samples.
Cornell Soil Health
Information to help you return your soil to a healthy state or keep an already good soil productive.
http://soilhealth.cals.cornell.edu
Grazing Heifers: An Opportunity
An Overview of economics and 10 Fact Sheets covering the resources required to operate a farm owned heifer grazing system or contracting with a Custom Grazer.
https://cpb-us-e1.wpmucdn.com/blogs.cornell.edu/dist/4/7493/files/2012/04/Booklet-1dt7xgk.pdf
Guide to Direct Marketing Livestock and Poultry
A Resource Guide to Direct Market Livestock and Poultry helps to clarify and explain the complex laws in layman terms, discussing slaughtering and processing at the custom, state, and federal levels and guiding farmers through the logistics of the various market channels.
http://smallfarms.cornell.edu/resource-guide-to-direct-marketing-livestock-and-poultry/
BUSINESS
Cornell Small Farms Program
http://www.smallfarms.cornell.edu
NE Beginning Farmer Program
http://nebeginningfarmers.org/


Upcoming Events
Baby Mama Drama (Goat Reproduction and Kidding)
June 29, 2022
Are you ready for your goats to give birth? NY & NJ Veterans are invited to join Cornell Cooperative Extension Specialists, Amy Barkley and Katelyn Walley-Stoll, to learn more about parasite management and pasture health in a FREE virtual seminar. This will take place on Wednesday, June 29thh, 2022 from 6pm - 7:30pm via Zoom. Registration is required by visiting tinyurl.com/BabyGoat22.
Farms Under Threat 2040: Choosing an Abundant Future
June 29, 2022
American farmland and ranchland are rapidly disappearing, threatening our food security, undermining the agricultural economy, and making us vulnerable to climate shocks. What can be done?
Robotic Milking System Farm Tour
July 12, 2022
Conewango Valley, NY
Join us to tour the farm, talk about managing cows under robotic system, enjoy lunch, socialize with other farms, and learn from each other.
Announcements
No announcements at this time.