Resources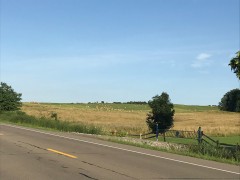 We have compiled a list of useful resources for farmers, consultants and agri-business professionals, organized by category. We hope that these websites can provide you with additional information and guidance.
GENERAL
Cornell Cooperative Extension (CCE)
The Cornell Cooperative Extension website provides an overview of CCE programs across New York State.
NYS IPM Program
Developing sustainable ways to manage pests and help people to use methods that minimize environmental, health, and economic risks.
http://www.nysipm.cornell.edu/
The Cornell Nutrient Analysis Laboratory
Provide accurate and cost effective analysis of soil (Cornell Soil Health Test, Illinois Soil Nutrient Test, other specialized soil tests), plant and water samples.
Cornell Soil Health
Information to help you return your soil to a healthy state or keep an already good soil productive.
http://soilhealth.cals.cornell.edu
Grazing Heifers: An Opportunity
An Overview of economics and 10 Fact Sheets covering the resources required to operate a farm owned heifer grazing system or contracting with a Custom Grazer.
https://cpb-us-e1.wpmucdn.com/blogs.cornell.edu/dist/4/7493/files/2012/04/Booklet-1dt7xgk.pdf
Guide to Direct Marketing Livestock and Poultry
A Resource Guide to Direct Market Livestock and Poultry helps to clarify and explain the complex laws in layman terms, discussing slaughtering and processing at the custom, state, and federal levels and guiding farmers through the logistics of the various market channels.
http://smallfarms.cornell.edu/resource-guide-to-direct-marketing-livestock-and-poultry/
BUSINESS
Cornell Small Farms Program
http://www.smallfarms.cornell.edu
NE Beginning Farmer Program
http://nebeginningfarmers.org/


Upcoming Events
NOFA-NY's 2022 Winter Conference
January 18 - January 23, 2022
Growing in Harmony
NOFA-NY's Annual Winter Conference is one of the largest organic food and farming conferences in the nation - gathering hundreds each year to meet old friends, learn new skills, provide support, and celebrate community.
Grazing Sheep on Solar Arrays
January 24, 2022
This online Zoom class will look at the logistics and business of grazing solar arrays with sheep. Shepherds can get paid to graze solar arrays for the purpose of keeping the foliage below the level of the panels. Good grazing principles still apply and there are things to consider like fencing, water, moving animals and the timing of lambing. Join us to learn more about it from experienced grazers, Lewis Fox and Niko Kochendoerfer of Taconic End Sheep, LLC. Lewis and Niko own 400 Katahdin ewes in VT and operate Taconic End Sheep LLC. The flock grazes solar sites in the Northeast between May and October and moves back to VT for the Winter and lambing season.
FREE event
REGISTER
Farm Specific Tax Code Benefits
January 25, 2022
For farm businesses of all shapes and sizes, tune in to learn more about the tax advantages available for farms. This workshop will include information for the current tax season.
Announcements
Register for "Tax Management for Beginning and Small Farm Businesses"
Preregistration is back up and running for next week's CCE Farmer Tax School course: Tax Management for Beginning and Small Farm Businesses - Register now for this informative, $10 workshop!
Register Here!