Resources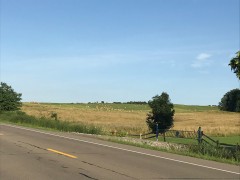 We have compiled a list of useful resources for farmers, consultants and agri-business professionals, organized by category. We hope that these websites can provide you with additional information and guidance.
GENERAL
Cornell Cooperative Extension (CCE)
The Cornell Cooperative Extension website provides an overview of CCE programs across New York State.
NYS IPM Program
Developing sustainable ways to manage pests and help people to use methods that minimize environmental, health, and economic risks.
http://www.nysipm.cornell.edu/
The Cornell Nutrient Analysis Laboratory
Provide accurate and cost effective analysis of soil (Cornell Soil Health Test, Illinois Soil Nutrient Test, other specialized soil tests), plant and water samples.
Cornell Soil Health
Information to help you return your soil to a healthy state or keep an already good soil productive.
http://soilhealth.cals.cornell.edu
Grazing Heifers: An Opportunity
An Overview of economics and 10 Fact Sheets covering the resources required to operate a farm owned heifer grazing system or contracting with a Custom Grazer.
https://cpb-us-e1.wpmucdn.com/blogs.cornell.edu/dist/4/7493/files/2012/04/Booklet-1dt7xgk.pdf
Guide to Direct Marketing Livestock and Poultry
A Resource Guide to Direct Market Livestock and Poultry helps to clarify and explain the complex laws in layman terms, discussing slaughtering and processing at the custom, state, and federal levels and guiding farmers through the logistics of the various market channels.
http://smallfarms.cornell.edu/resource-guide-to-direct-marketing-livestock-and-poultry/
BUSINESS
Cornell Small Farms Program
http://www.smallfarms.cornell.edu
NE Beginning Farmer Program
http://nebeginningfarmers.org/


Upcoming Events
Economic Feasibility Case Study of Co-Digestion of Manure and Food Waste on a Northern New York Dairy Farm
December 1, 2022
Are you interested in exploring whether a manure and food waste co-digestion enterprise might be feasible at your dairy? This webinar will present the economic feasibility of two scenarios of anaerobic co-digestion on a case dairy farm located in Northern New York.