Dairy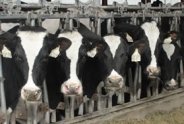 Dairy is the leading agricultural industry in New York State, and the state ranks third in the country for milk production. Our five counties in southwestern New York form an especially vibrant dairy region, with over 680 dairy farms of many different sizes and production systems.
The SWNY Dairy, Livestock, and Field Crops Program assists dairy farmers by providing business management, forage production, and dairy management support. Our
Dairy Management Specialist
offers assistance with calf and heifer management, reproductive management, dairy records analysis, herd health, nutrition, and facilities.
Relevant Events
Beef x Dairy Workshop - Postponed to Winter time!
April 27, 2022
November 23, 2022

Robotic Milking System Farm Tour
July 12, 2022
Conewango Valley, NY
Matching Your Pasture Forage To Your Herd
Last Modified: June 14, 2022

by Fay Benson
After being involved with grazing livestock for much of my life, first on my family's dairy then owning a grazing dairy, and finally working here at CCE, I am surprised that more grazing doesn't happen in the Northeast. We have a good climate for growing cool-season grasses which support the nutritional needs of all ruminant livestock including the lactating dairy cow. The cost savings are substantial since no machinery is required to harvest the forage, store the forage, put the forage in front of the cow, and on top of that, they spread their own manure.

It's Time to Rethink Early Breeding of Heifers...Again
Last Modified: June 6, 2022

by Maureen Hanson - Bovine Veterinarian
Sign up to receive 2022 Census of Agriculture
Last Modified: June 6, 2022

Published on June 5, 2022 - Morning AgClips
Agriculture producers who did not receive the 2017 Census of Agriculture and do not receive other USDA surveys or censuses have until June 30 to sign up to receive the 2022 Census of Agriculture
New York State Farm Directory launching in June 2022
Last Modified: June 2, 2022

From our friends at Cornell CALS
As part of Cornell Cooperative Extension's role in strengthening New York State agriculture, we are helping to spread word of the New York State Department of Agriculture and Markets' plans to launch a statewide online Farm Directory.

7 Steps to Start Calves on Starter
Last Modified: May 31, 2022

By Maureen Hanson, Bovine Veterinarian (Click here to access original article)
Milk fat above 4% is the new normal
Last Modified: May 31, 2022

by Isaac Salfer, University of Minnesota Extension
I can remember sitting in my Dairy Management class at the University of Minnesota in 2012 and learning that a good milk fat benchmark for a Holstein herd was 3.75%. This was backed up by historical milk market data, which saw average butterfat tests in the Upper Midwest hovering between 3.7% and 3.8% from 2000 to 2012.
Johne's Disease in Cattle by Dr. Melanie Hemenway
Last Modified: May 24, 2022

This chronic, incurable bacterial infection is difficult to manage, fatal, and can be either fast or slow moving. Learning how to keep it out of the herd and/or control & manage for it to save substantial time and money.
Financial Losses from Transition Period Diseases - PSU Extension
Last Modified: May 23, 2022

by Michal Lunak - PSU Extension
Direct and Indirect costs contribute to reduced farm profits. Good management practices help reduce loss.

Large-herd automated milking survey results - Progressive Dairy
Last Modified: May 23, 2022

To understand the motivation and evaluate risk factors of implementing automated milking in large dairies, a survey was conducted.
Dig into your herd's lameness issues - By Katelyn Allen, Hoard`s Dairyman Intel
Last Modified: May 16, 2022

"Lameness is a very broad, complicated disorder," began Jan Shearer during a Cornell University virtual workshop on understanding and mitigating the condition. To dial in on problems and potential solutions, the Extension veterinarian outlined three categories of lameness issues: claw disorders, foot skin problems, and upper leg lameness, which is often from falls or genetic concerns. The first two areas make up about 95% of lameness cases, he described.
Soil Health Opportunity for Dairy Farms - Erie County
Camila Lage, Dairy Management Specialist
Southwest New York Dairy, Livestock and Field Crops Program
Last Modified: May 16, 2022

Dear Dairy Producer from Erie County,
The U.S. dairy community is collaborating on an important research initiative, the Dairy Soil and Water Regeneration project (DSWR), a six-year research initiative across 5 major dairy regions that is supported by a $10 million Foundation for Food and Agriculture (FFAR) grant. The overall project is designed to provide measurement-based assessments of a dairy farm's greenhouse gas footprint for feed production. This work will help deliver foundational data to fill current research gaps, assist in the sharing of best practice soil health management systems and support potential new market opportunities related to carbon, water quality and soil health.
If your farm is located in the designated area on the map and you are willing to take part in this important initiative, and/or have questions regarding the sampling or the project, please contact Mara Cloutier, Project Scientist at Soil Health Institute. She can be reached at mcloutier@soilhealthinstitute.org or by phone at (828) 708-3490.
The Soil Heath Institute will provide participants with an assessment of soil health and soil carbon stocks approximately 6 months after sampling. Furthermore, an aggregated report of soil health and carbon stocks from the New York region will be shared with you that shows how well your soil health and carbon stocks compare to others in the region. Participants in this sampling study will not be identified, and individual data collected as part of this effort will remain confidential.
Spring 2022 fertility considerations - PRO DAIRY
Last Modified: May 9, 2022

Spring 2022 fertility considerations
Kirsten Workman and Joe Lawrence
Fertilizer prices continue to rise with no relief in the immediate site. With a slowly warming spring
that has seen snow and wet weather, manure applications in many locations have been delayed.




Upcoming Events
Baby Mama Drama (Goat Reproduction and Kidding)
June 29, 2022
Farms Under Threat 2040: Choosing an Abundant Future
June 29, 2022
Robotic Milking System Farm Tour
July 12, 2022
Conewango Valley, NY
Announcements
No announcements at this time.