Grains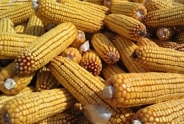 Grain crops such as corn, soybeans and small grains are grown on over 100,000 acres in the five county area of Allegany, Cattaraugus, Chautauqua, Erie, and Steuben each year.
It's Soil Sampling Season
Katelyn Miller, Field Crops and Forage Specialist
Southwest New York Dairy, Livestock and Field Crops Program
Last Modified: September 19, 2023

Soil testing is the building block of any fertilizer management program, allowing you to evaluate your pH, organic matter, and various macronutrient and micronutrient levels in your soil. Fall is a popular time of year to take soil samples, so let's discuss how to get your soil from the field and into the lab for analysis.

Adding an Insecticide to your Soybean Herbicide Tank Mix
Katelyn Miller, Field Crops and Forage Specialist
Southwest New York Dairy, Livestock and Field Crops Program
Last Modified: July 11, 2023

If you're going to apply herbicides to your soybeans and know that aphids are present, should you add an insecticide to the tank mix? Check out this article to learn some considerations for making this decision on your farm.
The Effects of Dry Conditions on Weed Management
Last Modified: June 21, 2023

The current weather patterns we have been/are experiencing could significantly impact crop establishment and development; it could also affect weed control success. Read on for some considerations on POST herbicide applications during dry weather.
Farmers: What's in your weed seedbank?
Last Modified: June 13, 2023

Are you interested in learning more about the diversity of your weed seedbank? The Weed Seedbank Project is looking to recruit 50 farms throughout the state to analyze their weed seedbanks and provide tailored management recommendations. To get involved, leave a message at 315-787-2432 or email bjb342@cornell.edu. The deadline to apply is July 1st, so don't hesitate - apply today! For more information, click here.
Seedcorn Maggot Risk Assessment
Katelyn Miller, Field Crops and Forage Specialist
Southwest New York Dairy, Livestock and Field Crops Program
Last Modified: May 16, 2023

Seedcorn maggot is a pest that impacts large-seeded crops like soybeans and corn. Read on to learn about the life cycle of this pest, how it affects crops, and the research currently taking place to develop prediction models for emergence in New York.
Herbicide-Resistant Weed Management Strategies
Last Modified: May 9, 2023

Herbicide-resistant weeds are not new, with the first resistance in the Northeast found in 1977. The list of resistant weeds grows, making the control and management of them an important aspect of farming operations.
13 Safety Tips for Anhydrous Ammonia
Last Modified: May 2, 2023

As the recent wet weather has caused us to halt field activities, it's a good time to think about the risks involved with utilizing anhydrous ammonia in our fertilizer programs, and how to protect ourselves from them.
Winter Wheat Fields Are Greening Up
Last Modified: April 25, 2023

Spring green up is an important time for assessing and managing winter wheat. The growth stage at green-up will depend on planting date and weather conditions, so it is important to scout the field for accurate growth staging.
Making Cover Crops Work in the Northeast: Termination Strategies For Success
Last Modified: April 18, 2023

To make cover crops a successful part of crop rotation, especially in the Northeast, it is important to be creative and adaptable. Cover cropping works the best when it is an integral part of the farm's cropping system, not just an afterthought.
Using Adjuvants in Your Pesticide Program
Katelyn Miller, Field Crops and Forage Specialist
Southwest New York Dairy, Livestock and Field Crops Program
Last Modified: April 10, 2023

As planting season approaches, it's a great time to review how adjuvants can improve pesticide efficacy. Read on to learn more about various types of adjuvants and important considerations for selecting one to use in your farms pesticide program.

Free Guide Available for Planter Prep Tips
Last Modified: February 6, 2023

Starting a new crop is the beginning of a new year for most farms, but it's also a time when taking care of a key piece of equipment can make a big difference in spring success. The planter is a complex tool that must be precise when the weather is right to hit the field. A new free guide from Farm Progress offers information to get that planter in tip-top shape.
Best Management Practices for Field Biosecurity
Last Modified: January 30, 2023

To reduce the likelihood of introducing new pests to the farm, producers should develop a biosecurity plan for their operation. Read on to learn things to consider when developing a plan for your farm.


Upcoming Events
Is Grazing Sheep Beneath Solar Arrays and Opportunity for Your Future?
September 25, 2023
Mt. Morris, NY
Grazing sheep beneath utility-scale solar arrays can build wealth of present and future sheep farmers as vegetation management service providers and access to additional pasture. The Cornell Cooperative Enterprise Program (CEP) conducted a survey earlier this year completed by over 600 farmers. Farmers identified barriers to grazing sheep under solar arrays and weighed in on need for a producer-led organization to negotiate contracts on their behalf, coordinate logistics of multiple flocks, provide transport of sheep to and from the site, care for sheep while on-site, and provide supplemental mowing. Additional questions focused on processing and marketing needs.
Technology for Grazing Dairies Webinar
September 27, 2023
Join us for this free webinar! Brought to you by the dairy specialists of CCE NWNY and SWNY Dairy, Livestock and Field Crops Programs.
Protecting Against Murphy's Law: A FREE Live Seminar for Veterans.
October 4, 2023
What Can Go Wrong, Will Go Wrong!
Good ole' Murphy's Law is probably the best description of what it's like to be a farmer that there is! Join Cornell Cooperative Extension Farm Business Management Specialist, Katelyn Walley-Stoll, to learn more about the 5 areas of risk on farms and how to develop strategies to manage those risks. Participants will have the opportunity to identify areas of risk on their own farms and brainstorm ways to (try to) prevent the inevitable!
Registration is REQUIRED by visiting https://tinyurl.com/CCERisk or call Kelly at 585-268-7644.
Announcements
No announcements at this time.