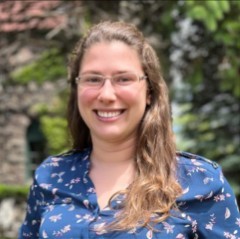 Amy Barkley
Livestock Specialist
CCE Erie County
21 South Grove Street
East Aurora, NY 14052
cell 716-640-0844
email Amy
Areas of Interest
beef, sheep, goat, and poultry production; beginning farmer support; product quality and consistency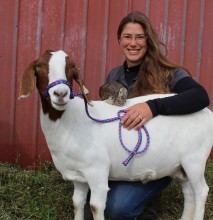 Amy grew up on a small farm in Northeastern Pennsylvania, and earned her Bachelor's Degree in Animal Science with a minor in Poultry and Avian Science from Penn State University. After graduation, she attained her Master's Degree in Animal Science from Penn State, where her research focused in renewable, alternative bedding materials for broiler production and their impacts on broiler performance, welfare, and the environment. Following graduation, Amy worked in quality assurance for a national egg company, working with farms of all sizes across the nation to ensure compliance in food safety, nutrition, product quality, and animal welfare. Amy and her husband Zach reside in East Concord, NY on a farm which they are excited to make their own. In her free time, she tends to an extensive garden, small orchard, and honeybees, and loves cooking and baking. Amy is looking forward to working with area farmers to ensure their current and continued success.


Upcoming Events
Is Grazing Sheep Beneath Solar Arrays and Opportunity for Your Future?
September 25, 2023
Mt. Morris, NY
Grazing sheep beneath utility-scale solar arrays can build wealth of present and future sheep farmers as vegetation management service providers and access to additional pasture. The Cornell Cooperative Enterprise Program (CEP) conducted a survey earlier this year completed by over 600 farmers. Farmers identified barriers to grazing sheep under solar arrays and weighed in on need for a producer-led organization to negotiate contracts on their behalf, coordinate logistics of multiple flocks, provide transport of sheep to and from the site, care for sheep while on-site, and provide supplemental mowing. Additional questions focused on processing and marketing needs.
Technology for Grazing Dairies Webinar
September 27, 2023
Join us for this free webinar! Brought to you by the dairy specialists of CCE NWNY and SWNY Dairy, Livestock and Field Crops Programs.
Protecting Against Murphy's Law: A FREE Live Seminar for Veterans.
October 4, 2023
What Can Go Wrong, Will Go Wrong!
Good ole' Murphy's Law is probably the best description of what it's like to be a farmer that there is! Join Cornell Cooperative Extension Farm Business Management Specialist, Katelyn Walley-Stoll, to learn more about the 5 areas of risk on farms and how to develop strategies to manage those risks. Participants will have the opportunity to identify areas of risk on their own farms and brainstorm ways to (try to) prevent the inevitable!
Registration is REQUIRED by visiting https://tinyurl.com/CCERisk or call Kelly at 585-268-7644.
Announcements
No announcements at this time.