African Swine Fever
Katelyn Walley-Stoll, Business Management Specialist and Team Leader
Southwest New York Dairy, Livestock and Field Crops Program
August 14, 2019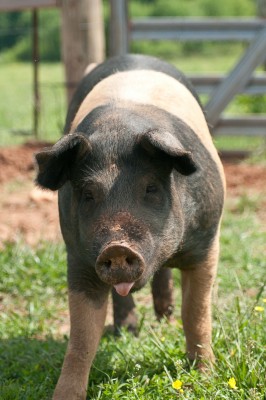 African Swine Fever (ASF) is a viral disease that is rapidly spreading across Europe and Asia - with potential to affect the North American Swine Industry and have crippling economic impacts. While the disease does not spread to humans, is easily transmitted across hog populations, both wild and domestic.
The ASF virus can survive extreme temperatures for several months and many commonly used disinfectants, and causes high morbidity and mortality. At this time, the United States Department of Agriculture (USDA) does not allow imports of pigs or fresh pork products from affected regions. Symptoms of ASF include high fever, decreased appetite, weakness, skin blemishes, diarrhea, and respiratory illness. The disease is usually fatal, but if hogs do recover, they will continue to be carriers of the virus for several months. There is no vaccine or known treatment for ASF.
Proper biosecurity is the best prevention tool for swine producers. ASF can spread rapidly through direct pig contact, small insects (ticks, flies), contaminated feeds, materials and equipment, carcasses, and wild animals. Prevention can involve keeping pigs healthy and monitoring visitors (and their vehicles, equipment, supplies, etc.). Additionally, producers should not feed raw or undercooked pork products to pigs, and house pigs in an controlled environment when possible. If any pigs do become ill, isolate them and contact your veterinarian. When bringing in any new animals, isolate them for at least two to four weeks to monitor for illness. For more information, visit www.aphis.usda.gov.
Upcoming Events
2022 Soil Health & Climate Resiliency Field Days
July 13, 2022
July 20, 2022
July 25, 2022
July 28, 2022
August 2, 2022
August 4, 2022
August 9, 2022
August 25, 2022
August 31, 2022

Join the New York Soil Health team and partner organizations at a soil health field day! The statewide event series will take place May-August 2022.
More details and registration will be available soon.
Finger Lakes Fiber Festival
September 17 - September 18, 2022
Hemlock, NY
Join us for shopping, classes, lectures, and demonstrations!
Beef x Dairy Workshop - Postponed to Winter time!
April 27, 2022
November 23, 2022

Announcements
No announcements at this time.