Suspected Herbicide-Resistant Tall Waterhemp Now Present in Upstate New York
Joshua Putman, Field Crops and Forage Specialist
Southwest New York Dairy, Livestock and Field Crops Program
August 14, 2019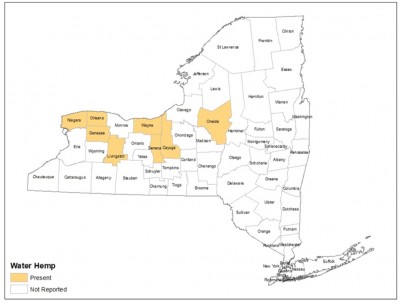 Tall waterhemp is one of the most problematic weed species throughout the Midwest and has now arrived and spread to eight counties in Upstate New York (Figure 1).
It also happens to be one of our weed species that is glyphosate-resistant or better known as Roundup-resistant. Recent research conducted by Dr. Bryan Brown, Integrated Weed Management Specialist at the Geneva Experiment Station, has found 2 populations of waterhemp that survived an application of atrazine, imazethapyr (Pursuit) and glyphosate - meaning these populations are resistant to multiple Modes of Action (MOA's). Waterhemp is a part of the pigweed family and has evolved resistance to herbicides very quickly. Waterhemp is dioecous, meaning there are separate male and female plants. Another reason this weed is problematic is that it grows very rapidly and can produce more than 1 million seeds per plant. It competes for sunlight, water and nutrients. Waterhemp can spread from field-to-field and farm-to-farm on equipment, clothing, application equipment, or via water from over flooded ditches and rivers. Currently, research is being conducted to evaluate various PRE and POSTEMERGE herbicide options for controlling this weed in both corn and soybeans here in New York. It is important to know the difference between this weed and other pigweed's like it.
Upcoming Events
2022 Soil Health & Climate Resiliency Field Days
July 13, 2022
July 20, 2022
July 25, 2022
July 28, 2022
August 2, 2022
August 4, 2022
August 9, 2022
August 25, 2022
August 31, 2022

Join the New York Soil Health team and partner organizations at a soil health field day! The statewide event series will take place May-August 2022.
More details and registration will be available soon.
Finger Lakes Fiber Festival
September 17 - September 18, 2022
Hemlock, NY
Join us for shopping, classes, lectures, and demonstrations!
Beef x Dairy Workshop - Postponed to Winter time!
April 27, 2022
November 23, 2022

Announcements
No announcements at this time.