Brighter Future Fund (grant)
---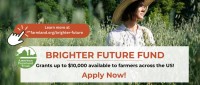 Applications for the 2023 round of the Brighter Future Fund are now open!
Apply before July 15th!

Grants will be awarded in amounts up to $10,000 per project. Brighter Future Fund focuses on providing resources to beginning, women, veteran farmers, and historically resilient farmers identifying as socially disadvantaged in alignment with the USDA.
Applications are open now and will be reviewed as they are received on a rolling basis.
For more information and to apply in English, visit farmland.org/brighter-future.
Para más información y para aplicar en español, visite: farmland.org/future-brighter-future-fund-solicitantes-espanol/.


If you have questions or need assistance, please contact brighterfuture@farmland.org.


Upcoming Events
Farm Asset Protection Strategies: Safeguarding Agricultural Legacies for Future Generations
November 14, 2023
November 17, 2023
November 20 - November 21, 2023November 29 - December 1, 2023
Join us for a workshop on farm asset protection to help you preserve long-standing agricultural legacies. In these uncertain times, safeguarding valuable farm assets has become paramount to ensure our farming communities' continued success and sustainability. Each participant will receive written materials and a flash drive containing various resources. Morning refreshments and lunch are included.
Value-Added Dairy Tour
March 13 - March 14, 2024
Pre-register now for our March 2024 Value-Added Dairy Tour!
Announcements
Help Us Help You - SWNYDLFC Needs Assessment
As we look ahead to the new year, we would like to survey the community and learn more about the topics you're most interested in hearing from us about.
TAKE SHORT SURVEY