Postponed: Grasstravaganza: PLANET GRAZE: Growing Resilient Grazing Systems
---
Event Details
Date
July 20 - July 22, 2023
Host
SUNY Morrisville

Kelly McCarthy
315-684-6076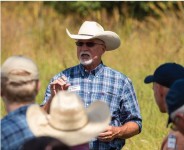 Join us for a conference specifically designed for farmers, consumers and agriculture professionals.
This year's theme focuses on making farms and grazing management more resilient to short and long-term changes in climate, economics, soil health, consumer preferences and more.
Lectures from outstanding & knowledgeable speakers.
Speakers have been selected based on their knowledge and experience. You'll hear from the brilliant minds of:
» Hugh Aljoe, Director of Producer Relations at Noble Research Institute
» Greg Brann, Farmer at Big Spring Farm and Owner of Synergistic Grazing Management Consulting
» Over a dozen other speakers and panelists relevant to the industry.
Hands-on workshops and local farm tours.
Visits to SUNY Morrisville's Dairy Complex as well as neighboring farms and facilities will showcase the practical techniques and applications discussed by our speakers.
Vendor trade show and exhibitor showcase.
Leading vendors in the grazing and agriculture industries are invited to showcase their business at our Trade Show to answer questions about their products and services. The trade show will
be open to attendees throughout the conference.


Upcoming Events
Farm Asset Protection Strategies: Safeguarding Agricultural Legacies for Future Generations
November 14, 2023
November 17, 2023
November 20 - November 21, 2023November 29 - December 1, 2023
Join us for a workshop on farm asset protection to help you preserve long-standing agricultural legacies. In these uncertain times, safeguarding valuable farm assets has become paramount to ensure our farming communities' continued success and sustainability. Each participant will receive written materials and a flash drive containing various resources. Morning refreshments and lunch are included.
Value-Added Dairy Tour
March 13 - March 14, 2024
Pre-register now for our March 2024 Value-Added Dairy Tour!
Announcements
Help Us Help You - SWNYDLFC Needs Assessment
As we look ahead to the new year, we would like to survey the community and learn more about the topics you're most interested in hearing from us about.
TAKE SHORT SURVEY