Sorry. Online registration has closed.
Pasture Walk at Heaven Scent Farm
---
Event Details
Date
July 13, 2023
Time
12pm-3pm
Location
Heaven Scent Farm
4735 Turnpike Road
Bath, NY 14810
Cost
Free Registration : Free
Host
Southwest New York Dairy, Livestock and Field Crops Program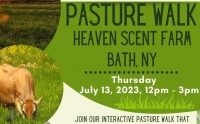 Join Cornell Cooperative Extension and Jerry Stewart of Heaven Scent Farm to learn about how soil health impacts pasture. We will have a tour of Jerry's small dairy and pastures, perform calculations on forage density, learn how to interpret forage and soil test results and use those results to help understand weed management, and learn about how soil health impacts pasture characteristics through the various soil health demonstrations. The activities will have a hands-on focus and provide you with tools that you can take back to your farm. All are welcome, regardless of what livestock you raise!
The workshop will be held on Thursday, July 13th from 12pm - 3pm at Heaven Scent Farm in Bath, NY. A light lunch will be provided. We plan to be standing or walking for most of the time, so please bring a folding chair if you'd like one.
This event is free of charge thanks to the generous support from the National Grazing Lands Coalition, but your pre-registration will help us get accurate numbers for handouts and lunch. Please RSVP by contacting Kelly at 585-268-7644 or klb288@cornell.edu.
This event is one in a series hosted by CCE Allegany; CCE Chautauqua; CCE Livingston; CCE NYNW Dairy, Livestock, and Field Crops Team; & CCE SWNY Dairy, Livestock, and Field Crops Team.
A little bit about Heaven Scent Farm: Jerry Stewart, his wife Amy, and their two children operate their small dairy farm in Bath NY. They have 30 Jerseys in their milking herd, which are seasonally grazed. For over 15 years, Jerry has been working through his mineral company, Balanced Biological Solutions LLC, to help other farmers build their soils and become more profitable. Jerry also heads the sales and marketing division at Sweet Acres Creamery.


Upcoming Events
Farm Asset Protection Strategies: Safeguarding Agricultural Legacies for Future Generations
November 14, 2023
November 17, 2023
November 20 - November 21, 2023November 29 - December 1, 2023
Join us for a workshop on farm asset protection to help you preserve long-standing agricultural legacies. In these uncertain times, safeguarding valuable farm assets has become paramount to ensure our farming communities' continued success and sustainability. Each participant will receive written materials and a flash drive containing various resources. Morning refreshments and lunch are included.
Value-Added Dairy Tour
March 13 - March 14, 2024
Pre-register now for our March 2024 Value-Added Dairy Tour!
Announcements
Help Us Help You - SWNYDLFC Needs Assessment
As we look ahead to the new year, we would like to survey the community and learn more about the topics you're most interested in hearing from us about.
TAKE SHORT SURVEY