Feeder School - SWNY - CANCELLED due to low registrations
---
Event Details
Date
November 9, 2022
Time
10am-3:00pm
Location
Karr Dairy Farm
1451 Dennis Rd
Hornell, NY 14843
Cost
$50 : $50.00
(addl attendee $50.00 ea.)
Host
Southwest New York Dairy, Livestock and Field Crops Program
Camila Lage
6074226788
email Camila Lage
Join CCE and PRO-DAIRY for a Feeder School on November 9th. This hands-on in-person program will bring Cornell and Industry experts to cover essential cow nutrition and ingredient management, on-farm sampling, and dry matter testing, among others. Everyone is welcome to participate, and this program will focus on skills for managers or employees that work directly with farm feed management. We will offer English & Spanish stations so we can accommodate everyone in one training! We are waiting for you there!
This training will have a $50 fee/per person that will cover all materials for the training and lunch.
Scholarships are available for those who need them. Contact Camila Lage for more information (607-422-6788)
WHO SHOULD ATTEND?
Those who are currently feeding dairy cows and want to learn more about the how and why of what they're doing.
Those interested in becoming a cow feeder want to increase their knowledge of cow feeding.
Anyone interested in learning more about how to improve the feeding process on their farm.
TOPICS COVERED DURING FEEDER SCHOOL
Importance of feed analysis and economics
Dry Matter and Feeder Math-basics
Feed Consistency-TMR audits
Trouble Shooting Mixer Wagons
Bunker Management, drone demonstration/map out bunk, bunk silo management, packing
Density & Preservation
Safety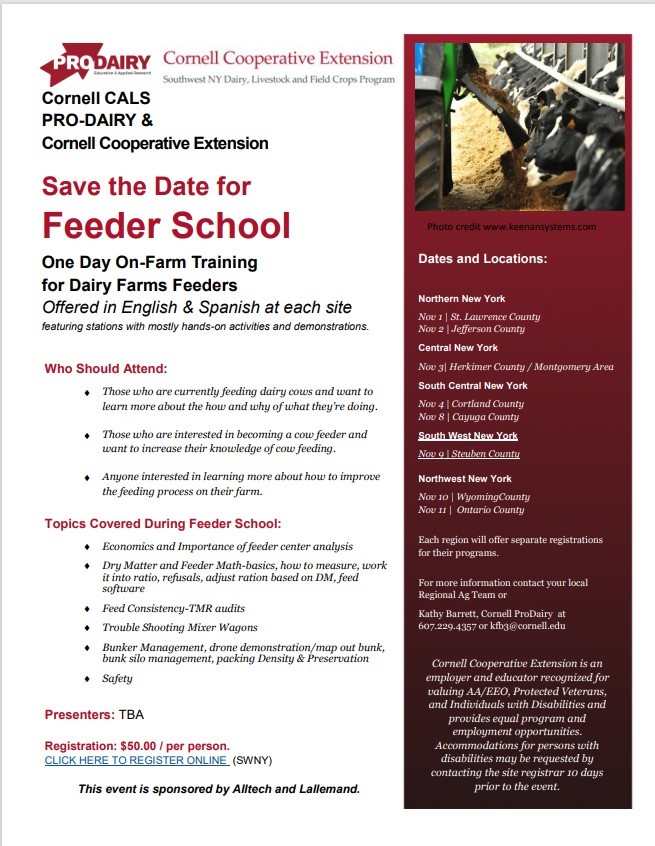 Upcoming Events
Organic Farmer-to-Farmer Meetings
April 4, 2023
: NYCO Field Crop Meeting


Geneva, NY

NYCO's field crops meeting has been rescheduled to April 4th, 2023 from 9 am - 1 pm. This meeting is free for all farmers to attend and participants are encouraged to bring a dish to pass for lunch.
How to Value Your Business, Planning for the Future
April 4, 2023
April 11, 2023
April 18, 2023

This three-week workshop series for livestock-based businesses will be held online. It is specifically targeted at existing meat, fiber, small ruminant dairy, or other livestock value-added processing businesses. A team of Cornell Cooperative Extension Educators will provide tools to assess your existing business and to assist in understanding options for business expansion or transfer. The workshop series will also be of benefit to livestock value-added business startups and is of relevance to both owners and employees in management positions.
Business Planning for Beginning Farmers
April 10, 2023
Jamestown, NY
Business plans for farms are often viewed as yet another chore to do and usually result in dusty binders taking up space on the office shelf. This discussion based workshop will walk you through the mental exercise of planning your future agricultural adventures. Participants will leave with a better understanding of the use of a business plan, the essential components, and a "to-do" list of things to think about to inform future planning efforts. Additional opportunities for one-on-one follow up will also be offered. FSA Borrower credits may be made available for your attendance. This workshop will be taught by Katelyn Walley-Stoll, Team Leader and Farm Business Management Specialist from the Southwest New York Dairy, Livestock, and Field Crops Program with Cornell Cooperative Extension. She is a graduate of Cornell University with a degree in Animal Science and Ag Business Management, and owns and operates a diversified livestock farm.
$5 per person REGISTER