Finger Lakes Sheep Producers Co-Op Annual Wool Pool - May 18th, 20th, and 21st
---
Event Details
Date
May 18, 2022
Time
May 18th - 10am - 4pm; May 20th - 9am - 4pm; May 21st - 9am - 2pm
Location
Rodman Lott and Son Farms
2973 Route 414 South
Seneca Falls, NY 13148
Host
Southwest New York Dairy, Livestock and Field Crops Program

607-546-2341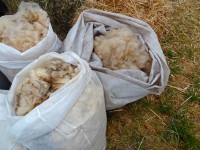 Finger Lakes Sheep Producers Co-op Annual Wool Pool is just around the corner. Pricing this year is $0.32 for clean wool, $0.07 for off sorts wool….. Not the best pricing we would like to see but an option to get rid of your wool. There are additional compensation options if you contact your local Farm Service Agency. They are willing to help pay a certain percentage depending upon the county that your farm is located in. Please make sure you contact them prior to selling your wool!
Location: Rodman Lott and Son Farms, 2973 Route 414 South, Seneca Falls, N.Y. 13148 (former Empire Farm Days site).
Dates:
WEDNESDAY, MAY 18th 10A.M.-4 P.M.
FRIDAY, MAY 20th 9A.M.-4P.M.
SATURDAY, MAY 21st 9 A.M.-2 P.M.
Membership will be $10.00 per farm, prorated for small lots and WAIVED for those that help at least half a day. In addition, those working a full day or more will receive $10.00/day expense allowance as a token of our appreciation.
Anyone needing more information may call 607-546-2341 for an update. (no calls After 9 p.m.)


Upcoming Events
Is Grazing Sheep Beneath Solar Arrays and Opportunity for Your Future?
September 25, 2023
Mt. Morris, NY
Grazing sheep beneath utility-scale solar arrays can build wealth of present and future sheep farmers as vegetation management service providers and access to additional pasture. The Cornell Cooperative Enterprise Program (CEP) conducted a survey earlier this year completed by over 600 farmers. Farmers identified barriers to grazing sheep under solar arrays and weighed in on need for a producer-led organization to negotiate contracts on their behalf, coordinate logistics of multiple flocks, provide transport of sheep to and from the site, care for sheep while on-site, and provide supplemental mowing. Additional questions focused on processing and marketing needs.
Technology for Grazing Dairies Webinar
September 27, 2023
Join us for this free webinar! Brought to you by the dairy specialists of CCE NWNY and SWNY Dairy, Livestock and Field Crops Programs.
Protecting Against Murphy's Law: A FREE Live Seminar for Veterans.
October 4, 2023
What Can Go Wrong, Will Go Wrong!
Good ole' Murphy's Law is probably the best description of what it's like to be a farmer that there is! Join Cornell Cooperative Extension Farm Business Management Specialist, Katelyn Walley-Stoll, to learn more about the 5 areas of risk on farms and how to develop strategies to manage those risks. Participants will have the opportunity to identify areas of risk on their own farms and brainstorm ways to (try to) prevent the inevitable!
Registration is REQUIRED by visiting https://tinyurl.com/CCERisk or call Kelly at 585-268-7644.
Announcements
No announcements at this time.