On-Farm Dairy Processing Online Series 2022
---
Event Details
Date
May 25, 2022
June 1, 2022
June 8, 2022

Host
Southwest New York Dairy, Livestock and Field Crops Program
Camila Lage
607-422-6788
email Camila Lage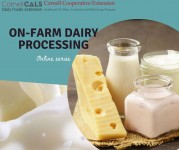 With the current volatile dairy market, rising input costs, and continued challenges in commercial dairy production, farm owners are looking for new ways to improve their profitability. For farms interested in diversifying or vertically integrating their business, one option could be on-farm processing of raw milk into value-added goods and bottled fluid milk for sale. Cornell Cooperative Extension and Cornell University experts are coming together to present a series of webinars to discuss the business considerations and regulatory requirements of on-farm dairy processing.
WHEN:
Session 1: Fitting On-Farm Dairy Processing into your Business to Improve Profitability
Wednesday, May 25th, 2022 - 6 pm to 7 pm
Presenters: Katelyn Walley-Stoll - Farm Business Specialist & Anika Gianforte - Dairy Processing & Marketing Specialist
Session 2: Considerations for Designing your Processing Facility for Quality Production
Wednesday, June 1st, 2022 - 6 pm to 7 pm
Presenters: Anika Gianforte - Dairy Processing & Marketing Specialist & Rob Ralyea - Sr. Extension Associate
Session 3: Managing the "Red Tape" for Efficient and Sustainable Value-Added Dairy
Wednesday, June 8th, 2022 - 6 pm to 8 pm
Presenters: Rob Ralyea - Sr. Extension Associate & Kimberly Bukowski - Extension Professional
REGISTRATION: This webinar is FREE and open to anyone interested in learning more about diversifying or vertically integrating their business through on-farm dairy processing. Registration is required, and at registration, attendees can choose whether they want to attend all 3 sessions or specific ones. Participants will receive the zoom webinar URL after their registration is confirmed. A recording of the webinar will be made available to registered participants.
LINK FOR REGISTRATION: https://cornell.zoom.us/webinar/register/WN_cTfizZZUQ4GoDem5TolLoQ

If you have any questions, would like to register over the phone, or require accommodations, please reach out to Camila Lage at (607) 422-6788 or at cd546@cornell.edu.
This work is based on upon work supported by USDA/NIFA under Award Number 2021-70027-34693.
SWNYDLFC is a partnership between Cornell University and the CCE Associations of Allegany, Cattaraugus, Chautauqua, Erie, and Steuben counties. Their team includes Katelyn Walley-Stoll, Farm Business Management (716-640-0522); Camila Lage, Dairy Management (607-422-6788); and Amy Barkley, Livestock Management (716-640-0844). CCE is an employer and educator recognized for valuing AA/EEO, Protected Veterans, and Individuals with Disabilities and provides equal program and employment opportunities.
###
For more information about Cornell Cooperative Extension, contact your county's Association Executive Director. Allegany County - Laura Hunsberger, lkh47@cornell.edu or 585-268-7644. Cattaraugus County - Dick Rivers, rer263@cornell.edu or 716-699-2377. Chautauqua County - Emily Reynolds, eck47@cornell.edu or 716-664-9502. Erie County - Diane Held, dbh24@cornell.edu or 716-652-5400. Steuben County - Tess McKinley, tsm223@cornell.edu, or 607-664-2301.


Upcoming Events
Farm Asset Protection Strategies: Safeguarding Agricultural Legacies for Future Generations
November 14, 2023
November 17, 2023
November 20 - November 21, 2023November 29 - December 1, 2023
Join us for a workshop on farm asset protection to help you preserve long-standing agricultural legacies. In these uncertain times, safeguarding valuable farm assets has become paramount to ensure our farming communities' continued success and sustainability. Each participant will receive written materials and a flash drive containing various resources. Morning refreshments and lunch are included.
Value-Added Dairy Tour
March 13 - March 14, 2024
Pre-register now for our March 2024 Value-Added Dairy Tour!
Announcements
Help Us Help You - SWNYDLFC Needs Assessment
As we look ahead to the new year, we would like to survey the community and learn more about the topics you're most interested in hearing from us about.
TAKE SHORT SURVEY