On-Farm Dairy Processing Online Series 2022
---
Event Details
Date
May 25, 2022
June 1, 2022
June 8, 2022

Host
Southwest New York Dairy, Livestock and Field Crops Program
Camila Lage
607-422-6788
email Camila Lage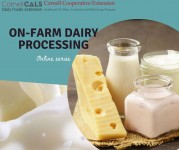 With the current volatile dairy market, rising input costs, and continued challenges in commercial dairy production, farm owners are looking for new ways to improve their profitability. For farms interested in diversifying or vertically integrating their business, one option could be on-farm processing of raw milk into value-added goods and bottled fluid milk for sale. Cornell Cooperative Extension and Cornell University experts are coming together to present a series of webinars to discuss the business considerations and regulatory requirements of on-farm dairy processing.
WHEN:
Session 1: Fitting On-Farm Dairy Processing into your Business to Improve Profitability
Wednesday, May 25th, 2022 - 6 pm to 7 pm
Presenters: Katelyn Walley-Stoll - Farm Business Specialist & Anika Gianforte - Dairy Processing & Marketing Specialist
Session 2: Considerations for Designing your Processing Facility for Quality Production
Wednesday, June 1st, 2022 - 6 pm to 7 pm
Presenters: Anika Gianforte - Dairy Processing & Marketing Specialist & Rob Ralyea - Sr. Extension Associate
Session 3: Managing the "Red Tape" for Efficient and Sustainable Value-Added Dairy
Wednesday, June 8th, 2022 - 6 pm to 8 pm
Presenters: Rob Ralyea - Sr. Extension Associate & Kimberly Bukowski - Extension Professional
REGISTRATION: This webinar is FREE and open to anyone interested in learning more about diversifying or vertically integrating their business through on-farm dairy processing. Registration is required, and at registration, attendees can choose whether they want to attend all 3 sessions or specific ones. Participants will receive the zoom webinar URL after their registration is confirmed. A recording of the webinar will be made available to registered participants.
LINK FOR REGISTRATION: https://cornell.zoom.us/webinar/register/WN_cTfizZZUQ4GoDem5TolLoQ

If you have any questions, would like to register over the phone, or require accommodations, please reach out to Camila Lage at (607) 422-6788 or at cd546@cornell.edu.
This work is based on upon work supported by USDA/NIFA under Award Number 2021-70027-34693.
SWNYDLFC is a partnership between Cornell University and the CCE Associations of Allegany, Cattaraugus, Chautauqua, Erie, and Steuben counties. Their team includes Katelyn Walley-Stoll, Farm Business Management (716-640-0522); Camila Lage, Dairy Management (607-422-6788); and Amy Barkley, Livestock Management (716-640-0844). CCE is an employer and educator recognized for valuing AA/EEO, Protected Veterans, and Individuals with Disabilities and provides equal program and employment opportunities.
###
For more information about Cornell Cooperative Extension, contact your county's Association Executive Director. Allegany County - Laura Hunsberger, lkh47@cornell.edu or 585-268-7644. Cattaraugus County - Dick Rivers, rer263@cornell.edu or 716-699-2377. Chautauqua County - Emily Reynolds, eck47@cornell.edu or 716-664-9502. Erie County - Diane Held, dbh24@cornell.edu or 716-652-5400. Steuben County - Tess McKinley, tsm223@cornell.edu, or 607-664-2301.


Upcoming Events
Organic Farmer-to-Farmer Meetings
April 4, 2023
: NYCO Field Crop Meeting


Geneva, NY

NYCO's field crops meeting has been rescheduled to April 4th, 2023 from 9 am - 1 pm. This meeting is free for all farmers to attend and participants are encouraged to bring a dish to pass for lunch.
How to Value Your Business, Planning for the Future
April 4, 2023
April 11, 2023
April 18, 2023

This three-week workshop series for livestock-based businesses will be held online. It is specifically targeted at existing meat, fiber, small ruminant dairy, or other livestock value-added processing businesses. A team of Cornell Cooperative Extension Educators will provide tools to assess your existing business and to assist in understanding options for business expansion or transfer. The workshop series will also be of benefit to livestock value-added business startups and is of relevance to both owners and employees in management positions.
Business Planning for Beginning Farmers
April 10, 2023
Jamestown, NY
Business plans for farms are often viewed as yet another chore to do and usually result in dusty binders taking up space on the office shelf. This discussion based workshop will walk you through the mental exercise of planning your future agricultural adventures. Participants will leave with a better understanding of the use of a business plan, the essential components, and a "to-do" list of things to think about to inform future planning efforts. Additional opportunities for one-on-one follow up will also be offered. FSA Borrower credits may be made available for your attendance. This workshop will be taught by Katelyn Walley-Stoll, Team Leader and Farm Business Management Specialist from the Southwest New York Dairy, Livestock, and Field Crops Program with Cornell Cooperative Extension. She is a graduate of Cornell University with a degree in Animal Science and Ag Business Management, and owns and operates a diversified livestock farm.
$5 per person REGISTER