Evaluating a Goat for Purchase
---
Event Details
Date
May 5, 2022
Time
6:00pm - 7:30pm
Location
Online Webinar - Zoom

Host
Southwest New York Dairy, Livestock and Field Crops Program
Kelly
585 268 7644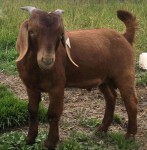 EVALUATING A GOAT FOR PURCHASE
A FREE Live Seminar for Veterans


Thursday, May 5th , 2022
6pm - 7:30pm


Online webinar via Zoom
Registration is REQUIRED by visiting tinyurl.com/FarmOpsGoat by COB May 3rd or call Kelly at 585 268 7644.

Have you ever considered raising goats on your farm or homestead? Compact, hardy, and endlessly entertaining, these small ruminants can be equally challenging and rewarding to raise for meat, dairy, and companions. Veterans are invited to join this free virtual seminar to learn more about the options for getting started with goat production, and how to get started on the right hoof. Selecting goats for purchase can be a daunting task, but we'll equip you with the tools and know how you need to select
animals that will make your goat adventures worthwhile.

Cornell Cooperative Extension's Southwest New York Dairy, Livestock, and Field Crops Program is a partnership between Cornell University and the five Cornell Cooperative Extension Associations of Allegany, Erie, Cattaraugus, Chautauqua, and Steuben Counties. CCE is an employer and educator recognized for valuing AA/EEO, Protected Veterans, and Individuals with Disabilities and provides equal program and employment opportunities. For accommodations and accessibility concerns, please contact Katelyn Walley Stoll by calling 716 640 0522.
Farm Ops aims to support military service members and veterans who desire to explore and/or pursue agricultural vocations. Visit us on the web at: smallfarms.cornell.edu/projects/farm-ops/


Upcoming Events
Is Grazing Sheep Beneath Solar Arrays and Opportunity for Your Future?
September 25, 2023
Mt. Morris, NY
Grazing sheep beneath utility-scale solar arrays can build wealth of present and future sheep farmers as vegetation management service providers and access to additional pasture. The Cornell Cooperative Enterprise Program (CEP) conducted a survey earlier this year completed by over 600 farmers. Farmers identified barriers to grazing sheep under solar arrays and weighed in on need for a producer-led organization to negotiate contracts on their behalf, coordinate logistics of multiple flocks, provide transport of sheep to and from the site, care for sheep while on-site, and provide supplemental mowing. Additional questions focused on processing and marketing needs.
Technology for Grazing Dairies Webinar
September 27, 2023
Join us for this free webinar! Brought to you by the dairy specialists of CCE NWNY and SWNY Dairy, Livestock and Field Crops Programs.
Protecting Against Murphy's Law: A FREE Live Seminar for Veterans.
October 4, 2023
What Can Go Wrong, Will Go Wrong!
Good ole' Murphy's Law is probably the best description of what it's like to be a farmer that there is! Join Cornell Cooperative Extension Farm Business Management Specialist, Katelyn Walley-Stoll, to learn more about the 5 areas of risk on farms and how to develop strategies to manage those risks. Participants will have the opportunity to identify areas of risk on their own farms and brainstorm ways to (try to) prevent the inevitable!
Registration is REQUIRED by visiting https://tinyurl.com/CCERisk or call Kelly at 585-268-7644.
Announcements
No announcements at this time.