Meeting the Continuing Education Requirements of FARM Program Version 4.0
February 28, 2020
Meeting the Continuing Education Requirements of FARM Program Version 4.0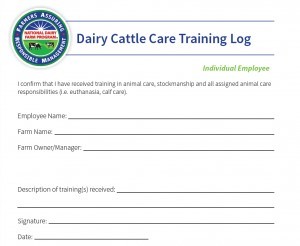 Version 4.0 of the National Dairy FARM Program is now in effect from January 1, 2020, to December 31, 2022. One of the changes to this version is the requirement of training and continuing education for employees as well as family member employees and owners. Version 4.0 requires continuing education in animal care and handling for those with animal care responsibilities, and job-specific training for the following topics if they apply:
Stockmanship
Pre-weaned calf care
Non-ambulatory animals
Euthanasia
Determining if animals are fit to transport
If this requirement is not met for non-family member employees, it will trigger a Mandatory Corrective Action Plan (must be corrected in less than 9 months); and if it is not met for family employees and owners, it will trigger a Continuous Improvement Plan (must be improved upon within 3 years). While this new standard includes more paperwork, chances are you and your employees are already meeting the continuing education requirements; you just need to document it. Continuing education can be achieved in many ways, and most don't require you or your employees to leave the farm. Below is a list of some examples of potential training and continuing education opportunities:
The FARM Program provides a template to help you record training and continuing education for each person and it can be found at https://nationaldairyfarm.com/producer-resources/resource-library/. For help understanding the updates to FARM 4.0, for paperwork review, or a barn walk through, contact Regional Dairy Specialist Lindsay Ferlito (lc636@cornell.edu, 607-592-0290) or Alycia Drwencke (amd453@cornell.edu, 517-416-0386).
Upcoming Events
2022 Soil Health & Climate Resiliency Field Days
July 13, 2022
July 20, 2022
July 25, 2022
July 28, 2022
August 2, 2022
August 4, 2022
August 9, 2022
August 25, 2022
August 31, 2022

Join the New York Soil Health team and partner organizations at a soil health field day! The statewide event series will take place May-August 2022.
More details and registration will be available soon.
Finger Lakes Fiber Festival
September 17 - September 18, 2022
Hemlock, NY
Join us for shopping, classes, lectures, and demonstrations!
Beef x Dairy Workshop - Postponed to Winter time!
April 27, 2022
November 23, 2022

Announcements
No announcements at this time.