Corn Diseases in Southwest NY
Joshua Putman, Field Crops and Forage Specialist
Southwest New York Dairy, Livestock and Field Crops Program
February 27, 2020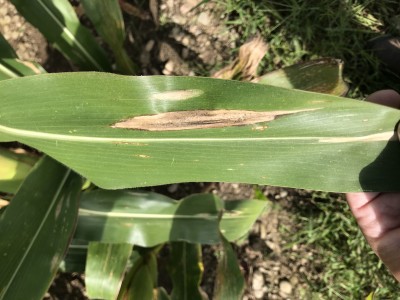 The 2019 growing season was favorable to diseases in our corn and soybean production systems. In southwest NY, Northern Corn Leaf Blight (NCLB) and Grey Leaf Spot (GLS) showed up and spread throughout our corn fields. Northern corn leaf blight fungus survives the winter on infected corn residue and remains on the soil surface. As temperatures increase in the spring, the fungus produces spores which then splash or are wind-blown onto the lower canopy of the corn plants. Last year, the cool, wet summer allowed for early appearance in our corn fields. Grey leaf spot is a destructive disease that can significantly reduce yields. Just like NCLB, the disease survives on corn residue on the soil surface and splash from the soil surface onto the lower leaves of a corn plant. The wind can carry the spores to a neighboring field if the disease is present in the crop residue. These two diseases can result in 10-50% yield reductions if the timing and conditions are favorable. Weather is the primary influence on the development of these diseases, but proper management with hybrid selection and use of an in-season fungicide will help limit the exposure to these diseases. Contact your local extension specialist for correct identification and management of these pests!
For more information see: https://www.extension.purdue.edu/extmedia/BP/BP-56-W.pdf;
https://www.extension.purdue.edu/extmedia/BP/BP-84-W.pdf
Upcoming Events
2022 Soil Health & Climate Resiliency Field Days
July 13, 2022
July 20, 2022
July 25, 2022
July 28, 2022
August 2, 2022
August 4, 2022
August 9, 2022
August 25, 2022
August 31, 2022

Join the New York Soil Health team and partner organizations at a soil health field day! The statewide event series will take place May-August 2022.
More details and registration will be available soon.
Finger Lakes Fiber Festival
September 17 - September 18, 2022
Hemlock, NY
Join us for shopping, classes, lectures, and demonstrations!
Beef x Dairy Workshop - Postponed to Winter time!
April 27, 2022
November 23, 2022

Announcements
No announcements at this time.