RFID Tags - The What, Why, and How
Amy Barkley, Livestock Specialist
Southwest New York Dairy, Livestock and Field Crops Program
May 3, 2023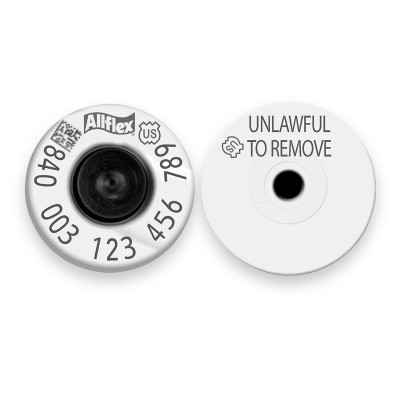 Radio frequency Identification tags, commonly known as RFID tags, are one of the USDA-approved official identification tags for cattle, deer, and swine. While not yet required by law, the use of these tags is increasing, with the goal being to have all producers using them. This article shares some information on what these tags are, how they work, and how you can order them for free for your herd.
What is an RFID tag?
These tags are technologically very simple. They are a button tag that shares a unique 15 digit ID number that will follow the animal through it's life. There are some non-official tags out there, and the official tag is what's called an 840 RFID tag. This tamper-evident tag sports the US shield, a 15-digit number starting with "840", the manufacturer's logo, the statement, "Unlawful to Remove", and an RFID chip embedded inside.
How does the tag work?
The individual number on the tag can be used by the producer for tracking in addition to standard ear tags. However, the tag number is also digitized on the RFID chip. This allows for quick identification of animals by officials using a quick scan should the animals need to be inventoried during a disease outbreak. By knowing where cattle are across the country and identifying cattle of unknown origin quickly, diseases can be contained rapidly, limiting spread to additional animals.
Who needs to use these tags?
NYS law states that all cattle moving across state lines should be permanently identified with a USDA approved ear tag. This can include an RFID tag. Even if not intending to move cattle out of the state, it's good practice to begin using them in addition to standard farm ID tags. Tags are free from Ag and Markets, so besides adding a line in your cattle records for this additional identification number, there's very little extra work needed on the producer's end.
Where can I get tags?
NYS Department of Ag and Markets supplies free tags and tag applicators to farmers across NYS. Forms can be found by visiting https://agriculture.ny.gov/system/files/documents/2023/01/ai-489_order_form_producer_ear_tags.pdf We have also included a form on the following page that you can fill out, cut out, and send in to NYS Ag and Markets.
Upcoming Events
Is Grazing Sheep Beneath Solar Arrays and Opportunity for Your Future?
September 25, 2023
Mt. Morris, NY
Grazing sheep beneath utility-scale solar arrays can build wealth of present and future sheep farmers as vegetation management service providers and access to additional pasture. The Cornell Cooperative Enterprise Program (CEP) conducted a survey earlier this year completed by over 600 farmers. Farmers identified barriers to grazing sheep under solar arrays and weighed in on need for a producer-led organization to negotiate contracts on their behalf, coordinate logistics of multiple flocks, provide transport of sheep to and from the site, care for sheep while on-site, and provide supplemental mowing. Additional questions focused on processing and marketing needs.
Technology for Grazing Dairies Webinar
September 27, 2023
Join us for this free webinar! Brought to you by the dairy specialists of CCE NWNY and SWNY Dairy, Livestock and Field Crops Programs.
Protecting Against Murphy's Law: A FREE Live Seminar for Veterans.
October 4, 2023
What Can Go Wrong, Will Go Wrong!
Good ole' Murphy's Law is probably the best description of what it's like to be a farmer that there is! Join Cornell Cooperative Extension Farm Business Management Specialist, Katelyn Walley-Stoll, to learn more about the 5 areas of risk on farms and how to develop strategies to manage those risks. Participants will have the opportunity to identify areas of risk on their own farms and brainstorm ways to (try to) prevent the inevitable!
Registration is REQUIRED by visiting https://tinyurl.com/CCERisk or call Kelly at 585-268-7644.
Announcements
No announcements at this time.