Fall 2022 Update on the Bird Flu
Amy Barkley, Livestock Specialist
Southwest New York Dairy, Livestock and Field Crops Program
October 26, 2022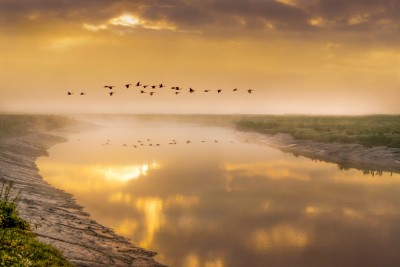 Fall 2022 Update on the Bird Flu
Highly Pathogenic Avian Influenza (HPAI) is still a present threat to NYS commercial and backyard poultry producers as cases across the Northeast increase.
by Amy Barkley, Livestock and Beginning Farm Specialist, SWNY Dairy, Livestock, and Field Crops Program
SOUTHWEST, NEW YORK (October 26, 2022) As we move into the heart of the fall migration season, cases of Highly Pathogenic Avian Influenza (HPAI) are on the rise. The cooler, wetter weather and decreasing sunlight are resulting in an ideal environment for the virus to stick around. We urge poultry owners continue to take precautions to keep their birds safe.
So far in 2022, there have been 568 confirmed cases of HPAI in domestic birds in 43 states. All states in the Northeast, including New York, have been affected. In the past month, outbreaks in the neighboring states of Connecticut, New Jersey, Pennsylvania, and Rhode Island have been detected. While the last case in New York was identified on April 6th, the virus is still circulating in our wild bird populations, with 164 positives in wild birds identified to date. Within the past month, wild bird cases have been identified in Albany, Chemung, Clinton, Cortland, Dutchess, Madison, Nassau, Orange, Sullivan, Tomkins, Westchester, Wyoming, and Yates counties. Between positive domestic flocks in neighboring states and wild bird positives, our state's poultry are still under threat.
This disease is not showing a preference for flock types; both commercial and backyard flocks have been affected. Commercial flocks have made up 43% of those affected, with the remaining 57% of affected flocks are classified as backyard. In wild birds, waterfowl and raptors have been most impacted, as well as water-associated birds such as pelicans, storks, gulls, terns, dunlins, and turnstones. Game birds including pheasants and turkeys and perching birds including grackles, juncos, crows, and ravens can also catch the virus.
Because of how quickly and aggressively HPAI spreads in birds, it's important that we take measures to protect them. These include:
-Creating a barrier between wild birds and domestic birds by keeping domestic birds inside, in a run with a solid roof, and/or out of areas that wild birds frequent.
-Limiting the number of people who have direct access to your poultry.
-Wearing footwear designated to be only worn in poultry pens.
We urge producers to keep an eye out for suddenly high rates of death in your flock and be prepared to report any suspicious whole flock illness. Reports can be sent to New York State Department of Agriculture and Markets at 518-457-3502 or the USDA (United States Department of Agriculture), 866-536-7593.
If you are a flock owner or community member with questions, please reach out to your local Cornell Cooperative Extension office for assistance. Media inquiries can be directed to Cornell Cooperative Extension Communications at cce-communications@cornell.edu.
Upcoming Events
Is Grazing Sheep Beneath Solar Arrays and Opportunity for Your Future?
September 25, 2023
Mt. Morris, NY
Grazing sheep beneath utility-scale solar arrays can build wealth of present and future sheep farmers as vegetation management service providers and access to additional pasture. The Cornell Cooperative Enterprise Program (CEP) conducted a survey earlier this year completed by over 600 farmers. Farmers identified barriers to grazing sheep under solar arrays and weighed in on need for a producer-led organization to negotiate contracts on their behalf, coordinate logistics of multiple flocks, provide transport of sheep to and from the site, care for sheep while on-site, and provide supplemental mowing. Additional questions focused on processing and marketing needs.
Technology for Grazing Dairies Webinar
September 27, 2023
Join us for this free webinar! Brought to you by the dairy specialists of CCE NWNY and SWNY Dairy, Livestock and Field Crops Programs.
Protecting Against Murphy's Law: A FREE Live Seminar for Veterans.
October 4, 2023
What Can Go Wrong, Will Go Wrong!
Good ole' Murphy's Law is probably the best description of what it's like to be a farmer that there is! Join Cornell Cooperative Extension Farm Business Management Specialist, Katelyn Walley-Stoll, to learn more about the 5 areas of risk on farms and how to develop strategies to manage those risks. Participants will have the opportunity to identify areas of risk on their own farms and brainstorm ways to (try to) prevent the inevitable!
Registration is REQUIRED by visiting https://tinyurl.com/CCERisk or call Kelly at 585-268-7644.
Announcements
No announcements at this time.