Did the Breeding Take? Pregnancy Verification Options for Your Momma Cows
Amy Barkley, Livestock Specialist
Southwest New York Dairy, Livestock and Field Crops Program
September 19, 2022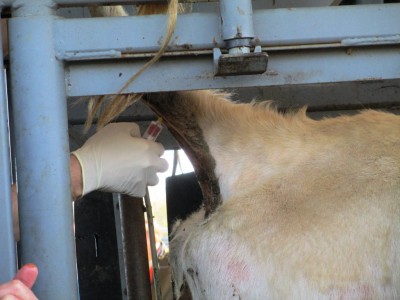 Did the Pregnancy Take? Pregnancy Verification Options for Your Momma Cows
Breeding is an important time of year for beef producers in that its success will determine the number of calves on the ground the following season. Many beef enterprises run on thin margins, and a cow that's not producing a calf is not pulling her weight.
To put this into perspective, a 1,200 pound cow eats about 36 pounds of dry matter per day. If you are grazing for 180 days a year, that means you're feeding her 6,660 pounds of dry matter (7,250 pounds of dry hay or 9,500 - 11,000 pounds of baleage) a year! With the cost of forage ever climbing, plus the added costs including supplements, vaccines, and breeding costs, an animal that is a chronic non-breeder is hurting the enterprise. Therefore, it's a good idea to check your animals to make sure they're pregnant and make culling decisions early.
Checking for pregnancy in beef cattle via blood tests and ultrasound can be done about 30 days after conception, whether that be following AI or a confirmed breeding by a bull. However, keep in mind that confirmations via palpation require the cow to be closer to 45 days along at minimum. If the herd is AI only, you can begin to check for pregnancy at 30-60 days. If you're using a bull, count 30-45 days from the time you take the bull out. That way, you won't encounter as many false negatives.
As mentioned above, there are three methods of checking for pregnancy that are commonly used in beef herds. Using the details below can help you determine which is right for you.
Rectal Palpation
This method of checking relies on feeling the physiological changes that happen to the cow's ovaries and uterine horns once a pregnancy has been established. This should only be done by someone skilled in picking up those differences to have the greatest accuracy. For many, this procedure is completed by the herd's veterinarian. The person doing the inspection will use a gloved arm to reach into the rectum and feel the reproductive structures through the rectal wall. An accurate diagnosis is most often achieved between 45 - 120 days following breeding.
Ultrasound
Ultrasound requires the use of an ultrasound machine and knowledgeable operator to determine pregnancy. This technique is performed by many veterinarians or herdspeople who regularly ultrasound their animals and can justify the machine's purchase. Using it requires the understanding of anatomy and how to adjust the settings on the device to be able to see through the tissues of cows with varying levels of finish and/or body type. That said, it can be easily learned and does not require the repetitive training needed to be proficient at rectal palpation.
For beginners, finding whether there is a calf in the uterus is relatively easy. Those more experienced persons can determine fetal viability, fetal sex identification, and presence of developmental abnormalities. An accurate identification of pregnancy can take place around 30 days, whereas the fetus's characteristics can be detected closer to 60 days.
Blood Test
There are many commercially available blood test kits on the market, but they all work the same way. Blood is drawn into provided tubes and sent to a lab, where the presence or absence of pregnancy-associated glycoproteins and/or progesterone concentrations is determined. The kits are easily accessible and have specific instructions for how to draw, handle, and ship the blood. The tests only work if they are used around 30 days of pregnancy, but this may vary slightly by the kit used.
All three of the methods to check pregnancy listed above require you to be able to restrain the cattle such that they can be worked with in a safe manner. This includes headgates for calmer cattle and chute systems for cattle that aren't as easily worked. Chute systems are the safest option in any case, as they limit the cows' movement the best, which greatly reduces the chances of injury to their handlers.
Once the pregnancy results are in, check how many cows took. Ask yourself why the ones that didn't take didn't. From there, you can make the decision as to whether you'd like to try and rebreed or if you want to cull the cow. External factors such as very hot weather during breeding time or not having time to get condition back on the cow before breeding are two common reasons for cows turning up open and may not be good reasons to cull. Cows that are older or generally have a difficult time breeding are more likely candidates to leave your program.
Photo of blood being drawn from a tail vein from the University of Florida.
Upcoming Events
Is Grazing Sheep Beneath Solar Arrays and Opportunity for Your Future?
September 25, 2023
Mt. Morris, NY
Grazing sheep beneath utility-scale solar arrays can build wealth of present and future sheep farmers as vegetation management service providers and access to additional pasture. The Cornell Cooperative Enterprise Program (CEP) conducted a survey earlier this year completed by over 600 farmers. Farmers identified barriers to grazing sheep under solar arrays and weighed in on need for a producer-led organization to negotiate contracts on their behalf, coordinate logistics of multiple flocks, provide transport of sheep to and from the site, care for sheep while on-site, and provide supplemental mowing. Additional questions focused on processing and marketing needs.
Technology for Grazing Dairies Webinar
September 27, 2023
Join us for this free webinar! Brought to you by the dairy specialists of CCE NWNY and SWNY Dairy, Livestock and Field Crops Programs.
Protecting Against Murphy's Law: A FREE Live Seminar for Veterans.
October 4, 2023
What Can Go Wrong, Will Go Wrong!
Good ole' Murphy's Law is probably the best description of what it's like to be a farmer that there is! Join Cornell Cooperative Extension Farm Business Management Specialist, Katelyn Walley-Stoll, to learn more about the 5 areas of risk on farms and how to develop strategies to manage those risks. Participants will have the opportunity to identify areas of risk on their own farms and brainstorm ways to (try to) prevent the inevitable!
Registration is REQUIRED by visiting https://tinyurl.com/CCERisk or call Kelly at 585-268-7644.
Announcements
No announcements at this time.