The Delicate Art of Weaning Calves, by Dr. John Comerford, PSU Extension
July 26, 2022
The Delicate Art of Weaning Calves
by Dr. John Comerford, Penn State University Extension
The most traumatic experience for cow-calf producers is when they wean their calves-and it is not real great for the calves, either. For the producer, it is about payday for the calf business. For the calf, it is the beginning of a series of tough, and sometimes lethal, events. Losing Mom, vaccinations, new feed, new places to find water, transportation, and commingling with new cattle are all sources of stress to the newly-weaned calf, and they are additive in nature. We often see the value of preconditioned and weaned calves be significantly higher than auction calves that were often weaned on the way to the sale barn. The reason is the calf has adapted to weaning and is ready to eat and perform more quickly and with less potential for disease.
Weaning Methods
The typical weaning method is to sort all the calves from the cows, shut the calves up in a barn, move the cows as far away as possible, and then put up with the bawling for a few days. What happens if we reverse this picture?
Breaking the dam-young bond may be the most important factor in weaning. Weaned calves placed in a group will quickly bond to other calves if the dam is removed. A 2003 Penn State study showed this period of adaptation can be influenced by leaving dams within hearing of the newly weaned calf. Calves left within hearing of their dams developed new bonds with fewer signs of distress by 3 days after weaning, while calves removed from hearing of their dam took an average of 6 days to show reduced signs of distress. In this case, we may want to consider putting the cows in the barn drylot and leaving the calves in the pasture.
Fenceline weaning is a variation where cows and calves have both visual and hearing contact with the dam. The first consideration is fencing. Fencing should, of course, be substantial enough to prevent the calves from nursing and keep the cows and calves separated. One method to ease the distress for calves in fenceline weaning is to pasture the cows and calves together in the pasture where the calves will be after weaning for a few days. This allows the calves to find water and feed more easily. If this is not possible, put a yearling heifer or a dry cow in the pasture with the calves to help lead them to feed and water. Since there should be some return for weaning calves prior to marketing, it is important they gain some weight during the weaning period. Obviously, feed intake is not a high priority at weaning. For pasture-based weaning, this means the forage must be plentiful and be high quality. Additional supplements can be added to increase weight gain, but they should be limited to 1% of the bodyweight or less to be efficiently used. Can fenceline weaning actually increase weaning weight and gain? The following results from an Oklahoma test show it is possible.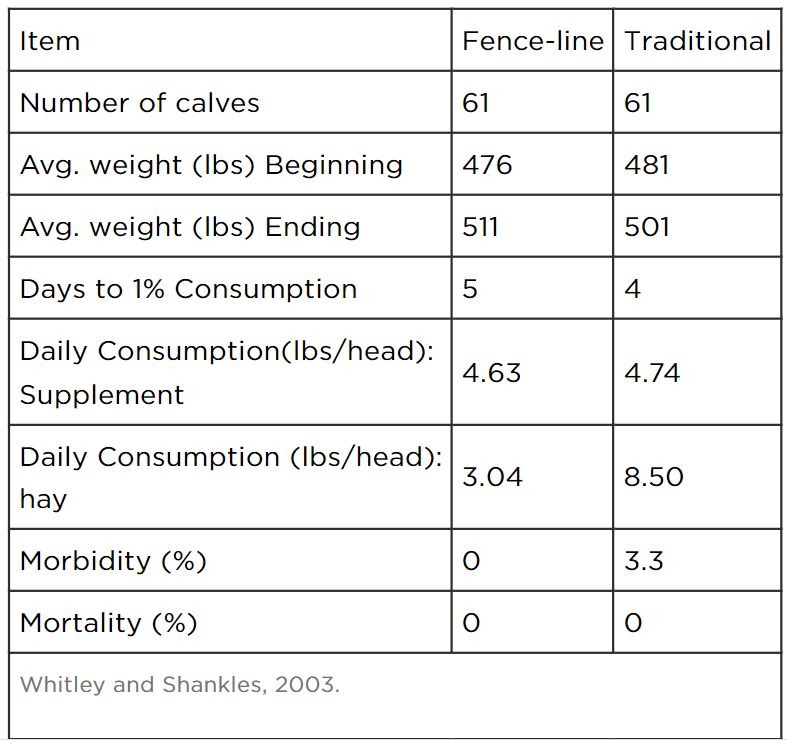 As long as they do not get sick, traditionally-weaned calves will usually catch up to their fenceline counterparts if given enough time. However, as in the above case, having 3 of 10 calves get sick is enough reason to consider alternative weaning methods.
Market Access
There is substantial evidence to show transported, weaned calves will perform better and with less sickness in the feedlot compared to unweaned calves. A combination of weaning with a vaccination program will allow many producers to gain access to preconditioned calf markets. It is important that access to a marketing program be available before considering marketing preconditioned calves. Feedlots and backgrounding operations will discount the value of calves in small groups because of the cost of transportation. Therefore, a producer with less than 40,000 lbs. of uniform calves will usually not get optimum returns for preconditioning calves. Pennsylvania and other states in the Northeast have cooperative marketing programs that allow small producers to gain access to higher-value preconditioned calf markets, and this association will be essential in recovering costs and gaining a premium value for weaned and vaccinated calves.
A second marketing option available for the weaned calf is from retained ownership of the calf. Current market conditions and feed costs favor feeding larger cattle for a shorter period of time in the feedlot, so demand for larger and older cattle has the potential to increase. To capture the added value of the larger feeder calf, producers will need to have a management plan that includes weaning. As long as forage is available, retaining ownership will allow the owner to gain flexibility for the date of sale, and to take advantage of sporadic changes in markets caused by grain and cattle prices.
Weaning is still a traumatic event for calves and people, but it can be a lucrative management tool as well. Non-traditional weaning and marketing methods are needed to get the best returns to the enterprise.
Upcoming Events
Is Grazing Sheep Beneath Solar Arrays and Opportunity for Your Future?
September 25, 2023
Mt. Morris, NY
Grazing sheep beneath utility-scale solar arrays can build wealth of present and future sheep farmers as vegetation management service providers and access to additional pasture. The Cornell Cooperative Enterprise Program (CEP) conducted a survey earlier this year completed by over 600 farmers. Farmers identified barriers to grazing sheep under solar arrays and weighed in on need for a producer-led organization to negotiate contracts on their behalf, coordinate logistics of multiple flocks, provide transport of sheep to and from the site, care for sheep while on-site, and provide supplemental mowing. Additional questions focused on processing and marketing needs.
Technology for Grazing Dairies Webinar
September 27, 2023
Join us for this free webinar! Brought to you by the dairy specialists of CCE NWNY and SWNY Dairy, Livestock and Field Crops Programs.
Protecting Against Murphy's Law: A FREE Live Seminar for Veterans.
October 4, 2023
What Can Go Wrong, Will Go Wrong!
Good ole' Murphy's Law is probably the best description of what it's like to be a farmer that there is! Join Cornell Cooperative Extension Farm Business Management Specialist, Katelyn Walley-Stoll, to learn more about the 5 areas of risk on farms and how to develop strategies to manage those risks. Participants will have the opportunity to identify areas of risk on their own farms and brainstorm ways to (try to) prevent the inevitable!
Registration is REQUIRED by visiting https://tinyurl.com/CCERisk or call Kelly at 585-268-7644.
Announcements
No announcements at this time.