USDA AMS Meat and Poultry Processing Expansion Program Grant OPEN
April 5, 2022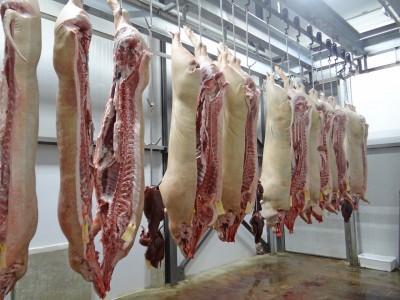 What does this program do?
The Meat and Poultry Processing Expansion Program (MPPEP) provides grants to help eligible processors expand their capacity. USDA Rural Development designed the MPPEP to encourage competition.
Who can apply for this program?
Sole proprietor businesses or other entities that engage - or want to engage - in meat and poultry processing.
How can funds be used?
Grant funds can be used to expand processing capacity by supporting activities such as:
· Building new - or modernizing or expanding existing - processing facilities
· Developing, installing, or modernizing equipment and technology
· Ensuring compliance with packaging and labeling requirements
· Upholding occupational and other safety requirements
· Modifying facilities or equipment to protect food safety
· Paying for voluntary grading services on value-added processed products
· Offsetting costs associated with becoming an inspected facility
· Supporting workforce recruitment, training, and retention
What is the maximum grant amount?
The maximum award amount is $25 million, or 20 percent of total project costs, whichever is less. There is no minimum award amount.
What are some other requirements?
Eligible applicants must:
Process - or plan to process - one or more species subject to the Federal Meat Inspection Act, or the Poultry Product Inspection Act.
Have - or plan to get - a Federal Grant of Inspection through USDA's Food Safety and Inspection Service, a Grant of Inspection under the Cooperative Interstate Shipment Program, or a federal equivalent Tribal or state-based meat and poultry inspection program
Comply with the National Environmental Policy Act and Section 106 of the National Historic Preservation Act, and all other applicable state, local or Tribal laws.
More information about this grant program can be found on the USDA Rural Development website: https://www.rd.usda.gov/progra...
Upcoming Events
Is Grazing Sheep Beneath Solar Arrays and Opportunity for Your Future?
September 25, 2023
Mt. Morris, NY
Grazing sheep beneath utility-scale solar arrays can build wealth of present and future sheep farmers as vegetation management service providers and access to additional pasture. The Cornell Cooperative Enterprise Program (CEP) conducted a survey earlier this year completed by over 600 farmers. Farmers identified barriers to grazing sheep under solar arrays and weighed in on need for a producer-led organization to negotiate contracts on their behalf, coordinate logistics of multiple flocks, provide transport of sheep to and from the site, care for sheep while on-site, and provide supplemental mowing. Additional questions focused on processing and marketing needs.
Technology for Grazing Dairies Webinar
September 27, 2023
Join us for this free webinar! Brought to you by the dairy specialists of CCE NWNY and SWNY Dairy, Livestock and Field Crops Programs.
Protecting Against Murphy's Law: A FREE Live Seminar for Veterans.
October 4, 2023
What Can Go Wrong, Will Go Wrong!
Good ole' Murphy's Law is probably the best description of what it's like to be a farmer that there is! Join Cornell Cooperative Extension Farm Business Management Specialist, Katelyn Walley-Stoll, to learn more about the 5 areas of risk on farms and how to develop strategies to manage those risks. Participants will have the opportunity to identify areas of risk on their own farms and brainstorm ways to (try to) prevent the inevitable!
Registration is REQUIRED by visiting https://tinyurl.com/CCERisk or call Kelly at 585-268-7644.
Announcements
No announcements at this time.