SUNY Cobleskill Announces Openings for 2022 Beef Processing Class
March 25, 2022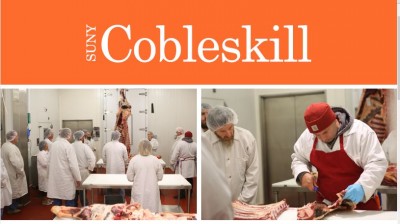 BEEF PROCESSING for PRODUCERS

This comprehensive multiday workshop will include both live animal and carcass evaluations. Designed for a beef producer to manage the complexity of regulations and maximize marketing yield from their animals. Participants will have a hand in fabricating finished cuts from a whole beef carcass within a federally inspected processing facility.
THREE DAY COURSE
MAY 18 - 20
The course runs 8 am - 4 pm Wednesday through Friday.
Limit 15 paid-in-full registrants (cost per registrant is $960)
For more information: cobleskill.edu/workshops: 518.255.5537 or pernatdg@cobleskill.edu
TOPICS INCLUDE
Live Animal Evaluation - Humane Handling- Carcass Traits, Quality & Yield - Processing Regulations - Marketing - Management

ABOUT SUNY COBLESKILL
With an emphasis on applied learning and experiential, interdisciplinary education, SUNY Cobleskill prepares students for successful careers, advanced studies, and engaged citizenship. An accredited, baccalaureate, residential college, SUNY Cobleskill fosters a rich academic tradition that spans more than 100 years. Today, students are enrolled in 55 baccalaureate and associate degree programs offered through two schools - The School of Agriculture and Natural Resources, and The School of Business and Liberal Arts and Sciences.

A contiguous farm, with an equestrian center and 200-cow dairy facility is housed on the modern, 902-acre campus, that features outstanding educational facilities including cold and warm water fish hatcheries, specialized classrooms and laboratories, two state-of-the-art culinary arts teaching kitchens, a student-run restaurant, child development and child care centers, and an art gallery and graphic design center. More information about SUNY Cobleskill can be found
at Cobleskill.edu.


Program Announcement (pdf; 436KB)
Upcoming Events
Is Grazing Sheep Beneath Solar Arrays and Opportunity for Your Future?
September 25, 2023
Mt. Morris, NY
Grazing sheep beneath utility-scale solar arrays can build wealth of present and future sheep farmers as vegetation management service providers and access to additional pasture. The Cornell Cooperative Enterprise Program (CEP) conducted a survey earlier this year completed by over 600 farmers. Farmers identified barriers to grazing sheep under solar arrays and weighed in on need for a producer-led organization to negotiate contracts on their behalf, coordinate logistics of multiple flocks, provide transport of sheep to and from the site, care for sheep while on-site, and provide supplemental mowing. Additional questions focused on processing and marketing needs.
Technology for Grazing Dairies Webinar
September 27, 2023
Join us for this free webinar! Brought to you by the dairy specialists of CCE NWNY and SWNY Dairy, Livestock and Field Crops Programs.
Protecting Against Murphy's Law: A FREE Live Seminar for Veterans.
October 4, 2023
What Can Go Wrong, Will Go Wrong!
Good ole' Murphy's Law is probably the best description of what it's like to be a farmer that there is! Join Cornell Cooperative Extension Farm Business Management Specialist, Katelyn Walley-Stoll, to learn more about the 5 areas of risk on farms and how to develop strategies to manage those risks. Participants will have the opportunity to identify areas of risk on their own farms and brainstorm ways to (try to) prevent the inevitable!
Registration is REQUIRED by visiting https://tinyurl.com/CCERisk or call Kelly at 585-268-7644.
Announcements
No announcements at this time.