When it the Right Time to Castrate Bulls by Jeff Robe
March 14, 2022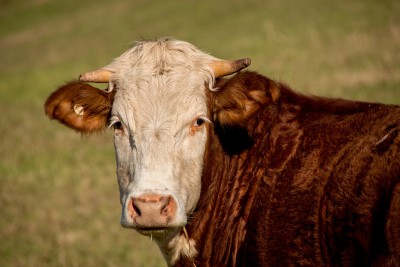 When is the right time to castrate bulls?
Jeff Robe, Oklahoma Quality Beef Network Coordinator
The practice of castrating animals goes back to ancient times. Egyptian farmers found castrating bovine bulls made the animal much easier to handle. It's doubtful the Egyptians were concerned about the value-added components of their animals. But today, adding value to market cattle is the name of the game and castration is a key component to any preconditioning program that can greatly influence market price premiums or discounts, especially in older bull calves.
Castrating bull calves has become common practice in U.S. beef herds. In 2017, the USDA-APHIS NAHMS Beef Cow Calf study indicated that 62% of commercial cow-calf herds used castration methods in their management practices. Castration has provided economic benefits to both the cow-calf producer and feedlot operators through increased market prices and meat quality. Castration also decreases unwanted pregnancy and increases the safety of workers and other animals.
There is a perceived notion that intact bulls have an advantage in body weight gains during the preweaning period and post greater weaning weights than calves castrated at or near birth. However, numerous studies have shown the weaning weights are similar for bulls and steers (approx. 600 lbs.). Advantages in calf weight gain due to testosterone production are presumably realized at a time following average weaning dates closer to puberty.
The timing of castration can influence weight gain and stress management. Studies examining how timing of castration effects average daily gains (ADG) in cattle castrated either in early life (birth to 2 mo.) or those castrated at weaning or post-weaning (6-10 mo.) demonstrated higher ADG during the post-weaning period in the early castrated calves (approx. 0.30 lbs/day greater) than those castrated at or after. The period calves experience weight loss post-castration increases with age as does risk of disease susceptibility. The stress experienced is also related to the time of castration as the level of discomfort and trauma increases with the size of testicles. Calves castrated at 5 ½ months of age or later experienced a greater duration of stress than those castrated at birth or at branding.
Bull calves entering the stocker or feedlot segments of the industry have numerous health and performance factors associated with late life castration such as increased risk or morbidity and mortality, sick treatments and decreased ADG. Therefore, price discounts for bull calves being sold at market can be substantial when compared to steers marketed in the same weight class. Lighter weight bulls (300-400 lbs.) are viewed as less risky, and discounts are generally minimal if any. As the weight of a bull increases, so does the risk. Discounts can average $6-12/cwt or $30-60 per head.
A herd management practice that dates to ancient times and still used today has clearly proven beneficial. Utilizing the practice and with a timing that makes sense may be the difference between dollars made or dollars lost.
Upcoming Events
Is Grazing Sheep Beneath Solar Arrays and Opportunity for Your Future?
September 25, 2023
Mt. Morris, NY
Grazing sheep beneath utility-scale solar arrays can build wealth of present and future sheep farmers as vegetation management service providers and access to additional pasture. The Cornell Cooperative Enterprise Program (CEP) conducted a survey earlier this year completed by over 600 farmers. Farmers identified barriers to grazing sheep under solar arrays and weighed in on need for a producer-led organization to negotiate contracts on their behalf, coordinate logistics of multiple flocks, provide transport of sheep to and from the site, care for sheep while on-site, and provide supplemental mowing. Additional questions focused on processing and marketing needs.
Technology for Grazing Dairies Webinar
September 27, 2023
Join us for this free webinar! Brought to you by the dairy specialists of CCE NWNY and SWNY Dairy, Livestock and Field Crops Programs.
Protecting Against Murphy's Law: A FREE Live Seminar for Veterans.
October 4, 2023
What Can Go Wrong, Will Go Wrong!
Good ole' Murphy's Law is probably the best description of what it's like to be a farmer that there is! Join Cornell Cooperative Extension Farm Business Management Specialist, Katelyn Walley-Stoll, to learn more about the 5 areas of risk on farms and how to develop strategies to manage those risks. Participants will have the opportunity to identify areas of risk on their own farms and brainstorm ways to (try to) prevent the inevitable!
Registration is REQUIRED by visiting https://tinyurl.com/CCERisk or call Kelly at 585-268-7644.
Announcements
No announcements at this time.