CCE Resource List for Lambing and Kidding
Amy Barkley, Livestock Specialist
Southwest New York Dairy, Livestock and Field Crops Program
December 15, 2021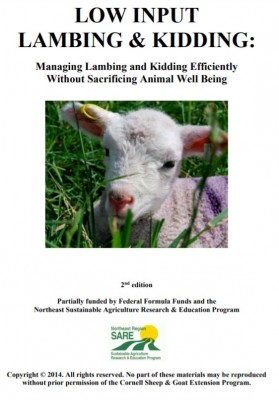 Dr. tatiana Stanton wants to remind sheep and goat producers about some lambing and kidding resources CCE has for goat and sheep farmers. These are compiled from various Cornell web pages, making them easy to find. We hope that you might find them useful during the approaching birthing season!
Kidding with Confidence
http://goatdocs.ansci.cornell.edu/Resources/GoatArticles/GoatHealth/KidCare/KiddingHandbook.pdf
Although this 28 page booklet is designed to help experienced meat goat producers mentor beginning meat goat farmers who have bought goats from them, it has excellent graphics and charts on the stages of birth, different kidding positions, how to instruction pages on how to tube, how to milk out colostrum, common kidding ailments, and standard treatments. This document can also be useful to beginning dairy goat, fiber goat, and sheep farmers as well.
Photographic sequence of lambing
These slides were prepared by David Kennard of Wellscroft Farm and Fencing that David has used for many years for the Wellscroft lambing workshops
Part 1 - https://cpb-us-e1.wpmucdn.com/blogs.cornell.edu/dist/5/6103/files/2015/06/lambing-part1-27u24yb.pdf
Part 2 - https://cpb-us-e1.wpmucdn.com/blogs.cornell.edu/dist/5/6103/files/2015/06/lambing-part2-1r2z6jj.pdf
Low Input Lambing and Kidding Guide
https://blogs.cornell.edu/goats/research/low-input-lambing-kidding/
This is a resource guide for managing lambing and kidding efficiently without sacrificing animal well being. This ~70 page guide discusses ways to manage birthing more efficiently and also has a chapter on pasture birthing. Where "Kidding with Confidence" seems in some respects to focus on everything that can go wrong, the Low Input Lambing & Kidding Guide takes a much more sustainable view at how to manage birthing year after year.
Please feel free to pass along these resources to other goat and sheep folks that you know, and best wishes for a successful birthing season!
Upcoming Events
On-Farm Dairy Processing Online Series 2022
May 25, 2022
June 1, 2022
June 8, 2022

A FREE, virtual three part webinar series for dairy producers interested in diversifying or vertically integrating their business. Our discussion will include market availability and considerations, business planning and goals, interacting with regulatory agencies, planning requirements, and equipment types and layout, audit readiness, compliance training and record keeping.
Profitable Meat Marketing Workshops
May 25, 2022
This webinar covers the approach used for setting meat prices, both for bulk and by-the-cut sales, using the Cornell Meat Price Calculator (MPC). Attendees will learn what data to collect from their farm and how to use the new MPC. The MPC is a user-friendly online tool for farmers that allows them to set prices that ensure they reach farm financial goals. The webinar will be recorded and shared, so that farms using the MPC can play it back when they are ready to use the MPC.
Young Farmers Coalition of WNY Farmer's Potluck
May 28, 2022
Buffalo, NY
All farmers are invited to this networking event where we will share ideas, pool resources, tour a local farm, and enjoy good company.

Announcements
No announcements at this time.