Spotted Lanternfly is in NYS - Please stay on the lookout for this pest!
Amy Barkley, Livestock Specialist
Southwest New York Dairy, Livestock and Field Crops Program
December 7, 2021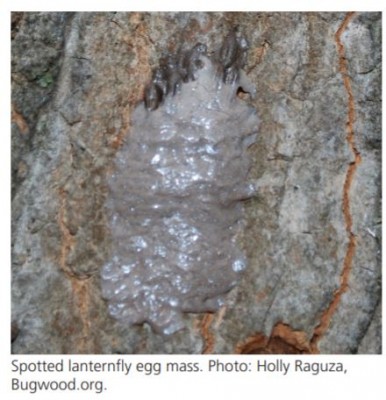 Update and resource compilation by Brian Eshenaur
November 30, 2021
Unfortunately Spotted Lanternfly has spread in NYS this year and it will likely have a wider distribution in the 2022 growing season. Although it appears Spotted Lanternfly will only pose a serious threat to grape vines and vineyards, it may be noticed on other horticultural, and even field crops, especially the juvenile SLFs. So as an ag educator you may observe SLF and/or get questions from growers.
Early detection and reporting in new areas is still very important as eradication efforts by NYS Ag & Mkts in outlying locations can delay the spread. Please promptly report any SLF sightings to the reporting portal below and also email NYSIPM specialist Brian Eshenaur (bce1@cornell.edu)about your finding and/or other questions you may have. We want to increase awareness as it appears that the 2021 infestation found in the Binghamton area was actually noticed by residents a year or two prior to it being reported. Since growers may be more likely to encounter SLF than the average citizen you may want to consider adding a few slides about Spotted Lanternfly to your upcoming presentations. See link below for access to PowerPoint presentations you can draw from.
Just a reminder, this is the time of year to keep an eye out for egg masses and at any time of year new detections are most likely along transportation corridors, parking lots and near stands of Ailanthus trees.
Some Spotted Lanternfly Resources:
Current Distribution Map and the SLF Reporting Portal link can be found here:
https://nysipm.cornell.edu/environment/invasive-species-exotic-pests/spotted-lanternfly/
List of SLF Insecticides approved for use on Spotted Lanternfly in NYS: https://nysipm.cornell.edu/environment/invasive-species-exotic-pests/spotted-lanternfly/insecticides-use-spotted-lanternfly/
SLF Outreach PowerPoints Feel free to modify for your use for your audiences. We'll be adding to and updating this box folder. https://cornell.app.box.com/folder/138839837752?s=2jg9rs8ptn5urnxpl62nzdqyperpkalj
NYS SLF Outreach Listserv If you're interested in Spotted Lanternfly and the regularly scheduled SLF Zoom meetings you can join the listserv by sending an email here.
SLF questions, thoughts or suggestions around Spotted Lanternfly outreach or possible detections don't hesitate to contact Brian Eshenaur with NYS IPM at bce1@cornell.edu . (For use by extension educators, please don't share with producer or consumer audiences.) Here's a Frequently Asked Questions page that can be widely distributed: https://nysipm.cornell.edu/whats-bugging-you/spotted-lanternfly/
PSU Resources-- Penn State has been at this since 2014 and have developed some excellent educational tools here:
https://extension.psu.edu/spotted-lanternfly Note: insecticidal management options are different for NYS.
Upcoming Events
On-Farm Dairy Processing Online Series 2022
May 25, 2022
June 1, 2022
June 8, 2022

A FREE, virtual three part webinar series for dairy producers interested in diversifying or vertically integrating their business. Our discussion will include market availability and considerations, business planning and goals, interacting with regulatory agencies, planning requirements, and equipment types and layout, audit readiness, compliance training and record keeping.
Profitable Meat Marketing Workshops
May 25, 2022
This webinar covers the approach used for setting meat prices, both for bulk and by-the-cut sales, using the Cornell Meat Price Calculator (MPC). Attendees will learn what data to collect from their farm and how to use the new MPC. The MPC is a user-friendly online tool for farmers that allows them to set prices that ensure they reach farm financial goals. The webinar will be recorded and shared, so that farms using the MPC can play it back when they are ready to use the MPC.
Young Farmers Coalition of WNY Farmer's Potluck
May 28, 2022
Buffalo, NY
All farmers are invited to this networking event where we will share ideas, pool resources, tour a local farm, and enjoy good company.

Announcements
No announcements at this time.