Northeast SARE is now accepting applications for its 2022 Farmer Grant Proposals
Camila Lage, Dairy Management Specialist
Southwest New York Dairy, Livestock and Field Crops Program
September 20, 2021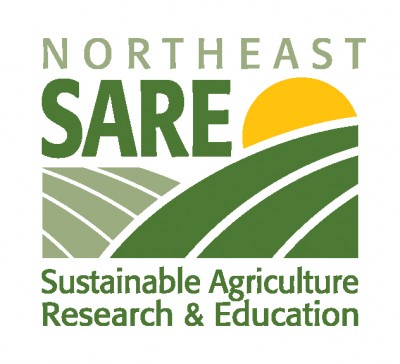 This program is for farmers making at least $1,000 gross annually who have an innovative idea they want to test using a field trial, on-farm demonstration, or other method. Successful applicants develop projects that can address questions that are directly related with profitability, better stewardship, and stronger rural communities.
Who can apply, what funds can be used for and what funds cannot be used for:
Farmers in Connecticut, Delaware, Maine, Maryland, Massachusetts, New Hampshire, New Jersey, New York, Pennsylvania, Rhode Island, Vermont, West Virginia, and Washington, D.C. are welcome to apply.
Funds can be used to conduct the research project including paying farmers for their time, project-related materials, project costs like consulting fees or soil tests, and any communications or outreach expenses associated with telling others about project results.
A technical advisor-often an extension agent, crop consultant, other service professional or farmer with advanced expertise-must also be involved.
Grant awards are capped at $30,000 per project and projects up to 3 years are accepted.
Farmer Grant funds cannot be used to start a farm, build any facility, purchase durable equipment like tractors or computers, purchase livestock, or for any utility, telephone, or other costs that would be there in the absence of the project.
Recipients of the Farmer Grant are expected to collect and manage reliable data about their project and convey this information clearly through annual and final reports.
Application materials, including detailed instructions and supporting documents, are posted at
https://northeast.sare.org/grants/get-a-grant/farmer-grant-program/
If you are interested in learning more about it you can register for the Farmer Grant Webinar that will happen on October 5, 2021 at noon here
Please contact Amy Barkley, Livestock and Beginning Farm Specialist, at 716-640-0844 and amb544@cornell.edu or Camila Lage, Dairy Management Specialist, at 607-422-6788 and cd546@cornell.edu if you are interested in applying for a NE-SARE Farmer Grant or if you have an idea you want to discuss.
Upcoming Events
Is Grazing Sheep Beneath Solar Arrays and Opportunity for Your Future?
September 25, 2023
Mt. Morris, NY
Grazing sheep beneath utility-scale solar arrays can build wealth of present and future sheep farmers as vegetation management service providers and access to additional pasture. The Cornell Cooperative Enterprise Program (CEP) conducted a survey earlier this year completed by over 600 farmers. Farmers identified barriers to grazing sheep under solar arrays and weighed in on need for a producer-led organization to negotiate contracts on their behalf, coordinate logistics of multiple flocks, provide transport of sheep to and from the site, care for sheep while on-site, and provide supplemental mowing. Additional questions focused on processing and marketing needs.
Technology for Grazing Dairies Webinar
September 27, 2023
Join us for this free webinar! Brought to you by the dairy specialists of CCE NWNY and SWNY Dairy, Livestock and Field Crops Programs.
Protecting Against Murphy's Law: A FREE Live Seminar for Veterans.
October 4, 2023
What Can Go Wrong, Will Go Wrong!
Good ole' Murphy's Law is probably the best description of what it's like to be a farmer that there is! Join Cornell Cooperative Extension Farm Business Management Specialist, Katelyn Walley-Stoll, to learn more about the 5 areas of risk on farms and how to develop strategies to manage those risks. Participants will have the opportunity to identify areas of risk on their own farms and brainstorm ways to (try to) prevent the inevitable!
Registration is REQUIRED by visiting https://tinyurl.com/CCERisk or call Kelly at 585-268-7644.
Announcements
No announcements at this time.