How you Administer Injections Matters
Amy Barkley, Livestock Specialist
Southwest New York Dairy, Livestock and Field Crops Program
August 10, 2021
Injections are necessary, and sometimes even life-saving, for many of our livestock species. Each liquid that we inject is formulated to be placed not only in different regions of the body (think the triangular mass of muscle of the neck for most cattle vaccines vs the buttocks for some equine injections), but also in different layers of tissue (muscle vs skin vs vein). The correct placement of a needle allows the vaccine, fluid, or antibiotic to fall in the proper place to be absorbed by the body in the most effective manner. Angles of the four most common injections are listed below from largest (perpendicular with the skin surface) to smallest (nearly parallel with the skin surface).
Intramuscular: This injection is made to go deep into the muscle. The needle will be placed at a 90-degree angle (perpendicular) to the skin to allow for penetration into that tissue. A large muscle works best for these injections, but care needs to be taken with placement, especially on meat animals, since many of these injections cause damage, and ultimately condemnation, of the muscle tissue they come in contact with.
Subcutaneous: A properly placed subcutaneous injection is going to result in a lump of fluid underneath the two layers of skin (epidermis and dermis). The depth of these two layers varies with species, breed, and age. Under the skin layers resides connective tissues, which lack blood vessels, resulting in a slow absorption of any liquid placed there. An area of loose skin is an ideal place for these injections since there is room for the fluid to accumulate. The needle will be placed at an angle of 45 degrees to the skin surface.
Intravenous: The needles used for either injections or removal of blood should be placed where a vein is readily accessible. This is usually in the legs, neck, udder, or tailhead of our livestock species. Many times, the veins are readily visible, but sometimes moderate pressure needs to be applied below the area where blood is being removed to make the vein obvious. To access the vein, the needle should be inserted at an angle of 25 degrees to the skin. Drawing back on the plunger of a properly placed syringe should result in some blood in the syringe body, indicating the needle is in the vein.
Intradermal: This injection requires the needle to be placed just under the epidermis (outer layer of skin) and into the dermis (inner layer of skin). These injections take a very fine needle (larger gauge, shorter length). Correct placement of the needle is between 10 and 15 degrees with the skin surface. Correct placement is verified by the formation of a blister of fluid just under a thin layer of skin.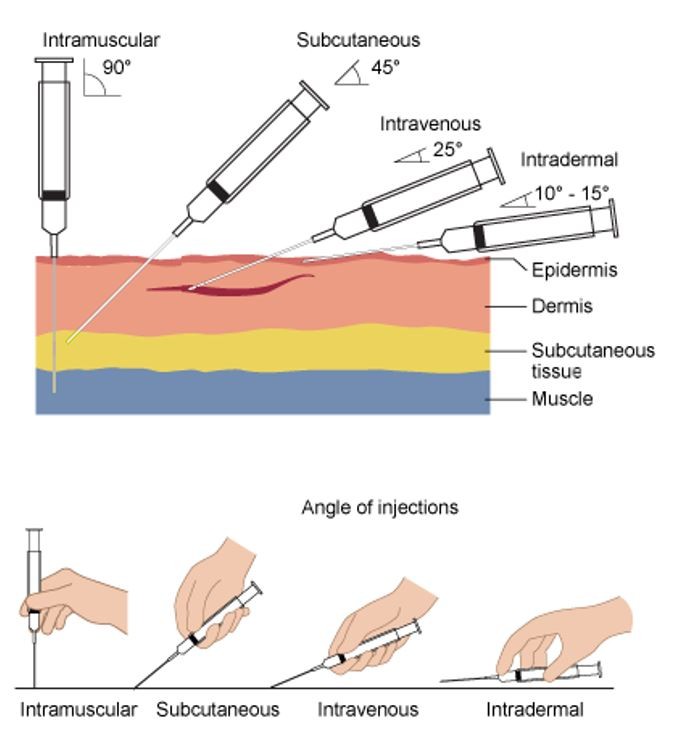 Upcoming Events
Is Grazing Sheep Beneath Solar Arrays and Opportunity for Your Future?
September 25, 2023
Mt. Morris, NY
Grazing sheep beneath utility-scale solar arrays can build wealth of present and future sheep farmers as vegetation management service providers and access to additional pasture. The Cornell Cooperative Enterprise Program (CEP) conducted a survey earlier this year completed by over 600 farmers. Farmers identified barriers to grazing sheep under solar arrays and weighed in on need for a producer-led organization to negotiate contracts on their behalf, coordinate logistics of multiple flocks, provide transport of sheep to and from the site, care for sheep while on-site, and provide supplemental mowing. Additional questions focused on processing and marketing needs.
Technology for Grazing Dairies Webinar
September 27, 2023
Join us for this free webinar! Brought to you by the dairy specialists of CCE NWNY and SWNY Dairy, Livestock and Field Crops Programs.
Protecting Against Murphy's Law: A FREE Live Seminar for Veterans.
October 4, 2023
What Can Go Wrong, Will Go Wrong!
Good ole' Murphy's Law is probably the best description of what it's like to be a farmer that there is! Join Cornell Cooperative Extension Farm Business Management Specialist, Katelyn Walley-Stoll, to learn more about the 5 areas of risk on farms and how to develop strategies to manage those risks. Participants will have the opportunity to identify areas of risk on their own farms and brainstorm ways to (try to) prevent the inevitable!
Registration is REQUIRED by visiting https://tinyurl.com/CCERisk or call Kelly at 585-268-7644.
Announcements
No announcements at this time.