Free Fecal Egg Count Testing to Improve Parasite Resistant Genetics
Amy Barkley, Livestock Specialist
Southwest New York Dairy, Livestock and Field Crops Program
July 14, 2021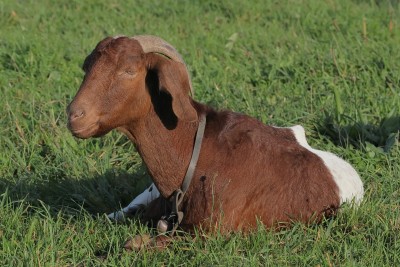 Small Ruminant Producers:
Do you want more parasite resistant animals?
Summer 2021: Free Fecal Egg Count (FEC) analysis to assist with selective breeding for resistance to gastrointestinal worms


AVAILABLE TO:
New or current National Sheep Improvement Program (NSIP) members either in or marketing to the Northeast who want to generate Estimated Breeding Values (EBV) for parasite resistance.
● Producers must be able to obtain and ship fecal samples once or twice (at least 4 weeks later) following NSIP recommendations.
● Animals must NOT have been dewormed within 4 weeks of sampling.
● Fecal egg counts can be conducted for all young stock whose data is being submitted to NSIP.
● For more information on the benefits of membership in NSIP please visit http://nsip.org/ or contact the NSIP Program Director, Rusty Burgett, (info@nsip.org).


OR

Non-NSIP members living in New England, NY, NJ, PA, WV, MD, DE
● Have a history of problems with gastrointestinal nematode worms.
● Are FAMACHA© certified (online training program is available).
● Are willing to share FAMACHA© scores as well as general herd/flock information/history.
● Have the ability to obtain and ship fecal samples once or twice (at least 4 wks later).
● Animals must NOT have been dewormed within 4 weeks of sampling.
● To allow us to provide this service to the maximum number of producers we are focusing the FEC testing on young replacement animals.

FAMACHA© scores can be used to indicate that worm season is active and will provide fecal egg counts high enough for meaningful analysis (minimum herd average >500 eggs/g). Scores of 3 or higher in 10% or more of your flock/herd or an overall upward trend in FAMACHA© scores away from normal 1's and 2's indicate increasing parasite loads. Peak parasite season occurs typically from mid-July through mid-September in most of the U.S. NSIP producers should plan on submitting a first set up samples in July to allow for the 30 to 45 days needed before sending the second set of samples.


We prefer that first samples are taken by Mid-August 2021 but samples will be accepted foranalysis through September 30, 2021.

Please complete the Pre-Registration to receive further information.
Access the Pre-Registration by clicking here for the link.
Please contact Elizabeth Kass or Dr. Katherine Petersson, University of Rhode Island at urisheepandgoat@etal.uri.edu with any questions.
For more information on small ruminant parasite control visit our website at http://web.uri.edu/sheepngoat.
Upcoming Events
Is Grazing Sheep Beneath Solar Arrays and Opportunity for Your Future?
September 25, 2023
Mt. Morris, NY
Grazing sheep beneath utility-scale solar arrays can build wealth of present and future sheep farmers as vegetation management service providers and access to additional pasture. The Cornell Cooperative Enterprise Program (CEP) conducted a survey earlier this year completed by over 600 farmers. Farmers identified barriers to grazing sheep under solar arrays and weighed in on need for a producer-led organization to negotiate contracts on their behalf, coordinate logistics of multiple flocks, provide transport of sheep to and from the site, care for sheep while on-site, and provide supplemental mowing. Additional questions focused on processing and marketing needs.
Technology for Grazing Dairies Webinar
September 27, 2023
Join us for this free webinar! Brought to you by the dairy specialists of CCE NWNY and SWNY Dairy, Livestock and Field Crops Programs.
Protecting Against Murphy's Law: A FREE Live Seminar for Veterans.
October 4, 2023
What Can Go Wrong, Will Go Wrong!
Good ole' Murphy's Law is probably the best description of what it's like to be a farmer that there is! Join Cornell Cooperative Extension Farm Business Management Specialist, Katelyn Walley-Stoll, to learn more about the 5 areas of risk on farms and how to develop strategies to manage those risks. Participants will have the opportunity to identify areas of risk on their own farms and brainstorm ways to (try to) prevent the inevitable!
Registration is REQUIRED by visiting https://tinyurl.com/CCERisk or call Kelly at 585-268-7644.
Announcements
No announcements at this time.