Management Practices to Add Value to Beef Calves
Amy Barkley, Livestock Specialist
Southwest New York Dairy, Livestock and Field Crops Program
July 7, 2021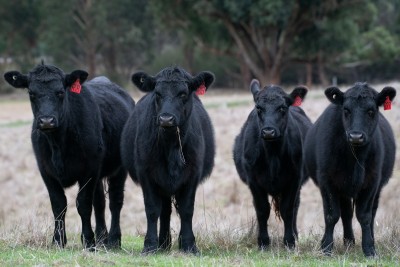 Management Practices to Add Value - Part 2
Mark Z. Johnson, Oklahoma State University Extension Beef Cattle Breeding Specialist
Paul Beck, Oklahoma State University Extension Beef Cattle Nutrition Specialist
As we continue to deal with high feed, fertilizer and fuel costs, this week we focus on additional management practices to add value to beef calves. As discussed last week, good management adds value. This value can be captured through marketing preconditioned weaned calves or retained ownership past weaning. Along with weaning at least 45 days, preconditioning includes several practices that add value to cattle for the buyer and seller. Beyond this, additional weight gain can be added by growth implants, adding further value to your calves.
Bovine respiratory disease is the biggest issue for stocker operators and feedlots, through death loss, antibiotic cost, reduced performance and increased labor. Fully vaccinated and preconditioned calves have been shown to have reduce sick pulls in the receiving pens by 90% and decrease chronics by over 70%.
Castrated steers bring $5-10/cwt more than bulls, and as they get bigger discounts for bulls increase. Intact bull calves are 1.5 to 2.5 times more likely to get sick, and total gain during receiving is reduced, affecting total performance for the entire ownership period.
Dehorning adds value to horned cattle. Often discounts for horned cattle can match or exceed discounts for bull calves.
Discounts for horned bulls can reach up to $25/cwt compared to dehorned or polled steer calves.
Implants can increase gains by 10 to 20%. For the cost of $2 or less, the 18 pounds of added weight at sale can be worth over $25.
Producers often think they can leave bull calves intact and increase weaning weights due to natural testosterone. Testosterone production is very low until puberty, so weaning weights are not heavier for intact bulls compared to steers. Weaning weights of implanted steers are often much heavier than intact bull calves.
USDA Verified Programs
Verifying management practices through a USDA verified program is another possibility for adding value to calves. Many of these programs exist and are driven by consumer demand. USDA verified programs exist to meet any number of verifiable management claims by a producer. Typically the claims are defined so consumers can make purchasing decisions at the retail level. Source and Age Verification for beef has two components. Source verification is the ability to trace beef back to the farm or ranch where the cattle were born. Age verification is the ability to document and verify the age of the animal throughout the production chain and at slaughter. Natural verification is the ability to document that no antibiotics, growth implants or other additives have been given to animals. Producers must keep detailed calving records and be willing to share those records with the verifying authority. Production records alone do not qualify cattle to be sold as verified. Verified claims have to be validated either through a USDA Process Verified Program (PVP) or a USDA Quality System Assessment (QSA) program. Both programs require quality management systems where specific production processes and/or attributes are documented in a way that makes them verifiable through required systematic audits. PVP and QSA programs have similarities, but can be quite different. PVPs provide the opportunity to make marketing claims about beef attributes beyond age and source verification (which nearly all PVPs include), including specific genetics, feeding practices, animal welfare, environmental production aspects and other claims that are otherwise difficult to verify by visual inspection. QSA defines the type of USDA program that has a narrower scope and is less complex than PVP programs. QSAs were initially developed primarily to qualify beef for export. The only beef attributes verifiable through a QSA program are age, source and non-hormone treated cattle (NHTC).
Local access to these programs is likely through an approved feed yard, breed association, livestock market or major packer. Interested producers should begin by exploring individual PVPs to determine if they are already producing cattle with the potential to capture additional value beyond source and age verification. For more detailed information on QSA and PVP programs visit Minding Your Cattle P's and Q's: Basic Facts on Source, Age, and other Claim Verification through PVP and QSA Programs | Oklahoma State University (okstate.edu)
Marketing cattle through PVP or QSA programs does not guarantee increased profitability since there is a cost associated with qualifying cattle for these programs (ear tags, audit expense, products required specific to the program, potential cash outlay for participation, etc.). As well, the loss of production from not using growth implant technologies in specific programs must be evaluated. That being said, getting paid for the management practices you already have in place (or could effectively implement) is a good idea in a time of high production costs.
Dr Mark Johnson discusses preconditioning to add value to cattle on Sunup TV from 7/3/2021. Cow-Calf Corner - Preconditioning Part 1 7/3/21 — SUNUP TV (okstate.edu)
A series of videos on management and marketing of preconditioned cattle is available at: http://beef.okstate.edu/ranchers-thursday-lunchtime-series
Videos include:
Influence of Vac45 programs on calf prices https://www.youtube.com/watch?v=nakQTuIiIQI
Health management for Vac45 programs https://www.youtube.com/watch?v=qhQ3Xypcesk
Nutrition for weaned calves https://www.youtube.com/watch?v=KX4iUylatW8
Budgeting for preconditioning https://www.youtube.com/watch?v=sYyv3TT3gvc
Marketing Vac45 calves https://www.youtube.com/watch?v=yvie8HF_xHU The Oklahoma Quality Beef Network https://www.youtube.com/watch?v=jqpA3I8TrIM
Upcoming Events
Is Grazing Sheep Beneath Solar Arrays and Opportunity for Your Future?
September 25, 2023
Mt. Morris, NY
Grazing sheep beneath utility-scale solar arrays can build wealth of present and future sheep farmers as vegetation management service providers and access to additional pasture. The Cornell Cooperative Enterprise Program (CEP) conducted a survey earlier this year completed by over 600 farmers. Farmers identified barriers to grazing sheep under solar arrays and weighed in on need for a producer-led organization to negotiate contracts on their behalf, coordinate logistics of multiple flocks, provide transport of sheep to and from the site, care for sheep while on-site, and provide supplemental mowing. Additional questions focused on processing and marketing needs.
Technology for Grazing Dairies Webinar
September 27, 2023
Join us for this free webinar! Brought to you by the dairy specialists of CCE NWNY and SWNY Dairy, Livestock and Field Crops Programs.
Protecting Against Murphy's Law: A FREE Live Seminar for Veterans.
October 4, 2023
What Can Go Wrong, Will Go Wrong!
Good ole' Murphy's Law is probably the best description of what it's like to be a farmer that there is! Join Cornell Cooperative Extension Farm Business Management Specialist, Katelyn Walley-Stoll, to learn more about the 5 areas of risk on farms and how to develop strategies to manage those risks. Participants will have the opportunity to identify areas of risk on their own farms and brainstorm ways to (try to) prevent the inevitable!
Registration is REQUIRED by visiting https://tinyurl.com/CCERisk or call Kelly at 585-268-7644.
Announcements
No announcements at this time.