Replace Missing PTO Shields at Discount Prices
Amy Barkley, Livestock Specialist
Southwest New York Dairy, Livestock and Field Crops Program
March 3, 2021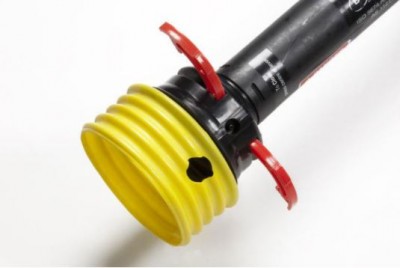 REPLACE MISSING PTO SHIELDS AT DISCOUNT PRICES
BY LYNN BLIVEN
AGRICULTURE & NATURAL RESOURCES ISSUE LEADER

Winter may not be the time you are thinking about using some of those parked pieces of machinery but as you walk by them take a good look at the PTO shields. We all know that damaged or missing shields can be the cause of serious injuries or even death. The typical PTO running at 540 RPM can wrap an arm or leg around the shaft nine times in one second. Yes, replacement shields are expensive and sure as rain you'll just get the new one on and some yahoo will damage it, somehow. But the truth is these are just excuses. So, as the fast- talking salesman says; "Have I got a deal for you."
A program offered through the New York Center for Agriculture Medicine and Health (NYCAMH) can provide replacement PTO shields at substantially reduced cost. There are two shields available depending on your needs and each shield comes with a bearing assortment to make retrofits easy. Prices range from $59.00 to $83.00 depending on the unit needed. Measure the bottom of
the bearing groove to find the size needed. If the diameter is 2 1/8 inches or smaller order part number AS20090. If the diameter is larger than 2 1/8 inches order part number AS30090.
An added feature of the replacement shield is the Bare-Co Patent lever release shaft guard which allows the guard to be pulled back to get to those hard-to-reach grease fittings. So if you are thinking that the missing shield makes it easier to grease the universal joint that problem is solved.
Order your replacement PTO shields by calling NYCAMH at 800-343-7527 or visit website at https://www.nycamh.org/programs-and-services/pto-shield.php.
Your family, your workers and you all deserve a better chance to stay safe and healthy around the farm.
Upcoming Events
Is Grazing Sheep Beneath Solar Arrays and Opportunity for Your Future?
September 25, 2023
Mt. Morris, NY
Grazing sheep beneath utility-scale solar arrays can build wealth of present and future sheep farmers as vegetation management service providers and access to additional pasture. The Cornell Cooperative Enterprise Program (CEP) conducted a survey earlier this year completed by over 600 farmers. Farmers identified barriers to grazing sheep under solar arrays and weighed in on need for a producer-led organization to negotiate contracts on their behalf, coordinate logistics of multiple flocks, provide transport of sheep to and from the site, care for sheep while on-site, and provide supplemental mowing. Additional questions focused on processing and marketing needs.
Technology for Grazing Dairies Webinar
September 27, 2023
Join us for this free webinar! Brought to you by the dairy specialists of CCE NWNY and SWNY Dairy, Livestock and Field Crops Programs.
Protecting Against Murphy's Law: A FREE Live Seminar for Veterans.
October 4, 2023
What Can Go Wrong, Will Go Wrong!
Good ole' Murphy's Law is probably the best description of what it's like to be a farmer that there is! Join Cornell Cooperative Extension Farm Business Management Specialist, Katelyn Walley-Stoll, to learn more about the 5 areas of risk on farms and how to develop strategies to manage those risks. Participants will have the opportunity to identify areas of risk on their own farms and brainstorm ways to (try to) prevent the inevitable!
Registration is REQUIRED by visiting https://tinyurl.com/CCERisk or call Kelly at 585-268-7644.
Announcements
No announcements at this time.