NY Farm Service Agency to Host Meetings on Coronavirus Food Assistance Program 2
Amy Barkley, Livestock Specialist
Southwest New York Dairy, Livestock and Field Crops Program
November 12, 2020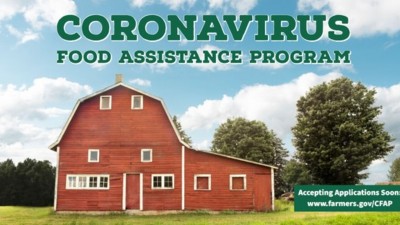 The U.S. Department of Agriculture's (USDA) Farm Service Agency (FSA) in New York is hosting two meetings about the Coronavirus Food Assistance Program 2 (CFAP 2). The first meeting will be Tuesday, November 17th at noon, and the second, which will focus on the specialty crops portion of CFAP 2, will be Wednesday, November 18th at noon.
The Coronavirus Food Assistance Program 2 is available to farmers and ranchers whose operations have been directly impacted by the coronavirus pandemic. CFAP 2 provides direct relief to producers who continue to face price declines and additional marketing costs due to COVID-19. The meetings will highlight program information and discuss the application process.
Eligible Commodities
CFAP 2 supports eligible producers of row crops, livestock, specialty crops, dairy, aquaculture, and many other commodities, including many that were ineligible for CFAP 1. FSA's CFAP 2 Eligible Commodities Finder makes finding eligible commodities and payment rates simple. Access this tool and other resources at farmers.gov/cfap.
The meetings will be available to attend online or with a conference call phone number. Please email Lynnette.wright@usda.gov to receive a calendar invite to the webinars, or follows these links at the appropriate times:
Tuesday, November 17th at noon or call: 347-690-4420; Conference ID: 180 987 070#
Wednesday, November 18th at noon or call: 347-690-4420; Conference ID: 213 096 577#
FSA is accepting applications for CFAP 2 through December 11, 2020. To find the latest information on CFAP 2, eligible crops, payment rates, and the application and payment calculator, visit farmers.gov/cfap.
Persons with disabilities who require accommodations to participate in this meeting should contact Lynnette Wright at (315) 477-6309 or Federal Relay Service at 1-800-877-8339, by November 16, 2020.
Upcoming Events
Is Grazing Sheep Beneath Solar Arrays and Opportunity for Your Future?
September 25, 2023
Mt. Morris, NY
Grazing sheep beneath utility-scale solar arrays can build wealth of present and future sheep farmers as vegetation management service providers and access to additional pasture. The Cornell Cooperative Enterprise Program (CEP) conducted a survey earlier this year completed by over 600 farmers. Farmers identified barriers to grazing sheep under solar arrays and weighed in on need for a producer-led organization to negotiate contracts on their behalf, coordinate logistics of multiple flocks, provide transport of sheep to and from the site, care for sheep while on-site, and provide supplemental mowing. Additional questions focused on processing and marketing needs.
Technology for Grazing Dairies Webinar
September 27, 2023
Join us for this free webinar! Brought to you by the dairy specialists of CCE NWNY and SWNY Dairy, Livestock and Field Crops Programs.
Protecting Against Murphy's Law: A FREE Live Seminar for Veterans.
October 4, 2023
What Can Go Wrong, Will Go Wrong!
Good ole' Murphy's Law is probably the best description of what it's like to be a farmer that there is! Join Cornell Cooperative Extension Farm Business Management Specialist, Katelyn Walley-Stoll, to learn more about the 5 areas of risk on farms and how to develop strategies to manage those risks. Participants will have the opportunity to identify areas of risk on their own farms and brainstorm ways to (try to) prevent the inevitable!
Registration is REQUIRED by visiting https://tinyurl.com/CCERisk or call Kelly at 585-268-7644.
Announcements
No announcements at this time.