Fall Feeder Calf Prices Expected to be Equal to or Slightly Higher Than 2019
Amy Barkley, Livestock Specialist
Southwest New York Dairy, Livestock and Field Crops Program
October 15, 2020
Livestock Report - Oct 2, 2020
Michael J. Baker PhD
Cornell Beef Extension Specialist
mjb28@cornell.edu
http://beefcattle.ansci.cornel...
The price of feeder calves show expectations equal to slightly higher
compared to 2019
Cull Cows:
The average price for the week ending October 1 of Lean/Boner cull cows in NY was $51.92/cwt. This is down over $4/cwt and continues a downward trend since June. This follows a seasonal pattern for cow prices heading into the end of the year. Locally a little more concerning is that a major packer has had to close temporarily due to cooler issues. The weighted average Ln/Boner cow for the week of October 8 (data not shown) was $48.93/cwt. Taking a major buyer out of the market has a substantial effect on price. This downward trend is also reported in the USDA National Weekly Direct Cow and Bull Report.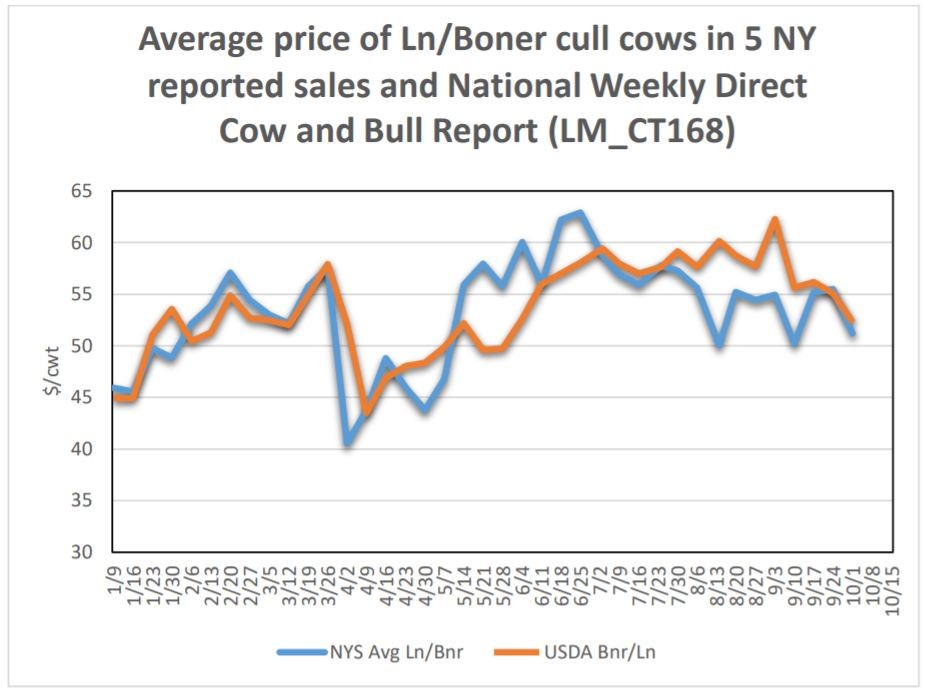 Finished cattle:
The average price for Choice steers for the week ending October 1 was $99.31/cwt on a very light test. This compares to $100.50/cwt on same date last year. The National Weekly Direct Slaughter Cattle reported $107.09/cwt. As mentioned above with cull cows, sellers may have held cattle back due to a major buyer out of the market. Consumer demand has remained steady or increased. As reported by Nevil Speer in October 9 issue of Beef Magazine, https://www.beefmagazine.com/, "…retail beef demand has been remarkable - and facilitated solid resilience for the industry in lieu of support from foodservice. As noted last week, the industry's work during the past 20 years in terms of Beef Checkoff investment focusing on research and promotion, coupled with huge advances in beef quality and consistency, is paying important dividends. Featuring by retail stores is also increasing and exports have shown some encouragement."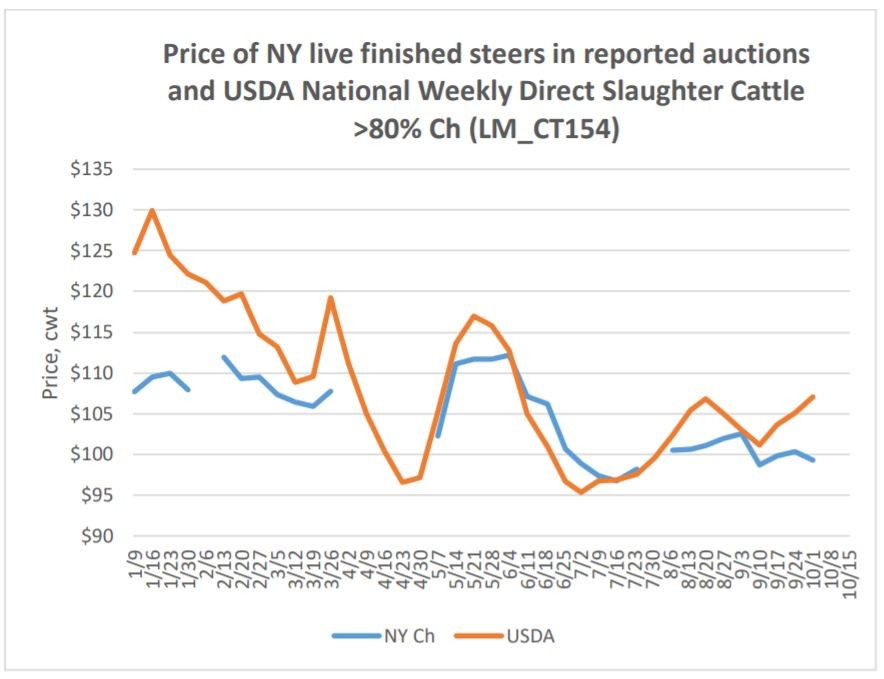 Feeder cattle:
Medium and Large Frame, No. 1 feeder steers continue to run about $4/cwt higher than last year. This is the beginning of the calf run and prices typically decline through the end of the year. So the question is what to expect for feeder calf prices in November. This can be calculated using three methods: 1) Feeder Index, 2) Adjusted Feeder Futures and 3) BeefBasis.com. I will not go into the specifics of each projection method, but the combined results indicate that the price of a ML1 550 lb feeder steer will trade in the range of $123/cwt to $137/cwt in NY. The price last year was $122/cwt. Last year we saw a $20/cwt premium for reputation cattle with a well documented health protocol and weaned at least 30 days. Cow/calf producers can add value to their cattle to achieve top price.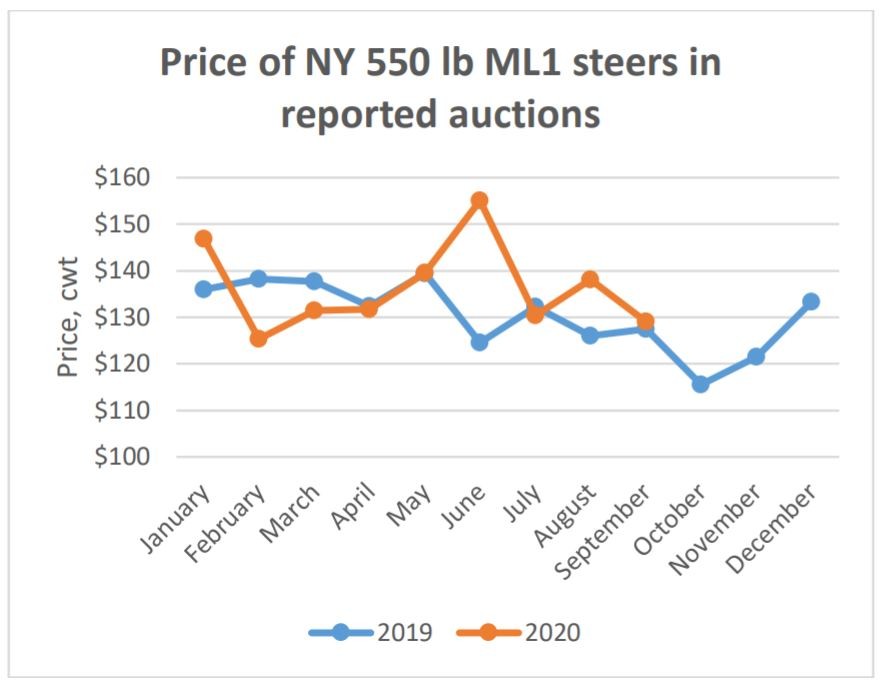 Dairy bull calves:
The value of bull calves continues to improve with the exception of this week's beef cross calves (-$18.63/hd). No. 1 Holstein bulls increased by $9.82/hd over last week. Year to date, the premium for beef cross bull increased to $69/hd.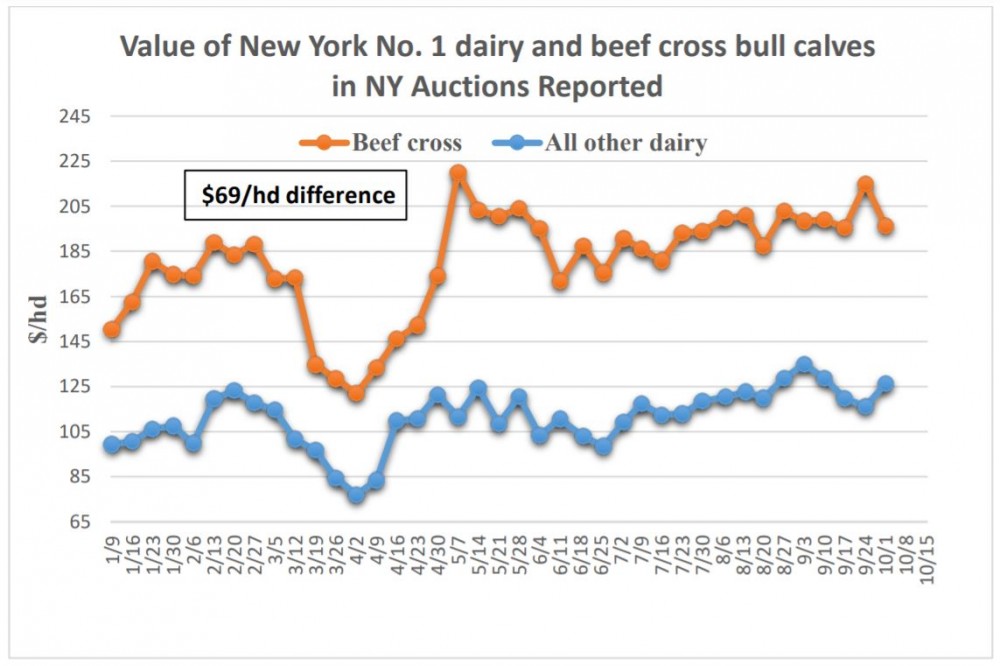 For additional information on NYS Auction prices go to: https://www.ams.usda.gov/marke...

(Funds to support the NYS Market News program come from New York State Department of Agriculture and Markets project "Stocker cattle: Using underutilized grasslands to improve economic viability of the Southern Tier while providing viable careers for beginning farmers.").
Upcoming Events
Is Grazing Sheep Beneath Solar Arrays and Opportunity for Your Future?
September 25, 2023
Mt. Morris, NY
Grazing sheep beneath utility-scale solar arrays can build wealth of present and future sheep farmers as vegetation management service providers and access to additional pasture. The Cornell Cooperative Enterprise Program (CEP) conducted a survey earlier this year completed by over 600 farmers. Farmers identified barriers to grazing sheep under solar arrays and weighed in on need for a producer-led organization to negotiate contracts on their behalf, coordinate logistics of multiple flocks, provide transport of sheep to and from the site, care for sheep while on-site, and provide supplemental mowing. Additional questions focused on processing and marketing needs.
Technology for Grazing Dairies Webinar
September 27, 2023
Join us for this free webinar! Brought to you by the dairy specialists of CCE NWNY and SWNY Dairy, Livestock and Field Crops Programs.
Protecting Against Murphy's Law: A FREE Live Seminar for Veterans.
October 4, 2023
What Can Go Wrong, Will Go Wrong!
Good ole' Murphy's Law is probably the best description of what it's like to be a farmer that there is! Join Cornell Cooperative Extension Farm Business Management Specialist, Katelyn Walley-Stoll, to learn more about the 5 areas of risk on farms and how to develop strategies to manage those risks. Participants will have the opportunity to identify areas of risk on their own farms and brainstorm ways to (try to) prevent the inevitable!
Registration is REQUIRED by visiting https://tinyurl.com/CCERisk or call Kelly at 585-268-7644.
Announcements
No announcements at this time.