Preventing the Spread of Troublesome Weeds at Harvest in Southwest New York
Joshua Putman, Field Crops and Forage Specialist
Southwest New York Dairy, Livestock and Field Crops Program
September 30, 2020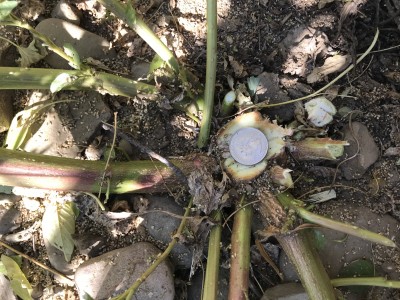 -Article information adapted from PennState Extension written by Dr. John Wallace and Heidi Reed-
Resistant weeds cause significant yield loss, increased production costs, and are becoming a bigger problem every year in New York. Farmers rarely proactively manage weeds to prevent or delay selection for herbicide resistance. They usually increase the adoption of integrated weed management practices only after herbicide resistance has occurred. Our most problematic herbicide-resistant weeds, like horseweed (marestail), waterhemp, and Palmer amaranth, can easily spread from one field, or one farm, to the next, as seeds get trapped in/on tillage, planting, and harvest equipment and ride field-to-field this time of year.
It is important to be proactive to prevent the spread of seed. You should have a plan going into the harvest season, including the appropriate order to harvest fields and equipment-cleaning protocols. GROW (Get Rid Of Weeds), a publicly-led network that provides resources and tools for implementing integrated weed management, suggests a few ways to prevent the spread of weeds with equipment:
· Scout fields before harvest, and identify which fields have problematic weed species;
· Harvest and/or till herbicide-resistant weed-infested fields, or portions of fields, last;
· If the combine or tillage equipment entering a field has recently been in a field with herbicide-resistant weeds, clean the equipment prior to entering the field, or use different equipment if it is available;
· Carefully and completely clean used equipment upon purchase;
¨ Start cleaning the combine from the top and moving from the header backward
· Use an air compressor to remove as many weed seeds from the combine as possible, including the rock trap, grain auger, and tailings processor;
· Deep clean the combine following the Straw Bale Methodology when moving from fields infested with herbicide-resistant weeds, and at the end of the year.
Once harvested, fields should not be abandoned until next spring. Marestail, a winter annual weed, will thrive in the fall after corn or soybean harvest; fall burndown in marestail-infested fields is essential. Although waterhemp and Palmer are summer annuals, they can still potentially set seed with favorable weather late in the fall. It is important to continue to scout fields and clean equipment to prevent serious management challenges in the future. For details, contact Josh Putman.
Upcoming Events
Is Grazing Sheep Beneath Solar Arrays and Opportunity for Your Future?
September 25, 2023
Mt. Morris, NY
Grazing sheep beneath utility-scale solar arrays can build wealth of present and future sheep farmers as vegetation management service providers and access to additional pasture. The Cornell Cooperative Enterprise Program (CEP) conducted a survey earlier this year completed by over 600 farmers. Farmers identified barriers to grazing sheep under solar arrays and weighed in on need for a producer-led organization to negotiate contracts on their behalf, coordinate logistics of multiple flocks, provide transport of sheep to and from the site, care for sheep while on-site, and provide supplemental mowing. Additional questions focused on processing and marketing needs.
Technology for Grazing Dairies Webinar
September 27, 2023
Join us for this free webinar! Brought to you by the dairy specialists of CCE NWNY and SWNY Dairy, Livestock and Field Crops Programs.
Protecting Against Murphy's Law: A FREE Live Seminar for Veterans.
October 4, 2023
What Can Go Wrong, Will Go Wrong!
Good ole' Murphy's Law is probably the best description of what it's like to be a farmer that there is! Join Cornell Cooperative Extension Farm Business Management Specialist, Katelyn Walley-Stoll, to learn more about the 5 areas of risk on farms and how to develop strategies to manage those risks. Participants will have the opportunity to identify areas of risk on their own farms and brainstorm ways to (try to) prevent the inevitable!
Registration is REQUIRED by visiting https://tinyurl.com/CCERisk or call Kelly at 585-268-7644.
Announcements
No announcements at this time.