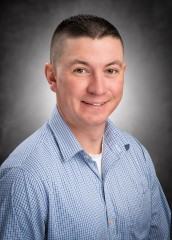 Joshua Putman
Field Crops and Forage Specialist
CCE Cattaraugus County
28 Parkside Drive
Ellicottville, NY 14731
cell 716-490-5572
email Joshua
Areas of Interest
Integrated Pest Management, Soil Health, Fertility, Forage Production and Row Crop Production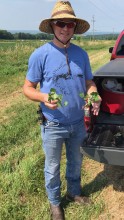 Josh Putman will be working on programming related integrated pest management, soil health, fertility, forage production and precision agronomy in row crop production in Southwest NY.
Josh grew up on a family owned dairy farm in Marion, NY that is still in operation. He earned a Bachelor's Degree in Agronomy with a specialization in Spanish Language from Wilmington College of Ohio. While attending Wilmington, he served as a bilingual translator on a large dairy operation and later worked at a swine facility as an assistant breeder and farrowing barn manager. He then earned his Master's Degree from Kansas State University where he worked with herbicide-resistant weeds in row crop production systems. He specialized in corn, sorghum, wheat, alfalfa and soybean production identifying various populations of glyphosate-resistant Palmer amaranth and tall waterhemp throughout the state. He and his wife, Jodi, currently reside in Geneseo, NY where they assist with a dry hay production business, which they hope to fully manage and operate in the near future. They also enjoy their horses, dogs and hunting together.
Upcoming Events
Farm Ready Research - Wisconsin Beef Special Edition
December 8 - April 23, 2021
Varied- Based on Webinar
Farm Ready Research is Extension's agriculture winter webinar meeting series for farmers and ag professionals. Join the webinars to learn the most up-to-date information on topics from dairy and livestock production to farm management resources. Sessions begin December 2020 and run through April 2021. See a full list of topics at wisc.edu/FarmReadyResearch.Basic Lambing Skills for the

Critical Calf Care: Urgent Decision Making for Dairy Calf Health
January 5 - February 16, 2021
12:30pm
CCE Regional Ag Teams are excited to offer this NEW calf care series! Join us VIRTUALLY for a 7 week series on critical calf care topics! This series will be offered every Tuesday starting January 5, 2021 at 12:30pm EST.

Our last session on February 16, 2021 will be a LIVE panel discussion with Dr. Fernando Soberon (Standard Nutrition Consultants), Dr. Rodrigo Molano Torres (Valacta), Dr. Laura Rath-Brown (Midstate Veterinary Services), Dr. Jen Walker (Danone North America), and a local NY dairy producer.


Farm Financial Management Tuesdays Online Farm Business Education in January
January 12 - January 26, 2021
12:30pm-1:30pm
CCE ag business educators are offering short, farm financial education programs this winter! All programs are 12:30pm to 1:30pm. Each program is only $5 and includes a link to the recorded webinar if you cannot join the program live.

Announcements
Important Notice for Licensed Pesticide Applicators
Important Notice for Licensed Pesticide Applicators!

Because of COVID-19, the NYS DEC did not require growers whose licenses expired in November of 2019 or later to renew their applicator's license in order to buy & spray restricted-use materials during the 2020 growing season. That discretionary policy is no longer in effect. If your license expired between November 2019 and Nov. 23, 2020, you must obtain the full number of recertification credits and renew your license. Starting Nov. 24, 2020, you cannot buy or apply pesticides until your license has been renewed. The DEC is giving growers a 90-day grace period before adding penalty credits to overdue renewal applications. Growers should complete COVID-delayed license renewals by February 23, 2021. If your license expires after Nov. 23, 2020, you will follow the typical DEC renewal process.