Local Frost Advisories - What it Could Mean for Corn Producers in Southwest New
Joshua Putman, Field Crops and Forage Specialist
Southwest New York Dairy, Livestock and Field Crops Program
September 24, 2020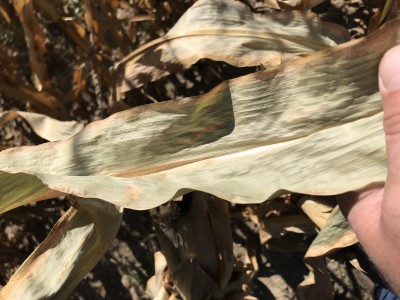 Frost can mean yield loss for crop producers, although the severity of damage varies based on crop maturity, topographical features and local climate conditions. A corn-killing freeze occurs when temperatures fall to 32 F for several hours or 28 F for a few minutes.
Damage occurs from freezing temperatures because living plant tissues contain water. As ice crystals form, they expand and puncture cell walls. As the temperatures rise during the morning, the ice crystals melt back to a liquid. The punctured cells lose water and nutrients and die. Frost damaged plant tissue often has a water-soaked appearance. This appearance later turns into brown, dead plant tissue. Damage will start to show up 1 to 2 days after a frost has occurred.
Late-season frost damage can affect grain quality and yield and is directly proportional to the stage of maturity and leaf tissue killed. Severe impacts on grain quality can occur at mid-dough, while moderate impacts are seen at the dent stage. By the time the kernel has reached half milk line, only minor impacts will occur to grain quality. Yield losses are negligible if frost occurs when grain moisture is below 35 percent. Differences among hybrids, overall plant vigor at the time of frost, and subsequent temperatures will all affect final grain quality and yield.
Severe plant tissue damage can lead to defoliation. If you suspect your corn has been damaged by frost, you should consider consulting the National Corn Handbook NCH-1 "Assessing Hail Damage to Corn" (Vorst, 1990). This publication has charts used by the National Crop Insurance Association for assessing yield loss due to defoliation. Knowing how to recognize frost damage and assess probable loss is important for decision making. An abbreviated version of the loss chart is shown in Table 7 below. For example, corn that was defoliated 20% at the milk stage would have 3% yield loss.
Frost damage can be difficult to identify late in the season as it is easily confused with common fungal leaf diseases such as northern corn leaf blight. If you have questions regarding the condition of your corn crop or if you don't have access to an electronic version of the "Assessing Hail Damage to Corn" guide, contact Josh Putman. For more information on corn maturity and frost, visit https://www.agry.purdue.edu/ex...
Upcoming Events
Is Grazing Sheep Beneath Solar Arrays and Opportunity for Your Future?
September 25, 2023
Mt. Morris, NY
Grazing sheep beneath utility-scale solar arrays can build wealth of present and future sheep farmers as vegetation management service providers and access to additional pasture. The Cornell Cooperative Enterprise Program (CEP) conducted a survey earlier this year completed by over 600 farmers. Farmers identified barriers to grazing sheep under solar arrays and weighed in on need for a producer-led organization to negotiate contracts on their behalf, coordinate logistics of multiple flocks, provide transport of sheep to and from the site, care for sheep while on-site, and provide supplemental mowing. Additional questions focused on processing and marketing needs.
Technology for Grazing Dairies Webinar
September 27, 2023
Join us for this free webinar! Brought to you by the dairy specialists of CCE NWNY and SWNY Dairy, Livestock and Field Crops Programs.
Protecting Against Murphy's Law: A FREE Live Seminar for Veterans.
October 4, 2023
What Can Go Wrong, Will Go Wrong!
Good ole' Murphy's Law is probably the best description of what it's like to be a farmer that there is! Join Cornell Cooperative Extension Farm Business Management Specialist, Katelyn Walley-Stoll, to learn more about the 5 areas of risk on farms and how to develop strategies to manage those risks. Participants will have the opportunity to identify areas of risk on their own farms and brainstorm ways to (try to) prevent the inevitable!
Registration is REQUIRED by visiting https://tinyurl.com/CCERisk or call Kelly at 585-268-7644.
Announcements
No announcements at this time.