Early-Season Corn Disease: Northern Corn Leaf Blight
Joshua Putman, Field Crops and Forage Specialist
Southwest New York Dairy, Livestock and Field Crops Program
July 22, 2020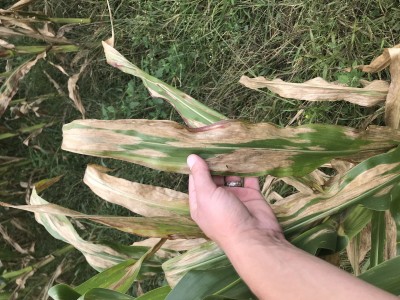 In 2019, northern corn leaf blight (NCLB) appeared throughout the Southwest New York region. In general, NCLB is more of an issue in fields with a history of continuous corn production however, this year, the environment has been conducive for the infection to occur in first year corn fields as well. Environmental conditions of 65-85F, sporadic rain events, and humidity can result in an NCLB infection. Early NCLB symptoms appear as long, narrow, tan lesions that form on the leaf surface of a corn plant. As the disease progresses, the lesions become longer, more oblong, or "cigar-shaped" and can appear grayish in color. These lesions can range from 1-8 inches long with multiple lesions forming dense, irregular areas of dead tissue on the corn leaves. Cornell University Field Crops Plant Pathologist, Dr. Gary Bergstrom, recommends we scout our fields now for early disease detection. For more information visit Purdue University Extension or contact Field Crops Specialist, Josh Putman.
Upcoming Events
Is Grazing Sheep Beneath Solar Arrays and Opportunity for Your Future?
September 25, 2023
Mt. Morris, NY
Grazing sheep beneath utility-scale solar arrays can build wealth of present and future sheep farmers as vegetation management service providers and access to additional pasture. The Cornell Cooperative Enterprise Program (CEP) conducted a survey earlier this year completed by over 600 farmers. Farmers identified barriers to grazing sheep under solar arrays and weighed in on need for a producer-led organization to negotiate contracts on their behalf, coordinate logistics of multiple flocks, provide transport of sheep to and from the site, care for sheep while on-site, and provide supplemental mowing. Additional questions focused on processing and marketing needs.
Technology for Grazing Dairies Webinar
September 27, 2023
Join us for this free webinar! Brought to you by the dairy specialists of CCE NWNY and SWNY Dairy, Livestock and Field Crops Programs.
Protecting Against Murphy's Law: A FREE Live Seminar for Veterans.
October 4, 2023
What Can Go Wrong, Will Go Wrong!
Good ole' Murphy's Law is probably the best description of what it's like to be a farmer that there is! Join Cornell Cooperative Extension Farm Business Management Specialist, Katelyn Walley-Stoll, to learn more about the 5 areas of risk on farms and how to develop strategies to manage those risks. Participants will have the opportunity to identify areas of risk on their own farms and brainstorm ways to (try to) prevent the inevitable!
Registration is REQUIRED by visiting https://tinyurl.com/CCERisk or call Kelly at 585-268-7644.
Announcements
No announcements at this time.