Determining the Finish of Market Lambs
Amy Barkley, Livestock Specialist
Southwest New York Dairy, Livestock and Field Crops Program
June 24, 2020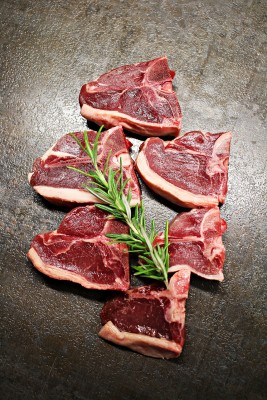 Consumers of lamb demand a high-quality product, and are willing to pay a premium price for it should it meet or exceed their expectations. This consideration is especially important for those farmers marketing directly to the consumer; there is no farm anonymity here, and the consumer will know exactly the quality they can expect from you. That said, regardless of if a farm is selling direct or selling to a larger processor, it is known that an animal that has the proper ratio of fat to muscle will have cuts with great flavor, juiciness, and tenderness. By selling quality lamb or young mutton, there is potential to charge a premium price if selling direct, getting paid a premium price if selling to a processor, and the potential to keep a direct market consumer coming back again and again.
Determining if an animal is finished prior to sending it to processing is easily accomplished on-farm, though it does take some practice. It goes without saying that it is slightly more difficult to determine muscling and fat cover on a lamb if they are a wool breed as compared to a hair breed. Every woolly lamb of market age on the farm looks excellently finished, simply because of their puffy wool! Obviously, determining finish is not this straight forward. Putting your hands on these animals to feel the muscling and fat cover underneath all of the wool or hair is the only way to tell if they are truly ready for market.
The most effective way to determine finish is by the amount of fat and muscle over and around the spine. Unfinished animals will have muscle development, but not a palpable layer of fat to cover it, and the spinal processes will be easily felt. A good example of what an unfinished animal feels like can be accomplished by feeling the back of your hand. If you make a fist and run your other, open hand over your knuckles, that would be reflective of the prominence of the spinal processes in an unfinished animal. Conversely, if you make a fist again and run your open hand over the back of your closed hand, that would be more reflective of what a finished animal feels like.
Finished lambs should have a target fat depth of between 1/5 - 1/4 inch, which can be felt for by pressing down into the fat layer on either side of the spin to estimate the depth. Furthermore, if you take your open hand, press down on the fat on the back, and move your hand gently up and down the spine, the fat layer should feel almost as if it moves independently of the tissue underneath. This is known as a "slip" and indicates a proper finish. In most lambs, the fat in the loin area, or just behind the rib cage, fills out faster than the fat on the back. Therefore, when estimating finish, make sure to estimate fat cover and slip just around the backbone to avoid sending an under finished animal to market.
While not a whole lot of fat, 1/5 - 1/4 inch achieves the optimal balance of fat (both cap fat and marbling) and lean. This results in a more pleasurable eating experience for the consumer, and imparts a great deal of the flavor to lamb. Using that logic, isn't more fat is better? Not really. An over finished lamb is not advantageous to have, since consumers have a limit to the amount of fat that they find acceptable on their cuts. Fatty lambs lose a lot of weight in fat as it is removed during processing and the extra fat that's left on can cause an oily, slippery feeling in the mouth, which is negatively viewed by most people. Because most of the lamb's distinctive flavor is concentrated in the fat, an over fattened animal may taste more gamey, which is off putting to some. Animals which exceed an ideal finish can be identified by pressing down into the fat and estimating the depth. If more than ¼ inch can be felt, the animal is too fat. There won't be a "slip" on these lambs either; the fat will move as one unit and jiggle under your hand.
When just starting out handling lambs to determine finish, it may be helpful to make determinations on shorn animals before moving to those animals with full fleeces. While feeling the spine is relatively easy in full fleeced animals, it's more challenging to feel the backfat depth. With experience, it will become easier to make determinations on those woollier individuals. To calibrate yourself, you can keep track of which lambs you believe are finished to which extent, and follow those lambs through processing. Once they're back from the processor, measuring the fat depth on the loins, determining if any fat was removed from the loin, and evaluating the marbling can help you make decisions as to whether or not you're tuned in to what a properly finished animal looks like.
The information expressed in this article was originally shared by the National Sustainable Agriculture Information Service (ATTRA) and can be found on their website at https://attra.ncat.org/putting-a-hand-on-them-how-to-tell-when-your-lamb-is-finished/
Upcoming Events
Is Grazing Sheep Beneath Solar Arrays and Opportunity for Your Future?
September 25, 2023
Mt. Morris, NY
Grazing sheep beneath utility-scale solar arrays can build wealth of present and future sheep farmers as vegetation management service providers and access to additional pasture. The Cornell Cooperative Enterprise Program (CEP) conducted a survey earlier this year completed by over 600 farmers. Farmers identified barriers to grazing sheep under solar arrays and weighed in on need for a producer-led organization to negotiate contracts on their behalf, coordinate logistics of multiple flocks, provide transport of sheep to and from the site, care for sheep while on-site, and provide supplemental mowing. Additional questions focused on processing and marketing needs.
Technology for Grazing Dairies Webinar
September 27, 2023
Join us for this free webinar! Brought to you by the dairy specialists of CCE NWNY and SWNY Dairy, Livestock and Field Crops Programs.
Protecting Against Murphy's Law: A FREE Live Seminar for Veterans.
October 4, 2023
What Can Go Wrong, Will Go Wrong!
Good ole' Murphy's Law is probably the best description of what it's like to be a farmer that there is! Join Cornell Cooperative Extension Farm Business Management Specialist, Katelyn Walley-Stoll, to learn more about the 5 areas of risk on farms and how to develop strategies to manage those risks. Participants will have the opportunity to identify areas of risk on their own farms and brainstorm ways to (try to) prevent the inevitable!
Registration is REQUIRED by visiting https://tinyurl.com/CCERisk or call Kelly at 585-268-7644.
Announcements
No announcements at this time.