CFAP Applications Still Accepted - Call Your Local FSA Office Today!
Katelyn Walley-Stoll, Business Management Specialist and Team Leader
Southwest New York Dairy, Livestock and Field Crops Program
June 4, 2020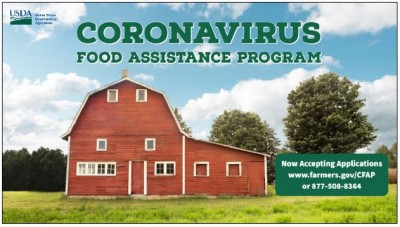 USDA is providing critical support to our nation's farmers and ranchers through the Coronavirus Food Assistance Program (CFAP). CFAP provides vital financial assistance to producers of agricultural commodities with financial assistance that gives them the ability to absorb sales declines and increased marketing costs associated with the COVID-19 pandemic. A general program fact sheet is available here. The CFAP application and associated forms are available online at farmers.gov/cfap.
Farms are now able to apply for the recently announced Corona Virus Food Assistance Program (CFAP) and the long-standing Commodity Credit Corporation (CCC) funds through their local Farm Service Agency office. Eligible producers could receive up to $250,000 in direct payments based on their documented production and a national payment rate, with one application and one initial 80% payment. The remaining 20% may be subject to pro-rationing based on demand and USDA budget constraints. These payments will be subject to additional eligibility requirements, so do plan to connect with your local FSA office ASAP. To calculate what type of payment your farm entity might receive, FSA has released their CFAP Payment Calculator.
For dairy producers, CFAP payments will be calculated by multiplying first quarter milk production by $4.71/cwt. CCC Payments will cover $1.47/cwt of Second Quarter milk production (calculated by multiplying 1st quarter production by 1.014). For example, a 200 cow farm with 1,200,000 pounds of production in Q1 would receive a $59,526 benefit for milk production total.
Non-Specialty crop producers are eligible for payments based on their storage inventories (50% of total 2019 production or 50% of January inventory, whichever is smaller, multiplied by that commodity's payment rate). For example, corn's rates are $0.32 (CFAP) and $0.35 (CCC) for a total of $0.67/bushel. Dairies with corn silage inventories may also be eligible for non-specialty crop payments.
Livestock payments will be calculated based on the number of livestock sold Jan 15 - Apr 15 multiplied by the CARES act payment rate ($214/fed cattle, $102/feeder less than 600 lbs, $92/head mature cattle, $28/pig less than 120 lbs, $33/sheep, etc.) and then their inventory Apr 16 - May 14 multiplied by the CCC Payment Rate ($33/fed cattle, $33/feed less than 600 lbs, $33/mature cattle, $17/pig less than 120 lbs, $7/sheep, etc.). Dairies may also be able to receive payments for cull cows.
It's important to know that FSA office staff are working remotely, so please start with a phone call to them to learn more about their process to get application items submitted, or to learn more about the eligibility of your specific operation. You can also contact Katelyn Walley-Stoll, or visit the sources of this information listed here, American Farm Bureau Federation and the Dairy Markets and Policy group.
Allegany County: 585-268-5133 · Cattaraugus County: 716-699-2375 · Chautauqua County: 716-664-2351 · Erie County: 716-652-1400 · Steuben County: 607-776-7398
Special note for Goat Producers! Notice that goats are not one of the livestock species covered? There was insufficient data to prove a 5% loss of prices nationally, which would trigger payments. Read this fact sheet on how organizations and producers can submit comments and data to show that a certain commodity DID suffer a 5% loss from the pandemic. The deadline for comments is June 22, 2020.
Upcoming Events
Is Grazing Sheep Beneath Solar Arrays and Opportunity for Your Future?
September 25, 2023
Mt. Morris, NY
Grazing sheep beneath utility-scale solar arrays can build wealth of present and future sheep farmers as vegetation management service providers and access to additional pasture. The Cornell Cooperative Enterprise Program (CEP) conducted a survey earlier this year completed by over 600 farmers. Farmers identified barriers to grazing sheep under solar arrays and weighed in on need for a producer-led organization to negotiate contracts on their behalf, coordinate logistics of multiple flocks, provide transport of sheep to and from the site, care for sheep while on-site, and provide supplemental mowing. Additional questions focused on processing and marketing needs.
Technology for Grazing Dairies Webinar
September 27, 2023
Join us for this free webinar! Brought to you by the dairy specialists of CCE NWNY and SWNY Dairy, Livestock and Field Crops Programs.
Protecting Against Murphy's Law: A FREE Live Seminar for Veterans.
October 4, 2023
What Can Go Wrong, Will Go Wrong!
Good ole' Murphy's Law is probably the best description of what it's like to be a farmer that there is! Join Cornell Cooperative Extension Farm Business Management Specialist, Katelyn Walley-Stoll, to learn more about the 5 areas of risk on farms and how to develop strategies to manage those risks. Participants will have the opportunity to identify areas of risk on their own farms and brainstorm ways to (try to) prevent the inevitable!
Registration is REQUIRED by visiting https://tinyurl.com/CCERisk or call Kelly at 585-268-7644.
Announcements
No announcements at this time.