May 22nd 2020 NY Beef Industry Update
Amy Barkley, Livestock Specialist
Southwest New York Dairy, Livestock and Field Crops Program
May 26, 2020
Livestock Report - May 22, 2020
Michael J. Baker PhD, Cornell Beef Extension Specialist
Feeder prices up compared to last year. Finished steers and cull cow prices continue a positive trend. The beef packing industry is now estimated to be at 70% capacity and slowly inching up. However, given the backlog of cattle, it will be a while before the number of cattle is in line with capacity. Some analysts are wondering if the packing industry will ever be able to get beyond 90% due to the precautionary measures that have been instituted for worker safety.
Cull Cows:
The price of cull cows in NY continues to increase. The price of Lean/Boner cows averaged $56.43/cwt a 3.5% increase over last week, with a high of $73.61. The number of cows coming to the auction showed a dramatic increase to 640 hd for the markets reported. The price of ground beef at retail has increased dramatically, which is in part driving the increase in cull cow price. Anecdotally I have seen ground beef selling at $6.00+/lb in our local supermarkets. It is still important to keep an eye on the market, though seasonally we should be in a constant or slightly increasing price level.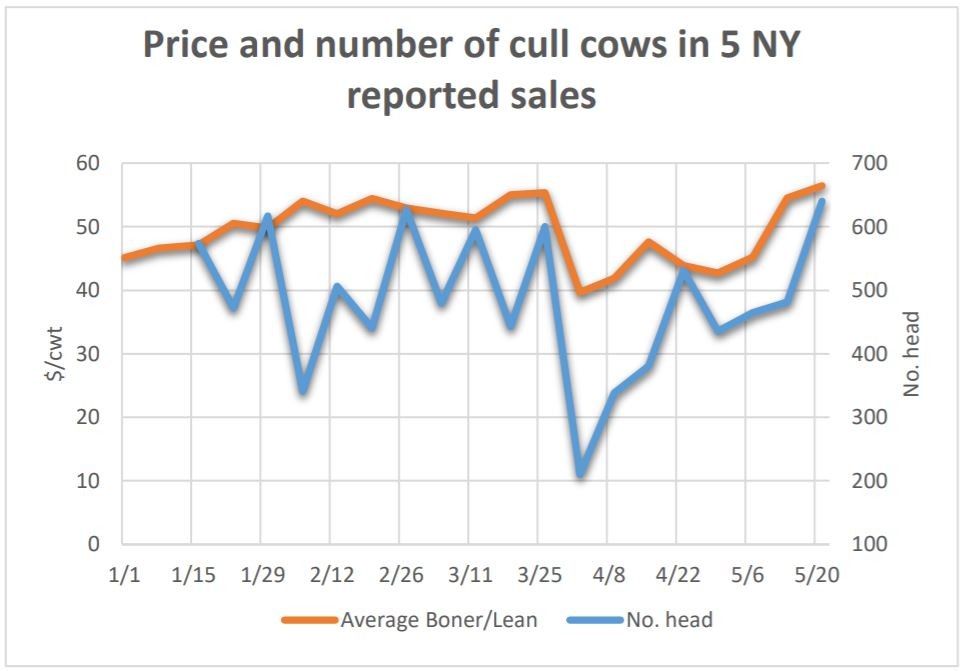 Feeder Cattle:
Since the end of March 550 lb and 750 lb feeder cattle have been on an upward trend. In
the NYS auctions reported this week the average price of 550 lb steers was $138/cwt compared to $132/cwt during the same week in 2019. While the 750 lb steer dropped $2/cwt this week, it was still $7/cwt higher than 2019, though the number at auction was limited.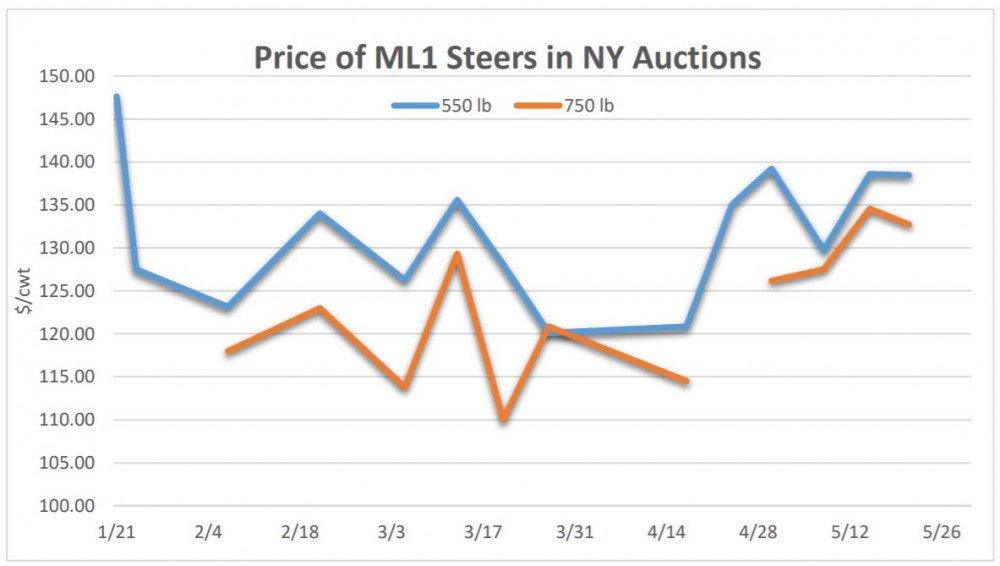 Finished Cattle:
Choice and Prime 3-4 jumped $3/cwt to $118/cwt with a high of $121.
Additional NYS cattle auction prices can be found at: https://www.ams.usda.gov/market-news/feeder-and-replacement-cattle-auctions#NewYork
(Funds to support the NYS Market News program come from New York State Department of Agriculture and Markets project "Stocker cattle: Using underutilized grasslands to improve economic viability of the Southern Tier while providing viable careers for beginning farmers.").
Upcoming Events
Is Grazing Sheep Beneath Solar Arrays and Opportunity for Your Future?
September 25, 2023
Mt. Morris, NY
Grazing sheep beneath utility-scale solar arrays can build wealth of present and future sheep farmers as vegetation management service providers and access to additional pasture. The Cornell Cooperative Enterprise Program (CEP) conducted a survey earlier this year completed by over 600 farmers. Farmers identified barriers to grazing sheep under solar arrays and weighed in on need for a producer-led organization to negotiate contracts on their behalf, coordinate logistics of multiple flocks, provide transport of sheep to and from the site, care for sheep while on-site, and provide supplemental mowing. Additional questions focused on processing and marketing needs.
Technology for Grazing Dairies Webinar
September 27, 2023
Join us for this free webinar! Brought to you by the dairy specialists of CCE NWNY and SWNY Dairy, Livestock and Field Crops Programs.
Protecting Against Murphy's Law: A FREE Live Seminar for Veterans.
October 4, 2023
What Can Go Wrong, Will Go Wrong!
Good ole' Murphy's Law is probably the best description of what it's like to be a farmer that there is! Join Cornell Cooperative Extension Farm Business Management Specialist, Katelyn Walley-Stoll, to learn more about the 5 areas of risk on farms and how to develop strategies to manage those risks. Participants will have the opportunity to identify areas of risk on their own farms and brainstorm ways to (try to) prevent the inevitable!
Registration is REQUIRED by visiting https://tinyurl.com/CCERisk or call Kelly at 585-268-7644.
Announcements
No announcements at this time.