Technology for Grazing Dairies Webinar
---
Event Details
Date
September 27, 2023
Time
12pm-1pm
Location
Virtual - Zoom

Host
Southwest New York Dairy, Livestock and Field Crops Program
Camila Lage
1-607-422-6788
email Camila Lage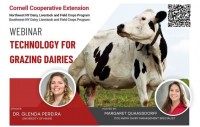 Register with this link: https://cornell.zoom.us/webina...
Join us for this free webinar! Brought to you by the dairy specialists of CCE NWNY and SWNY Dairy, Livestock and Field Crops Programs.
Dr. Glenda Pereira of the University of Maine presents an overview of the technology available, useful, and practical for dairies who currently manage, or are thinking about managing, their cows in a grazing system.
Topics include:
Wearable technologies

Grazing management

Virtual fencing
Date: Wednesday, Sept 27th
Time: 12pm-1pm EST
Location: Zoom; REGISTER
Questions?
Contact Camila Lage, SWNY Dairy Management Specialist
cd546@cornell.edu or 1-607-422-6788
Technology for Grazing Dairies Webinar (PDF; 672KB)


Upcoming Events
Farm Asset Protection Strategies: Safeguarding Agricultural Legacies for Future Generations
November 14, 2023
November 17, 2023
November 20 - November 21, 2023November 29 - December 1, 2023
Join us for a workshop on farm asset protection to help you preserve long-standing agricultural legacies. In these uncertain times, safeguarding valuable farm assets has become paramount to ensure our farming communities' continued success and sustainability. Each participant will receive written materials and a flash drive containing various resources. Morning refreshments and lunch are included.
Value-Added Dairy Tour
March 13 - March 14, 2024
Pre-register now for our March 2024 Value-Added Dairy Tour!
Announcements
Help Us Help You - SWNYDLFC Needs Assessment
As we look ahead to the new year, we would like to survey the community and learn more about the topics you're most interested in hearing from us about.
TAKE SHORT SURVEY