DOT Truck Clinic
---
Event Details
Date
August 2, 2023
Time
10am - 12pm
Location
CLEREL
6592 West Main Road
Portland, NY 14769
Host
Chautauqua County Farm Bureau (with NYS Police)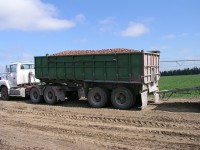 ANNOUNCING - Chautauqua County Farm Bureau will be hosting a DOT truck clinic, with the NYS Police, at the Cornell-Portland Lab on August 2, from 10am-12noon.
This clinic will provide farmers with a power point presentation of rules and regulations for farm equipment and farm trucks use on highways, in addition to a mock truck inspection of a semi truck & trailer (semi truck & trailer).
This is clinic is open to the entire county so all farmers will be welcome.
**More information will follow**


Upcoming Events
Farm Asset Protection Strategies: Safeguarding Agricultural Legacies for Future Generations
November 14, 2023
November 17, 2023
November 20 - November 21, 2023November 29 - December 1, 2023
Join us for a workshop on farm asset protection to help you preserve long-standing agricultural legacies. In these uncertain times, safeguarding valuable farm assets has become paramount to ensure our farming communities' continued success and sustainability. Each participant will receive written materials and a flash drive containing various resources. Morning refreshments and lunch are included.
Value-Added Dairy Tour
March 13 - March 14, 2024
Pre-register now for our March 2024 Value-Added Dairy Tour!
Announcements
Help Us Help You - SWNYDLFC Needs Assessment
As we look ahead to the new year, we would like to survey the community and learn more about the topics you're most interested in hearing from us about.
TAKE SHORT SURVEY