Sorry. Online registration has closed.
POSTPONED TO SPRING 2024: Broiler Field Day at Majestic Farm
---
Event Details
Date
August 29, 2023
Time
12pm - 3pm
Location
Majestic Farm
134 Majestic Road
Mountain Dale, NY 12763
Cost
General Registration : Free
Host
Southwest New York Dairy, Livestock and Field Crops Program
Kelly Bourne
585-268-7644 ext 10
email Kelly Bourne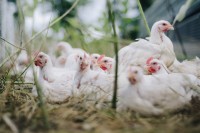 THIS EVENT HAS BEEN POSTPONED TO SPRING 2024!
REGISTERING FOR THIS EVENT WILL REGISTER YOU FOR THE MAJESTIC FARM FIELD DAY ONLY.
IF INTERESTED IN OTHER EVENTS, PLEASE REGISTER FOR EACH ONE SEPARATELY FROM OUR EVENTS PAGE.
Poultry is a low-cost farm enterprise with a short turn-around that holds potential to be a profitable business venture. Many beginning farmers are choosing to start with poultry, but may have questions including: what it takes to raise them; if they should process themselves or send them out to a certified processor; how to add value to a whole chicken; and is raising chickens something that can be profitable for me?
This series of 5 workshops (four in-person and one virtual) will provide farmers tools to answer these questions. The in-person workshops are being hosted by chicken farmers across the state, providing the opportunity to tour other farms and see how they raise their poultry. Each farm has been selected to showcase their unique ways of raising and/or processing broiler chickens.
The series schedule is:
Wednesday, August 9, 2023, 1pm - 4pm at HLW Acres in Attica, NY
Hermann and Laura Weber run a 5A Small Enterprise poultry processing facility in addition to raising their own broilers.
Thursday, August 24, 2023, 4pm - 7pm at Sunny Cove Farm in Alfred, NY
Meghan Snyder raises small batches of organic broilers, processing them on-farm under the 1,000 bird exemption.
Monday, August 28, 2023, 2pm - 5pm at Laughing Earth Farm in Cropseyville, NY
Annie and her team run a 5A processing facility and 20C kitchen for their own farm's use, which allows them to process over 1,000 broilers a year and gives them the capacity to make value-added products like sausages and stock.
Tuesday, August 29, 12pm - 3pm at Majestic Farm in Mountaindale, NY
Brett raises slow-growth broilers and takes them to outside processors prior to sale as whole birds, pieces, and chicken sausage.
Wednesday, September 20, 2023, 6:30pm - 8pm Virtual workshop over Zoom
Learn the ins and outs of setting up your processing equipment, processing chickens, adding value through cuts, and pricing your chicken to make a profit!
The same information will be shared at each of the in-person workshops, while showcasing the specialty of each host farm. We will not be processing broilers at these workshops, though we will have the opportunity to tour each farm's rearing and processing set-ups, get hands-on experience cutting up a whole chicken into retail cuts, and critically evaluating costs of raising broilers on pasture in New York State. The virtual webinar will review processing equipment, chicken processing, adding value through cuts, and pricing chicken to earn a profit. Video demonstrations will accompany the lecture portions of the virtual field day.
All who are interested in raising or are currently raising poultry for meat are welcome to register for these free events. Feel free to register for more than one event, though you will need to register for each event separately. Pre-registrations are required and can be made by visiting the links that follow each program description or by contacting Kelly at 585-268-7644 ext 10 or klb288@cornell.edu. The webinar will be recorded and sent to all registrants for future viewing.
Please bring your questions. We're looking forward to seeing you there!
These programs are provided free of charge thanks to work supported by the National Institute of Food and Agriculture, U.S. Department of Agriculture, through the Northeast Sustainable Agriculture Research and Education program under subaward number LNE22-435.


Upcoming Events
Farm Asset Protection Strategies: Safeguarding Agricultural Legacies for Future Generations
November 14, 2023
November 17, 2023
November 20 - November 21, 2023November 29 - December 1, 2023
Join us for a workshop on farm asset protection to help you preserve long-standing agricultural legacies. In these uncertain times, safeguarding valuable farm assets has become paramount to ensure our farming communities' continued success and sustainability. Each participant will receive written materials and a flash drive containing various resources. Morning refreshments and lunch are included.
Value-Added Dairy Tour
March 13 - March 14, 2024
Pre-register now for our March 2024 Value-Added Dairy Tour!
Announcements
Help Us Help You - SWNYDLFC Needs Assessment
As we look ahead to the new year, we would like to survey the community and learn more about the topics you're most interested in hearing from us about.
TAKE SHORT SURVEY