Dairy Grazing Pasture Walk at Houston Farms
---
Event Details
Date
June 27, 2023
Time
1pm-3pm
Location
Houston Farms
81 Sincerbeaux Rd
Groton, Ny 13073
Host
South Central NY Dairy & Field Crops Program

Mary Kate MacKenzie
email Mary Kate MacKenzie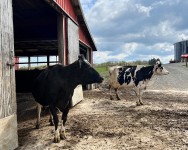 Learn how rotational grazing and other conservation practices enhance farm viability for the 4th and 5th generations on a small dairy in Groton, NY.
Join the South Central NY Dairy and Field Crops Team for a pasture walk at Houston Farms in Groton, NY, where fourth generation dairy farmer PJ Houston and his son, Robert, manage 600 crop acres and 150 milking cows plus youngstock. Over the years, the farm has adopted conservation practices that improve cattle health and productivity, labor efficiency, and quality of life for the farmers, all while enhancing soil health and generating environmental benefits in the Owasco Lake Watershed. The Houstons view rotational grazing and other conservation practices as critical to their farm's long-term viability and its ability to support the next generation.
At this free event, you will learn how the Houstons manage their rotational grazing system to supplement the dairy ration during the grazing season. We will also discuss how the farm has benefitted from other conservation practices, including:
Reduced tillage cropping systems
Cover cropping & crop rotation
Covered barnyard connecting freestall barns to the parlor
Above ground manure storage
Natural resource program specialists Paul Gier and Devon Cox from the Tompkins County Soil & Water Conservation District will be present to share information and answer questions. Paul and Devon will discuss how farmers can connect with their local county Soil & Water Conservation District to learn more about conservation practices and access grant funding.
For more information, visit https://scnydfc.cce.cornell.edu/events.php or email mkw87@cornell.edu.


Upcoming Events
Farm Asset Protection Strategies: Safeguarding Agricultural Legacies for Future Generations
November 14, 2023
November 17, 2023
November 20 - November 21, 2023November 29 - December 1, 2023
Join us for a workshop on farm asset protection to help you preserve long-standing agricultural legacies. In these uncertain times, safeguarding valuable farm assets has become paramount to ensure our farming communities' continued success and sustainability. Each participant will receive written materials and a flash drive containing various resources. Morning refreshments and lunch are included.
Value-Added Dairy Tour
March 13 - March 14, 2024
Pre-register now for our March 2024 Value-Added Dairy Tour!
Announcements
Help Us Help You - SWNYDLFC Needs Assessment
As we look ahead to the new year, we would like to survey the community and learn more about the topics you're most interested in hearing from us about.
TAKE SHORT SURVEY