Sorry. Online registration has closed.
Hands-on Calving & Dystocia Workshop - Steuben County - CANCELLED due to low registration.
---
Event Details
Date
March 17, 2023
Time
10:30 am - 2:30 pm EST
Location
Steuben County Civil Defense
7220 NY-54
Bath, NY 14810
Cost
Beef Producer : $75.00
(addl attendee $75.00 ea.)
Dairy Producer : $75.00
(addl attendee $75.00 ea.)
Host
Southwest New York Dairy, Livestock and Field Crops Program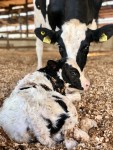 In-person
Offered in English and Spanish
Cost per person: (Cover all materials and lunch)
$75.00 per person (English)
$75.00 per person (Spanish)
*Limited spots available*
This hands-on workshop will teach the best calving management practices to minimize stillbirth rates and improve calf and cow health during and directly after the calving process.
In this workshop, under the guidance of Dr. Rob Lynch (PRO-DAIRY) and other CCE Specialists, you will be able to apply the concepts from the oral presentation using a realistic cow and calf model!
This workshop is for both Beef and Dairy producers
The topics covered during the workshop include:
Understand the Anatomy and Physiology of Calving
Recognize and Monitor Signs of Labor
Assess Normal and Abnormal Calf Position
Properly Assist the Calving Process
Use chains, calf puller/calf jack safely and effectively
Immediate post-partum cow and calf care
Date: March 17, 2023
Time:10:30 am - 2:30 pm
Location: Steuben County Civil Defense 7220 NY-54, Bath, NY 14810
For questions and more information please reach out to:
Camila Lage - 607-422-6788 (cd546@cornell.edu)
Amy Barkley - 716-640-0844 (amb544@cornell.edu)


Upcoming Events
Farm Asset Protection Strategies: Safeguarding Agricultural Legacies for Future Generations
November 14, 2023
November 17, 2023
November 20 - November 21, 2023November 29 - December 1, 2023
Join us for a workshop on farm asset protection to help you preserve long-standing agricultural legacies. In these uncertain times, safeguarding valuable farm assets has become paramount to ensure our farming communities' continued success and sustainability. Each participant will receive written materials and a flash drive containing various resources. Morning refreshments and lunch are included.
Value-Added Dairy Tour
March 13 - March 14, 2024
Pre-register now for our March 2024 Value-Added Dairy Tour!
Announcements
Help Us Help You - SWNYDLFC Needs Assessment
As we look ahead to the new year, we would like to survey the community and learn more about the topics you're most interested in hearing from us about.
TAKE SHORT SURVEY