Webinar: Raising and Managing Cows for Automated Milking Systems
---
Event Details
Date
November 16, 2022
Time
12:30pm-1:30pm
Location
Zoom

Host
Southwest New York Dairy, Livestock and Field Crops Program
Camila Lage
6074226788
email Camila Lage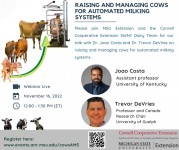 Advancements in technology in the past years made AMS a reliable machine that can successfully harvest milk. However, as with any other system, management is key to guaranteeing productivity and efficiency. In AMS, cow behavior is a big piece of the puzzle. Researchers have been studying how early life nutrition, environment, and human-animal interaction can affect cow behavior and how cows with different personalities perform in AMS.
We are pleased to invite all dairy farmers that transitioned or are transitioning to AMS, stakeholders, and students to the webinar: "Raising and Managing Cows for Automated Milking Systems." This event is free to the public and will be held over Zoom on Wednesday, November 16th from 12:30 pm -1:30 pm (Eastern time).
In this edition, Dr. Joao Costa, Professor at the University of Kentucky, and Dr. Trevor DeVries, Professor at the University of Guelph and Canada Research chair will join us to talk about the impact of environment, human-animal interaction, and nutrition during early life on heifers behavior and Cow management and behavior traits in AMS, respectively.
Registration is required by visiting https://events.anr.msu.edu/cowsAMS/. The presentation will be recorded for those who are not able to attend the meeting and will be automatically sent to those who have registered. We will have ample time for Q&A following the official program, so please bring your questions to have them answered by our experts!
If you have any questions about this topic that you want to be answered during the webinar, please submit your questions here.
If you have any questions about the webinar, accommodations, or other inquiries, please email rochamal@msu.edu or cd546@cornell.edu.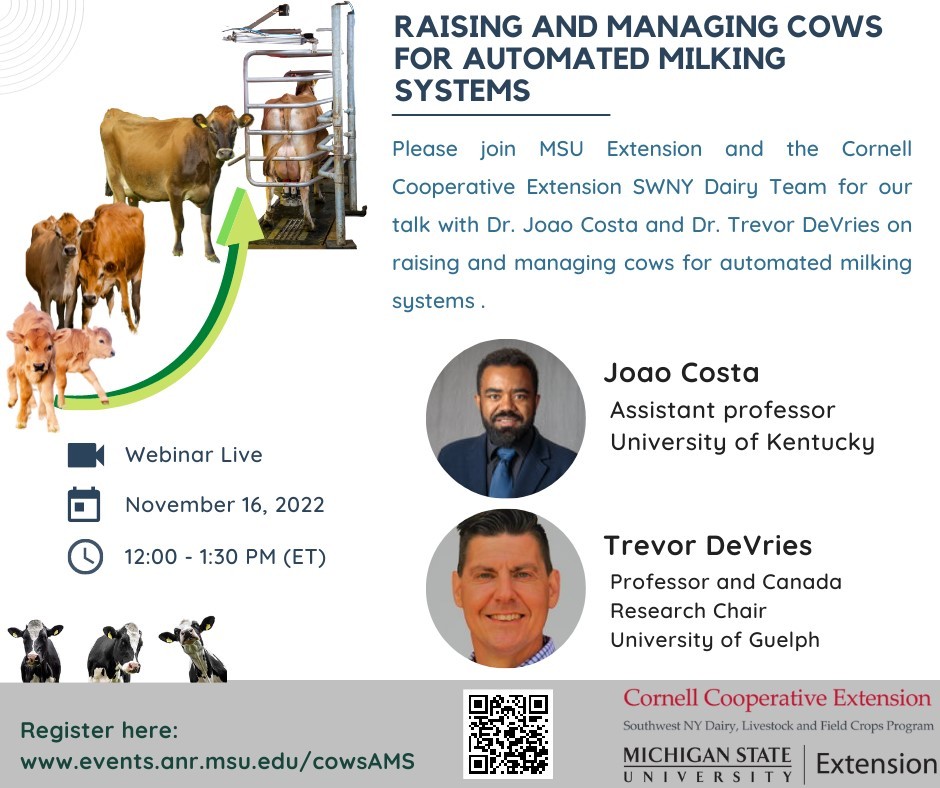 Upcoming Events
Is Grazing Sheep Beneath Solar Arrays and Opportunity for Your Future?
September 25, 2023
Mt. Morris, NY
Grazing sheep beneath utility-scale solar arrays can build wealth of present and future sheep farmers as vegetation management service providers and access to additional pasture. The Cornell Cooperative Enterprise Program (CEP) conducted a survey earlier this year completed by over 600 farmers. Farmers identified barriers to grazing sheep under solar arrays and weighed in on need for a producer-led organization to negotiate contracts on their behalf, coordinate logistics of multiple flocks, provide transport of sheep to and from the site, care for sheep while on-site, and provide supplemental mowing. Additional questions focused on processing and marketing needs.
Technology for Grazing Dairies Webinar
September 27, 2023
Join us for this free webinar! Brought to you by the dairy specialists of CCE NWNY and SWNY Dairy, Livestock and Field Crops Programs.
Protecting Against Murphy's Law: A FREE Live Seminar for Veterans.
October 4, 2023
What Can Go Wrong, Will Go Wrong!
Good ole' Murphy's Law is probably the best description of what it's like to be a farmer that there is! Join Cornell Cooperative Extension Farm Business Management Specialist, Katelyn Walley-Stoll, to learn more about the 5 areas of risk on farms and how to develop strategies to manage those risks. Participants will have the opportunity to identify areas of risk on their own farms and brainstorm ways to (try to) prevent the inevitable!
Registration is REQUIRED by visiting https://tinyurl.com/CCERisk or call Kelly at 585-268-7644.
Announcements
No announcements at this time.