Labor Roadshow VI
---
Event Details
Date
November 9, 2022
Time
8:30am - 4:30pm
Location
Genesee Community College-Batavia Campus
1 College Road
Batavia, NY 14020-9704
Host
Southwest New York Dairy, Livestock and Field Crops Program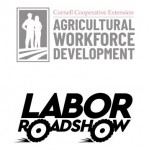 New York's Ag Workforce Development Council (AWDC) Labor Roadshow VI heads back on the road with three in person sites and one online option for 2022. The program will run from 8:30 am to 4:30 pm. Registration is required, and payment of $65 per person is collected on site. Agenda, registration, and more details are available at agworkforce.cals.cornell.edu/labor-roadshow-v.
November 9: Genesee Community College-Batavia Campus, One College Road, Batavia, NY 14020-9704. Room T119 Lecture Hall, Conable Technology Building.
November 10: Cayuga‐Onondaga BOCES, 1879 West Genesee Street Rd, Auburn, NY 13021. Conference Room 1, 2, 3.

Online Option: on November 10, 2022 only, the event will be broadcast for remote audiences and recorded for paid registrants to view later.

November 22: CCE Saratoga Auditorium, 50 West High Street, Ballston Spa, NY 12020.
Labor continues to be the primary challenge for many farm businesses and Labor Roadshow VI tackles those challenges head-on with topics:
Attracting and retaining your farm workforce
Management strategies in a union eligible work environment
TN Visas: Introduction to the program and best practices for using
The H-2A Program: Accessing guest workers for all types of farms
Producer's real-world experiences with H-2A
Farm Safety: Real world tips for building a strong safety culture
Farm-provided employee housing management and development
Ag Workforce Development Council member organizations include: NEDPA, Cornell Cooperative Extension, Cornell Agricultural Workforce Development, Cayuga Marketing, AgriMark, Upstate Niagara, New York Farm Bureau, New York Vegetable Growers Association, New York Animal Ag Coalition, Agri-Placement Services, New York Horticultural Society, Dairy Farmers of America, Farm Credit East, Gray & Oscar LLC.


Upcoming Events
Is Grazing Sheep Beneath Solar Arrays and Opportunity for Your Future?
September 25, 2023
Mt. Morris, NY
Grazing sheep beneath utility-scale solar arrays can build wealth of present and future sheep farmers as vegetation management service providers and access to additional pasture. The Cornell Cooperative Enterprise Program (CEP) conducted a survey earlier this year completed by over 600 farmers. Farmers identified barriers to grazing sheep under solar arrays and weighed in on need for a producer-led organization to negotiate contracts on their behalf, coordinate logistics of multiple flocks, provide transport of sheep to and from the site, care for sheep while on-site, and provide supplemental mowing. Additional questions focused on processing and marketing needs.
Technology for Grazing Dairies Webinar
September 27, 2023
Join us for this free webinar! Brought to you by the dairy specialists of CCE NWNY and SWNY Dairy, Livestock and Field Crops Programs.
Protecting Against Murphy's Law: A FREE Live Seminar for Veterans.
October 4, 2023
What Can Go Wrong, Will Go Wrong!
Good ole' Murphy's Law is probably the best description of what it's like to be a farmer that there is! Join Cornell Cooperative Extension Farm Business Management Specialist, Katelyn Walley-Stoll, to learn more about the 5 areas of risk on farms and how to develop strategies to manage those risks. Participants will have the opportunity to identify areas of risk on their own farms and brainstorm ways to (try to) prevent the inevitable!
Registration is REQUIRED by visiting https://tinyurl.com/CCERisk or call Kelly at 585-268-7644.
Announcements
No announcements at this time.