Labor Roadshow VI
---
Event Details
Date
November 9, 2022
Time
8:30am - 4:30pm
Location
Genesee Community College-Batavia Campus
1 College Road
Batavia, NY 14020-9704
Host
Southwest New York Dairy, Livestock and Field Crops Program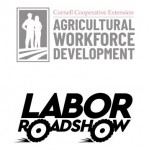 New York's Ag Workforce Development Council (AWDC) Labor Roadshow VI heads back on the road with three in person sites and one online option for 2022. The program will run from 8:30 am to 4:30 pm. Registration is required, and payment of $65 per person is collected on site. Agenda, registration, and more details are available at agworkforce.cals.cornell.edu/labor-roadshow-v.
November 9: Genesee Community College-Batavia Campus, One College Road, Batavia, NY 14020-9704. Room T119 Lecture Hall, Conable Technology Building.
November 10: Cayuga‐Onondaga BOCES, 1879 West Genesee Street Rd, Auburn, NY 13021. Conference Room 1, 2, 3.

Online Option: on November 10, 2022 only, the event will be broadcast for remote audiences and recorded for paid registrants to view later.

November 22: CCE Saratoga Auditorium, 50 West High Street, Ballston Spa, NY 12020.
Labor continues to be the primary challenge for many farm businesses and Labor Roadshow VI tackles those challenges head-on with topics:
Attracting and retaining your farm workforce
Management strategies in a union eligible work environment
TN Visas: Introduction to the program and best practices for using
The H-2A Program: Accessing guest workers for all types of farms
Producer's real-world experiences with H-2A
Farm Safety: Real world tips for building a strong safety culture
Farm-provided employee housing management and development
Ag Workforce Development Council member organizations include: NEDPA, Cornell Cooperative Extension, Cornell Agricultural Workforce Development, Cayuga Marketing, AgriMark, Upstate Niagara, New York Farm Bureau, New York Vegetable Growers Association, New York Animal Ag Coalition, Agri-Placement Services, New York Horticultural Society, Dairy Farmers of America, Farm Credit East, Gray & Oscar LLC.


Upcoming Events
Organic Farmer-to-Farmer Meetings
April 4, 2023
: NYCO Field Crop Meeting


Geneva, NY

NYCO's field crops meeting has been rescheduled to April 4th, 2023 from 9 am - 1 pm. This meeting is free for all farmers to attend and participants are encouraged to bring a dish to pass for lunch.
How to Value Your Business, Planning for the Future
April 4, 2023
April 11, 2023
April 18, 2023

This three-week workshop series for livestock-based businesses will be held online. It is specifically targeted at existing meat, fiber, small ruminant dairy, or other livestock value-added processing businesses. A team of Cornell Cooperative Extension Educators will provide tools to assess your existing business and to assist in understanding options for business expansion or transfer. The workshop series will also be of benefit to livestock value-added business startups and is of relevance to both owners and employees in management positions.
Business Planning for Beginning Farmers
April 10, 2023
Jamestown, NY
Business plans for farms are often viewed as yet another chore to do and usually result in dusty binders taking up space on the office shelf. This discussion based workshop will walk you through the mental exercise of planning your future agricultural adventures. Participants will leave with a better understanding of the use of a business plan, the essential components, and a "to-do" list of things to think about to inform future planning efforts. Additional opportunities for one-on-one follow up will also be offered. FSA Borrower credits may be made available for your attendance. This workshop will be taught by Katelyn Walley-Stoll, Team Leader and Farm Business Management Specialist from the Southwest New York Dairy, Livestock, and Field Crops Program with Cornell Cooperative Extension. She is a graduate of Cornell University with a degree in Animal Science and Ag Business Management, and owns and operates a diversified livestock farm.
$5 per person REGISTER