Fall Update on the Highly Pathogenic Avian Influenza Outbreak
---
Event Details
Date
October 12, 2022
Time
7:00pm - 8:00pm
Location
Zoom - Online Webinar

Host
Southwest New York Dairy, Livestock and Field Crops Program
Amy Barkley
716-640-0844
email Amy Barkley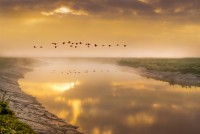 Fall Update on Highly Pathogenic Avian Influenza Outbreak Scheduled for Wednesday, October 12th from 7:00pm - 8:00pm over Zoom
Cornell Cooperative Extension and NYS Ag and Markets partner to present an update on HPAI.
By Amy Barkley, Livestock and Beginning Farm Specialist with the SWNY Dairy, Livestock, and Field Crops Program
NEW YORK (September 26, 2022) - Highly Pathogenic Avian Influenza (HPAI) is still circulating in the US, with the number of cases in both commercial and backyard flocks increasing as we head into fall. To date, we have seen 468 cases in the country, affecting over 46 million poultry across 40 states. Wild bird positives are nearing 2,500 nationwide. Now, we are seeing cases increase with the weather cooling and the fall migration beginning.
All poultry famers, hobbyists, and enthusiasts are invited to join Cornell Cooperative Extension's Livestock Program Work Team and the NYS Department of Agriculture and Markets to learn more about this disease, what we know so far about the current outbreak, and how we should prepare moving into the heart of the fall migration.
This event is free to the public and will be held over Zoom on Wednesday, October 12th from 7:00pm -8:00pm.
Registration is required by visiting https://www.tinyurl.com/HPAIFall22. The presentation will be recorded for those who are not able to attend the meeting and will be automatically sent to those who have registered. We will have ample time for Q&A following the official program, so please bring your questions to have them answered by our experts!
If you are a flock owner or community member with questions about the outbreak or steps that you can take to protect your flock, please reach out to your local Cornell Cooperative Extension office for assistance. Media inquiries can be directed to Cornell Cooperative Extension Communications at cce-communications@cornell.edu. The Highly Pathogenic Avian Influenza response in NYS is being addressed by Cornell Cooperative Extension's NY Extension Disaster Education Network (NY-EDEN).


Upcoming Events
Organic Farmer-to-Farmer Meetings
April 4, 2023
: NYCO Field Crop Meeting


Geneva, NY

NYCO's field crops meeting has been rescheduled to April 4th, 2023 from 9 am - 1 pm. This meeting is free for all farmers to attend and participants are encouraged to bring a dish to pass for lunch.
How to Value Your Business, Planning for the Future
April 4, 2023
April 11, 2023
April 18, 2023

This three-week workshop series for livestock-based businesses will be held online. It is specifically targeted at existing meat, fiber, small ruminant dairy, or other livestock value-added processing businesses. A team of Cornell Cooperative Extension Educators will provide tools to assess your existing business and to assist in understanding options for business expansion or transfer. The workshop series will also be of benefit to livestock value-added business startups and is of relevance to both owners and employees in management positions.
Business Planning for Beginning Farmers
April 10, 2023
Jamestown, NY
Business plans for farms are often viewed as yet another chore to do and usually result in dusty binders taking up space on the office shelf. This discussion based workshop will walk you through the mental exercise of planning your future agricultural adventures. Participants will leave with a better understanding of the use of a business plan, the essential components, and a "to-do" list of things to think about to inform future planning efforts. Additional opportunities for one-on-one follow up will also be offered. FSA Borrower credits may be made available for your attendance. This workshop will be taught by Katelyn Walley-Stoll, Team Leader and Farm Business Management Specialist from the Southwest New York Dairy, Livestock, and Field Crops Program with Cornell Cooperative Extension. She is a graduate of Cornell University with a degree in Animal Science and Ag Business Management, and owns and operates a diversified livestock farm.
$5 per person REGISTER