Fall Update on the Highly Pathogenic Avian Influenza Outbreak
---
Event Details
Date
October 12, 2022
Time
7:00pm - 8:00pm
Location
Zoom - Online Webinar

Host
Southwest New York Dairy, Livestock and Field Crops Program
Amy Barkley
716-640-0844
email Amy Barkley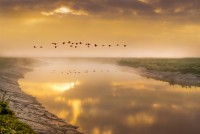 Fall Update on Highly Pathogenic Avian Influenza Outbreak Scheduled for Wednesday, October 12th from 7:00pm - 8:00pm over Zoom
Cornell Cooperative Extension and NYS Ag and Markets partner to present an update on HPAI.
By Amy Barkley, Livestock and Beginning Farm Specialist with the SWNY Dairy, Livestock, and Field Crops Program
NEW YORK (September 26, 2022) - Highly Pathogenic Avian Influenza (HPAI) is still circulating in the US, with the number of cases in both commercial and backyard flocks increasing as we head into fall. To date, we have seen 468 cases in the country, affecting over 46 million poultry across 40 states. Wild bird positives are nearing 2,500 nationwide. Now, we are seeing cases increase with the weather cooling and the fall migration beginning.
All poultry famers, hobbyists, and enthusiasts are invited to join Cornell Cooperative Extension's Livestock Program Work Team and the NYS Department of Agriculture and Markets to learn more about this disease, what we know so far about the current outbreak, and how we should prepare moving into the heart of the fall migration.
This event is free to the public and will be held over Zoom on Wednesday, October 12th from 7:00pm -8:00pm.
Registration is required by visiting https://www.tinyurl.com/HPAIFall22. The presentation will be recorded for those who are not able to attend the meeting and will be automatically sent to those who have registered. We will have ample time for Q&A following the official program, so please bring your questions to have them answered by our experts!
If you are a flock owner or community member with questions about the outbreak or steps that you can take to protect your flock, please reach out to your local Cornell Cooperative Extension office for assistance. Media inquiries can be directed to Cornell Cooperative Extension Communications at cce-communications@cornell.edu. The Highly Pathogenic Avian Influenza response in NYS is being addressed by Cornell Cooperative Extension's NY Extension Disaster Education Network (NY-EDEN).


Upcoming Events
Is Grazing Sheep Beneath Solar Arrays and Opportunity for Your Future?
September 25, 2023
Mt. Morris, NY
Grazing sheep beneath utility-scale solar arrays can build wealth of present and future sheep farmers as vegetation management service providers and access to additional pasture. The Cornell Cooperative Enterprise Program (CEP) conducted a survey earlier this year completed by over 600 farmers. Farmers identified barriers to grazing sheep under solar arrays and weighed in on need for a producer-led organization to negotiate contracts on their behalf, coordinate logistics of multiple flocks, provide transport of sheep to and from the site, care for sheep while on-site, and provide supplemental mowing. Additional questions focused on processing and marketing needs.
Technology for Grazing Dairies Webinar
September 27, 2023
Join us for this free webinar! Brought to you by the dairy specialists of CCE NWNY and SWNY Dairy, Livestock and Field Crops Programs.
Protecting Against Murphy's Law: A FREE Live Seminar for Veterans.
October 4, 2023
What Can Go Wrong, Will Go Wrong!
Good ole' Murphy's Law is probably the best description of what it's like to be a farmer that there is! Join Cornell Cooperative Extension Farm Business Management Specialist, Katelyn Walley-Stoll, to learn more about the 5 areas of risk on farms and how to develop strategies to manage those risks. Participants will have the opportunity to identify areas of risk on their own farms and brainstorm ways to (try to) prevent the inevitable!
Registration is REQUIRED by visiting https://tinyurl.com/CCERisk or call Kelly at 585-268-7644.
Announcements
No announcements at this time.